We took to the stage at Women of the World festival
Guiding members Mattie, Emily and Juliet tell us what it was like to talk at the WOW festival at London's Southbank Centre
Mattie and Juliet
04 April 2018
Get ready to be WOW-ed.
Last month three young guiding members - Juliet, Mattie and Emily - took to the stage of the Young Women's Rally at the Women of the World festival. As members of Action for Change and our Advocate panel, they were invited to give speeches on their social action projects - from changing attitudes to feminism to fighting food waste.
The trio were in good company as they were joined by artists, writers, politicians, comedians and activists at the 8th annual WOW event last month. The festival celebrates women and girls, and looks at the obstacles that stop them from achieving their potential.
Here Mattie and Juliet give us the lowdown on their day.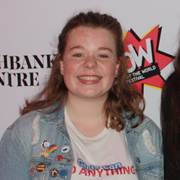 Mattie
Action for Change Midlands member
It was such an amazing experience to share the stage with so many other passionate young women, ranging from young poets to music groups to other social action groups across England and Wales, from 12 to 18.
I had never felt so proud to be part of the third wave feminist movement.
I spoke with two other young members of Girlguiding about my Action For Change project, #NotADirtyWord, which aims to inspire as many people as possible to take on the label 'Feminist'.
As well as the rally, we also got involved in many other activities taking place on the day. We made flags (fortunately for me, no sewing was involved) and also got the chance to listen to some really interesting talks such as 'Is Donald Trump making feminism great again?'.
The WOW Festival is such a positive event; it's so amazing that platforms dedicated to promoting women's rights can still exist and engage people of all ages and genders.
I'm already looking forward to attending next year, and recommend you do the same!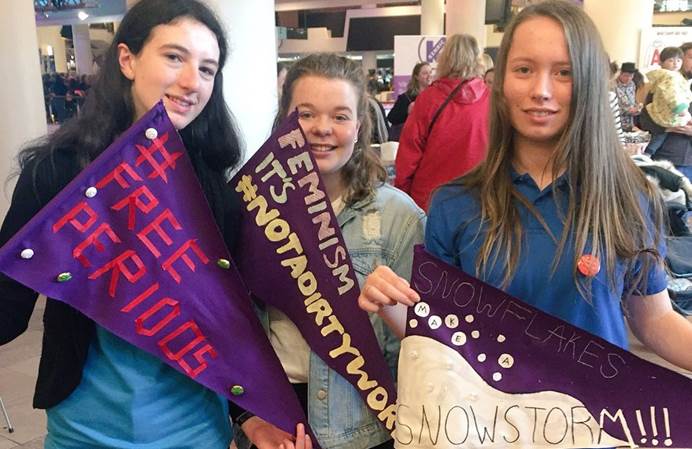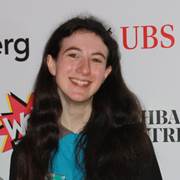 Juliet
Girlguiding Advocate
At the risk of sounding cliched, "Wow!" was definitely my response on entering the Women Of the World festival!
The whole of the Southbank Centre was buzzing, with stalls, workshops and displays everywhere, and multiple talks going on in different venues. The stage we spoke on, at the Young Women's Rally, was at the centre of the action.
To be honest, even entering the backstage area beside it was exciting, so by the time we got on stage to do our speeches, we were filled with a mixture of anticipation and nerves.
Speaking up there was an incredible experience: it was inspiring to see how many young women were attending the festival and the Rally, and even more inspiring to have the chance to speak to them.
After our speeches, we also had a chance to explore other parts of the festival. Probably the highlight of the day (apart from the Young Women's Rally, of course) was a panel discussion entitled "Would you have been a Suffragette?", featuring speakers such as former Lord Mayor Fiona Wolf, and National Union of Students Chair Shakira Martin.
Ms Wolf made a particularly powerful point: she'd assumed, she said, that she'd have been a Suffragist, because as a lawyer she respects the law. Then she realised that, as a woman, she couldn't have been a lawyer 100 years ago. This begged a question we can all ask ourselves: would life as a woman 100 years ago have been so restricted that we would have taken steps that seem inconceivable now?"
Join Action for Change
Take action on the issues you care about. Applications are now open to be part of Action for Change in Ulster and Wales.
Find out more
Share your story
Have you got a story to tell? We're always keen to hear and share tales of what you've been up to with Girlguiding.