Listen up politicians! It's time to end sexual harassment for good
Sexual harassment must end
Kate and Amanda, Girlguiding Advocates
21 October 2021
Advocates are Girlguiding's spokespeople: we speak out on issues that matter to us and girls and young women across the UK.
On September 26 and 27, three of us - Abi, Hen, and Kate - went to the Labour Party Conference, and on October 3 and 4 another three of us - Amanda, Caitlyn, and Françoise - went to the Conservative Party Conference. Both conferences provided fantastic opportunities to speak with politicians and other key decision makers about girls' and young women's views, and they were fascinating insights into how events like these are ran.
On both of the first days, we ran a panel event in the Youth Zone called 'It happens all the time', to highlight our research that shows the prevalence of sexual harassment faced by girls and young women in the UK, both in person and online. By running the panel event, we made sure that the voices of girls and young women were at the heart of the conversation. We shared our experiences around sexual harassment and provided a determined and clear message that these experiences need to be prevented so that all girls and young women can feel safe in society.
Kate went to the Labour Party Conference
At the Labour Party Conference we were joined on the panel by four changemakers: Jess Phillips MP, MP for Birmingham Yardley and Shadow Minister for Domestic Violence and Safeguarding; Councillor Peymana Assad, Councillor for Harrow and Cabinet Member for Community Cohesion, Crime, and Enforcement; Ros McNeil, Assistant General Secretary, Equality Social Justice and International, National Education Union and Emily Spurrell: Merseyside Police and Crime Commissioner.
My role was to be the chair of the event, leading the conversation and taking questions from the audience to discuss further. The other advocates on our panel, Hen and Abi, spoke passionately and powerfully about their own experiences and views on sexual harassment to open and close the event and joined in the discussion throughout.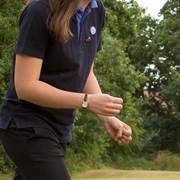 Amanda went to the Conservative Party Conference
On our panel at the Conservative Party Conference were Ruth Edwards MP, MP for Rushcliffe and Chair of the Digital Tories; Councillor Abi Brown, Leader of Stoke-on-Trent City Council; Katy Bourne, Police and Crime Commissioner for Sussex; Sara Britcliffe MP, MP for Hyndburn (and the youngest Conservative MP!) and Abbee McLatchie, Director of Youth Work for the National Youth Agency.
In my opening speech, my key message was that whilst Girlguiding supports girls and young women to have a platform to have our voices heard, abuse and harassment happens on such a massive scale in all areas of our lives – and so it needs to be addressed by everyone. Caitlyn did a fantastic job chairing the event, and Fran gave a powerful closing speech.
Our events were packed full of engaged and interested people willing to learn from our lived experiences and the panellists' views, a testament to the fact that the discussion around sexual harassment now has a significant place in politics and wider society. Topics that were discussed included support for victims, the impact of sexual harassment and abuse on mental health, how social media has exacerbated abuse, reporting harassment, criminalising public sexual harassment, improving sex and relationships education in schools, safe spaces, and the role of men and boys in stopping sexual harassment and abuse.
Now, more than ever, we need to have these serious conversations around sexual harassment and abuse. Conversations are a great starting point from which more action can be taken to shift a culture that is deeply rooted in misogyny. The conversation can't end here - we need it to continue and expand. It's so important that our country's decision makers take on board the key messages from our panel events and advocate for changes to the law and the systems which currently perpetuate this issue.
We want to see the government take action to make public sexual harassment a crime and make sure that all students have access to comprehensive Relationships, Sex, Health Education (RHSE) including on consent and respect. The government also has a responsibility to make sure all schools take a zero-tolerance approach to sexual harassment in schools and, improve reporting and support frameworks for girls and young women.
However, it's not just politicians that need to come together to make change: we can all make a difference by calling out 'banter' before it becomes something more sinister, reporting offences, implementing measures to keep women and girls safe, and encouraging open education and conversation to prevent this issue. The tide is turning, we just need everyone on board to ride the wave with us. The burden mustn't fall on girls and young women to change this societal problem alone. Everyone must act urgently.
More about campaigns and advocacy at Girlguiding