Google
We're working with Google because technology is for everyone
Girlguiding and Google are providing vital opportunities for girls to learn new digital skills and explore the online world safely.
Girls and young women want to upskill themselves. Nearly 30%, aged 7-21, said they would like to develop skills and learn more about tech.
That's why together we're providing opportunities for girls to learn skills needed in a digital world safely and connecting them to female role-models, activities and more.
How we work together
Digital discovery is a series of unit meeting activities (UMAs) topics sitting within the skills for my future theme of the programme. There are activities for each section, giving girls of all ages the opportunity to explore how coding, debugging, chatbots and algorithms work and learn how to be safer online.
Exploring tech
Staying safer online
Our newest set of UMAs helps girls to understand how to be safer online.
Rainbows will explore how some of the things we do to stay safe in person can also keep you safe on the internet, through online explorers.

Brownies will explore online kindness, through kingdom of kindness.

Guides will explore ways to protect their personal information online, through to share or not to share?

Rangers will explore how to be safer when interacting with people online, through connect and respect.
The UMAs have been created to be completed offline and you don't need any tech skills or experience to do these.
Inspired? Download the unit meeting activities (UMAs) from our online shop, for free.
Fun, fab badges
What's more, there are 2 fun badges to celebrate taking part in any of our amazing opportunities or activities with Google.
These are available from our online shop.
Our digital design badge for Rangers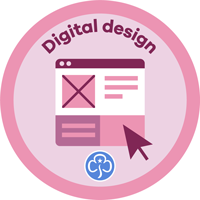 Google have also provided expertise in the development of our digital design interest badge activity for Rangers, aged 14-18.
Check this out on our badge finder.
Our history working together
The partnership between Google and Girlguiding first started in 2018, offering both Brownies and Rangers the opportunity to take part in digital focused activities.
The partnership expanded in 2022, when we co-created UMAs for girls aged 4–18 to explore tech. These activities provide girls with opportunities to learn digital skills, such as coding and algorithms. And aim to inspire more girls and young women to pursue interests in technology and engineering and challenge gender stereotypes.
In 2023, we created another set of UMAs for all sections, focused on online safety - empowering all young members to know how to stay safer online.