Parent and carers' guide to GO
How to use GO
Page last reviewed: 27 March 2023
GO is our membership system for girls and volunteers.
It records member information, and when you register a girl to join a new GO record is created for you.
These tips are for parents and carers - for information on using GO as a volunteer, go to Using GO for volunteers.
You can:
Register your child to join
Ask for a place in a unit for your child
Keep your contact details and other information up to date
Keep your child's details up to date
Check what fun your daughter is having in her unit
Register yourself as a volunteer
First you'll need to activate your account.
Step 1: After you've filled in the form to register your daughter, you'll get an email from us with an invitation code.
If you don't have this, click the Don't have a login? button on the GO sign in page. Use the email address you signed up with or contact [email protected] if you need to update or add an email address. We'll then send you a new invitation code.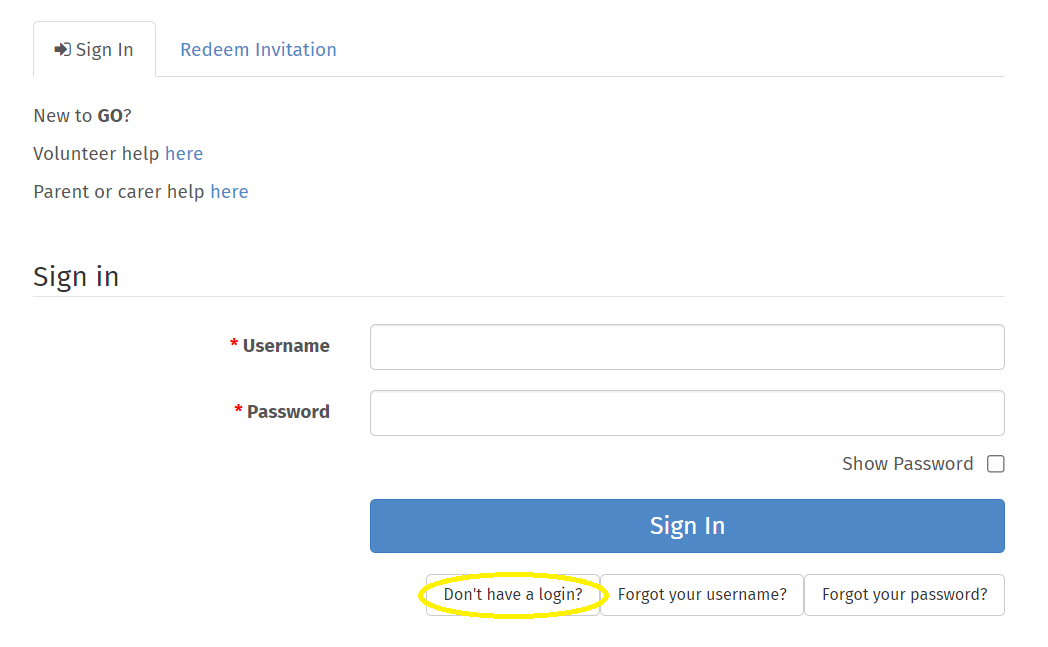 Step 2: Head to the GO sign in page. You can get there from the main website homepage or bookmark it.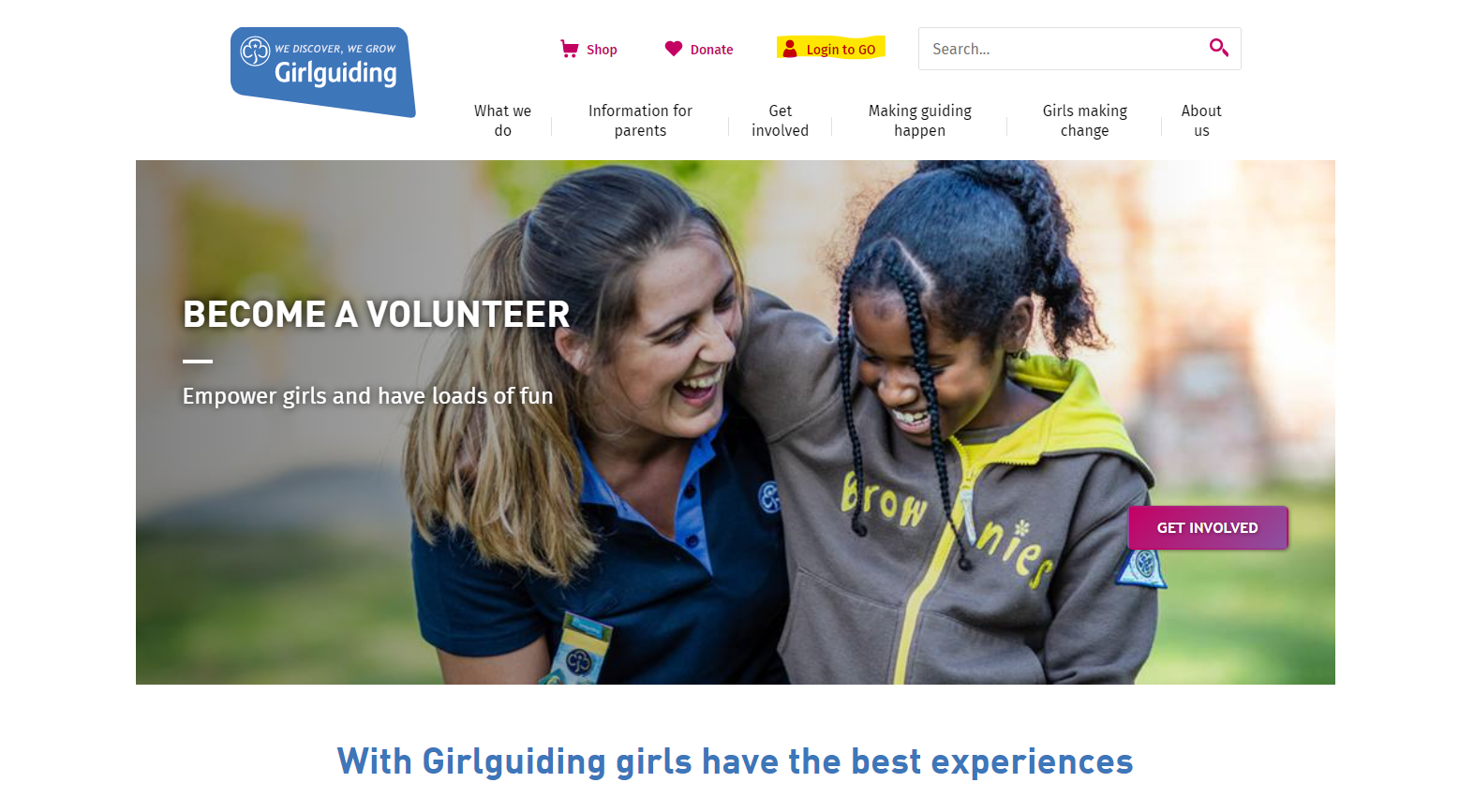 Step 3: Copy your invitation code from the email we sent when you signed up and select Redeem invitation tab.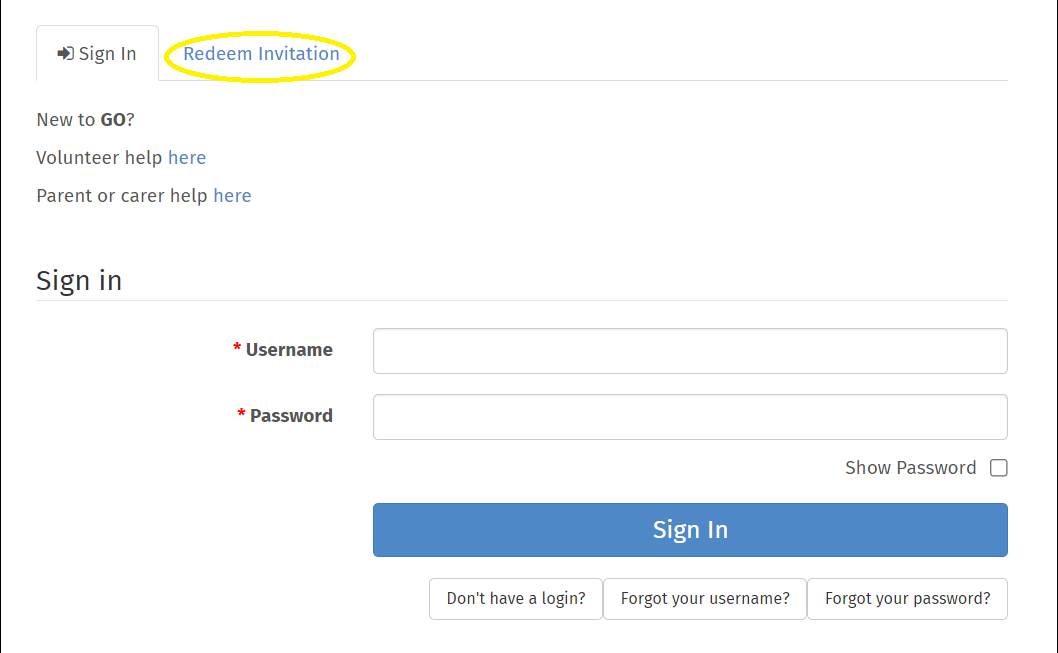 Step 4: Paste the code into the Invitation Code box. If you're having issues, double check to make sure there aren't any full stops or spaces at the end of your code.
Step 5: Enter your child's date of birth in the format DD/MM/YYYY. Select Register.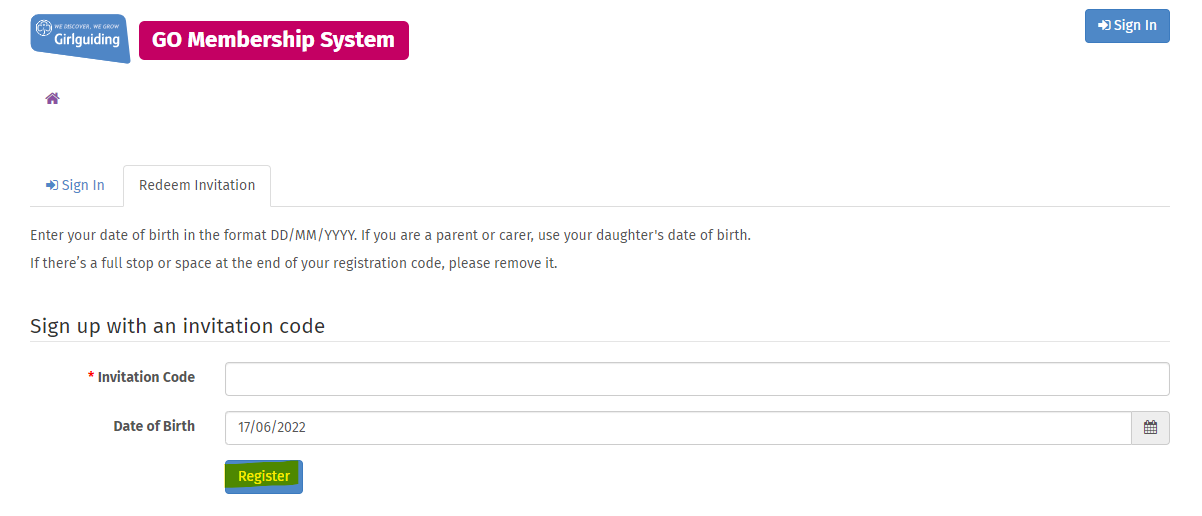 Once you've activated your account, you can sign into GO at any time using the same username and password.
If you're still having trouble signing in, contact our membership systems team: [email protected].
Head to the GO sign in page and select the Forgot your password? button. You'll be asked for the username you used when you first signed up. We'll send you an email to reset your password – keep an eye on your spam folder in case it goes in there. If it's not there, use the Don't have a login? button to request a new invitation code.
Head to the GO sign in page and click on 'Forgot your username?'. You'll need to enter the email address you used when you signed up. We'll send you an email with your GO username.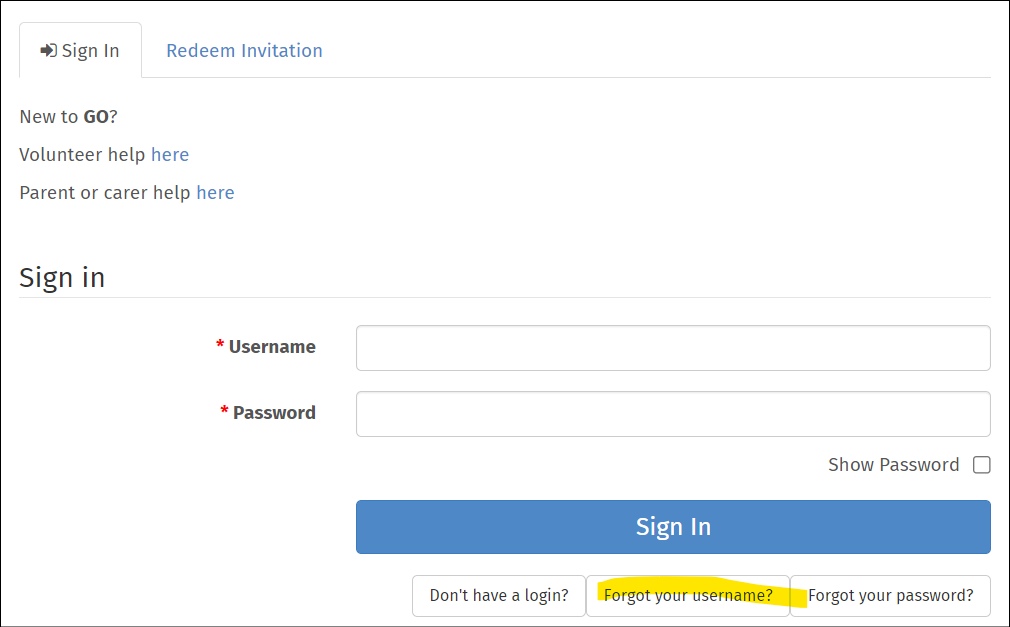 If you've moved house or changed your number, then you'll need to change it on GO. You can check your details, including emergency contact, at any time. It's good to check this once a term if you can.
To do this, go to 'My Profile', and select 'edit' in the area you want to update.

You can also update or add details about your child at any time. This might be their medical situation, for example an allergy or access need. Don't forget to let their leader know too so they can plan for any support needs.
To do this, go to 'My Daughters' in the sidebar, click on the down arrow to the right of their name, and select 'View/Edit daughter'.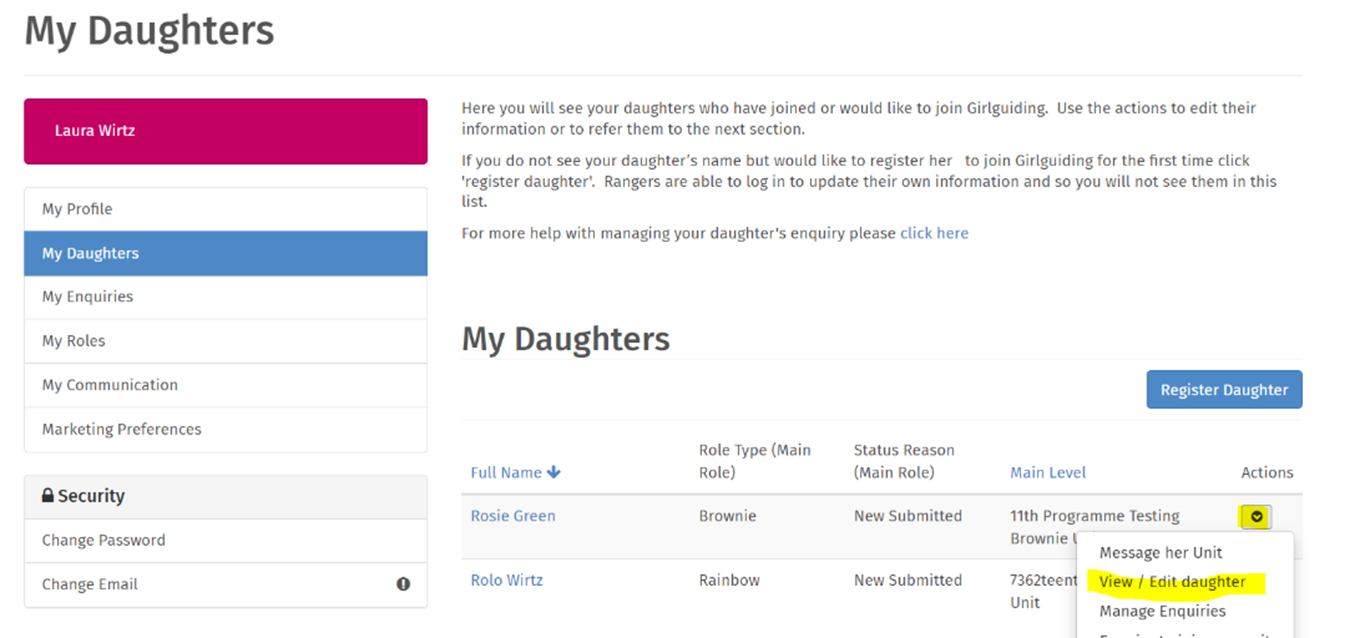 Log into GO and select 'My Daughters'. If your child's membership is active, their membership number will show in the table on this page.
Log in to GO and select 'My daughters'. Find your child in the table, select the Actions arrow and select View / Edit daughter.

Scroll down the page and select Badges.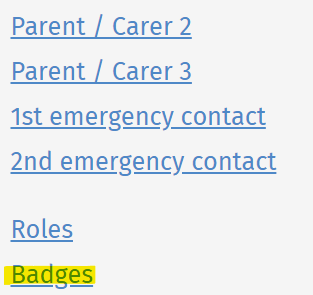 If you already have a child in guiding and want to register another young person, log into GO and select 'My daughters' and then 'Register daughter'. You'll only need to add the child's name, date of birth and unit.
On GO you can find other units and send a transfer request.
Step 1: Select your name on the top right or top of the screen if you are on a mobile device.


Step 2: Select My Daughters.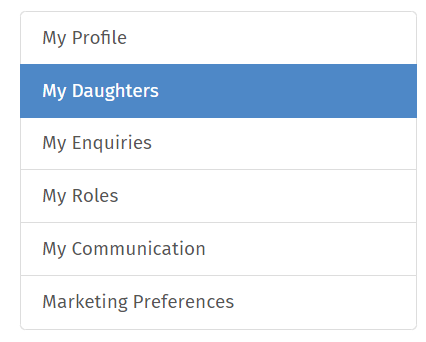 Step 3: Select the Actions arrow and Enquire to join new unit.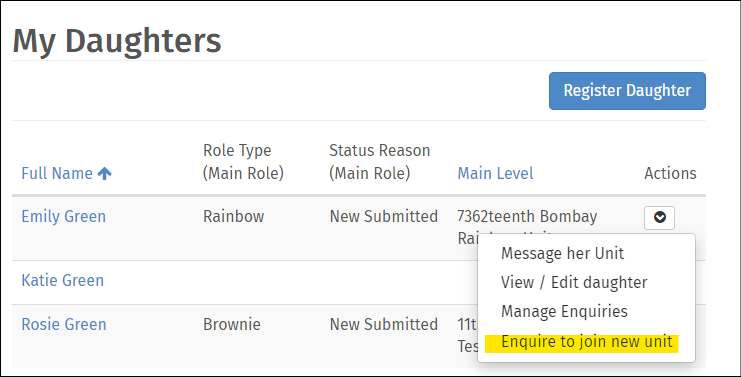 Step 4: Use the postcode search and distance options to choose the unit your child would like to transfer into. This will create an enquiry for the unit's leader to respond to.
This is the process for people who are already on GO including parents/carers of girls currently in guiding.
Step 1: Sign in to GO. If you are new to GO, see the instructions above on signing in for the first time. Select your name and this dropdown will appear: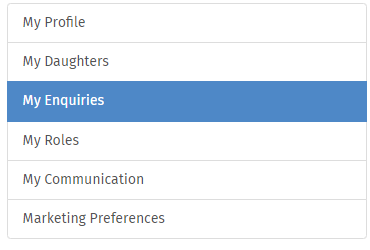 Step 2: Select My Enquiries from the left hand side. On your first visit, you'll be asked to confirm your date of birth and gender - please do this and then hit submit. Once the page has refreshed, select Volunteer In New Area.

Step 3: A map will launch. Find the unit closest to where you'd like to volunteer. This won't commit you to volunteering at that unit, it's just a starting point for your enquiry. You'll have the chance to decide what and where works best for you at a later date.
Select Choose and then select Submit at the bottom of the page.
These steps will send an enquiry to a local volunteer and let them know you have registered your interest; they will be in touch.
When you select My Enquiries again, you will see your latest enquiries on this page. To manage these please select the Actions arrow at the end of the line:

If you can't find the guidance you need on this page, contact your local commissioner in the first instance or the membership systems team via [email protected].
As with any online system, it's important that you use it safely and not put yourself at risk. Make sure you have effective security software installed on your computer, such as anti-virus software, anti-spyware software and a firewall.
If you think your computer has been infected with a virus or other malicious software, don't access GO until you've had it checked out and it's safe.
You should also avoid using a shared computer. If you have to use a shared computer, make sure you:
Have your own email address to keep messages confidential.
Don't leave the computer signed in and unattended.
Set up a screen saver to lock the computer when you're away from it - even if it's just while you make a cup of tea.
And keep your GO account secure by following these tips:
Don't write down your username and password.
Don't share your username and password with anyone else.
Choose a strong password and change it regularly.
If your web browser has a 'remember my passwords' feature, turn this off when you're using GO.
Always click the 'Sign out' button to make sure you've signed out when you're done. This can be found on the drop down under your name at the top of GO.