Social action at Girlguiding
Girls in Girlguiding are taking practical action to help other people and give something back
Girls of all ages take part in social action
Social action is about taking practical action to make a positive difference.
What does 'social action' mean for us?
In Girlguiding we have always described the practical actions that our girls do to help other people as 'community service' or 'community action'.
'Social action' is the term being used by the government, the voluntary sector, the funding community and Step Up To Serve's #iwill campaign to encourage more young people in the UK to take action to help others. We want girls in guiding to feel part of this bigger picture.
The values of our Promise and Law
Social action is about helping other people, doing community action and preparing girls and young women to be a powerful force for good. Our girls and volunteers share these values too and they are the basis of the Girlguiding Promise and Law.
Social action in everyday guiding
At regular meetings and special events, our girls and volunteers take part in youth social action through our programme of activities for girls.
Volunteering and community action
Guiding groups take part in a local environmental project, help with a local event or appeal, or set up a coffee morning for their community.
Girls volunteer to help run units as Young Leaders or volunteer for other charities they care about.
Young women support community projects in other countries as part of Guiding Overseas Linked with Development (GOLD).
Fundraising
Girls decide which charity they want to support and organise a fundraising activity.
Guiding groups collect sponsorship for an action, for example a sponsored walk to help their unit grow so more girls can join.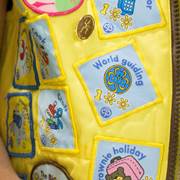 Kiera, 9
Brownie
Brownies makes you think about ways of helping others, which is good. My granddad lives in South Africa so I was worried about him when I heard about Ebola in Africa. I didn't want other people dying, too. So I decided to raise money to help.
Peer education and support
Young women volunteer to train as Peer Educators and then support others to learn about issues, for example body image.
Girls in guiding offer their peers support through being a Mentor or Leader in their group.
Using our voice
Download our Social Action at Girlguiding resource
Be inspired by more excellent examples of how units across the UK have been helping others.
Our social action stories
Come and join us
With Girlguiding girls have the best experiences. Register your daughter to join us - or volunteer to make guiding happen.