Benefits of partnering with us
We've got more in common than you might think
Why should you partner with us?
Like you, we're in tune with our customers
Girlguiding can introduce your organisation and brand to our 320,000 members. We make it a priority to understand the challenges girls and young women face and what they care about.
Like you, we're quick to respond and evolve
We've been around for over 100 years but we're the opposite of old-fashioned – we shape our programme to respond to what girls say they need most.
Like you, we're unafraid to tread new ground
We dare to do things differently and challenge preconceptions about what girls can and can't do. Young women who believe they can achieve whatever they want are more likely to actually do so. Then they will take on roles in industries where female leadership and capabilities are urgently needed.
Like you, we're alive to new opportunities
A partnership with Girlguiding is about so much more than basic brand promotion. The qualities you want to see in the workplace – leadership, vision, confidence, team-building – are exactly the qualities we nurture in girls and young women.
Whether you're looking to develop your staff's existing skills, help them acquire new ones, or simply give them a fantastic day out of the office, we can tailor a partnership package that's exactly right for you.
How we work with our partners
Watch this short video to find out more how we work with our partners.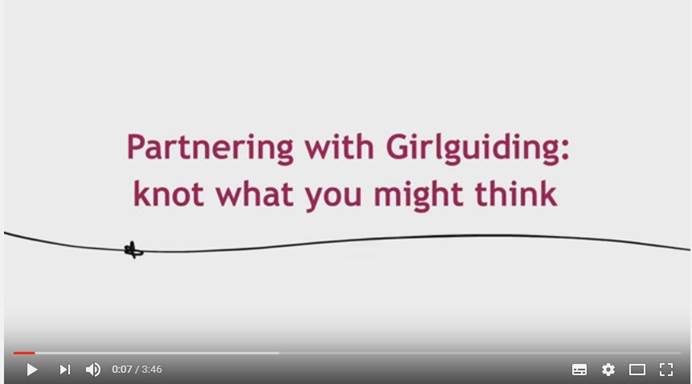 Gill Slocombe: My name is Gill Slocombe and I'm the chief guide. When we work together, we can achieve amazing things. By working with Girlguiding, UK's largest charity for girls and young women, you can help even more girls achieve their potential and also bring all kinds of rewards for your company. We bring experience of working with a range of different corporate partners. Whether it's developing your workforce, recognition for your brand, or the opportunity to engage with potential customers of tomorrow that's your focus, working with Girlguiding will help you to reach our vast community with over half a million girls and young women plus their parents and leaders too. A third of all women are currently part of guiding or have been at some point in their lives. Every day, girls experience significant challenges, just because they are girls. Together we can make such a difference.
Claire Johnson (Corporate Affairs Manager, Morrisons): We would absolutely recommend a partnership with Girlguiding. The opportunity to work with an organisation that inspires so many young women up and down the country to positively contribute to the local communities is absolutely unique and something that we would recommend.
Gill Fennell (Community Investment Manager, Rolls-Royce): I think one of the most positive things about working with Girlguiding's partnership team is that we've been able to develop real trust and that's enabled us to have open and honest conversations and I think that's really important. So, to have a partnership which has activities that we can engage employees in which supports not only the company objectives but our employees personal interests is really fantastic.
Jessica Tompkinson (Community Engagement Manager, Three): We're a very commercial organisation. We're driven by sales at the end of the day. What is so wonderful about working with Girlguiding is they have given us a different perspective on some things, for example, sort of when we've been looking at materials and challenged us to think of things in a different way and also challenge us to think about a completely different age group as well and how we talk to them, which is not something we typically do day in day out in our communications to customers.
Claire Johnson: The efficiency, enthusiasm, professionalism of the team has really shone through throughout the partnership and that's meant that our internal stakeholders are particularly happy with the results of the partnership. It's meant that we've been able to deliver effectively and on time. It's also meant that all the resources that we've been able to develop have gone exactly how we want them to. For Morrisons as a business it's been really easy for us to embed Girlguiding into our existing culture. A lot of our values and commitments are the same and we've really been able to bring that together in our partnership.
Gill Fennell: STEM education a huge part of our outreach programme, so much so that we've set a target to reach 6 million people with our educational programme and activities by 2020. And within that we're trying to focus particularly on groups that are underrepresented, so working with Girlguiding gives us a really big tick and a really opportunity to reach young women and inspire them with what STEM can offer – in the world around us but also in their future lives and potentially their careers.
Jessica Tompkinson: There aren't many organisations out there who have the breadth and the reach and the trust among so many young women out there at the moment and if that's the area that you want to go into and that's the demographic that for people you want to inspire then I can't think of anyone better than Girlguiding to go and do that to.