When the Guides secretly worked with MI5
How 90 Guides helped keep the UK safe during World War 1
Have you met secret agent Olive?
Olive was not only a Guide, but she also worked at MI5 during World War 1. You might also recognise her as the star of this year's Remembrance Day badge.
You won't find Olive written about in any textbooks, because technically she never existed, but she does represent a fascinating moment in Girlguiding history.
Olive was created to help us tell the story of the Guides that inspired our 2023 badge. Through her story, we'll shine a spotlight on their very real bravery.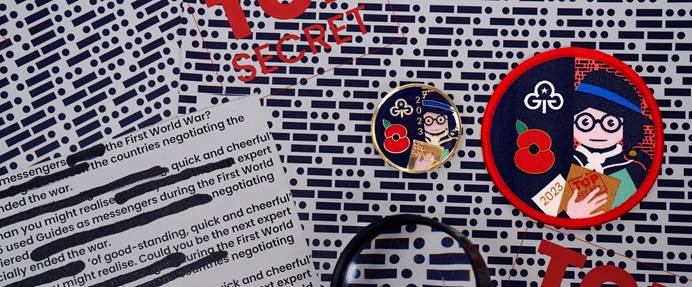 'Hi, we haven't officially met yet! My name is Olive, and I'm here to tell you about the time my fellow Guides and I worked as secret messengers for MI5.
'We not only passed on important classified information during World War 1, but we also helped bring about peace through the Treaty of Versailles.
'The initial plan was to have Scouts work at the MI5 headquarters, but they were deemed too noisy. That's when they asked 90 Guides to do the job! We were found to be quick, cheerful, and more than willing to step up.
'By 1916, the Guides had become so valuable to MI5 that we were given our own company within the organisation.
'Since we were all between the ages of 14 and 16 years old, we had to be recommended by our Guide leaders. We also needed written permission from both parents. Once we were accepted, we earnt 30 pence a week for our service.
'On an average day, we'd spend the first hour dusting, refilling inkwells, disinfecting phones, and repairing typewriters.
'We'd also post documents, deliver classified messages around London, and collected paperwork to be burned. We swore to never read the sensitive content we carried.
'Some Guides were even taken to France for the signing of the Treaty of Versailles, the peace treaty that ended World War 1.
'We acted as special couriers for the British delegation, securing and moving secret messages between all of the countries as they negotiated peace.'
Do you have what it takes to work for MI5?
Our communication skills builders are the perfect way to put your spy skills to the test! Below are some of our activity recommendations for aspiring secret agents.
Rainbows and Brownies
Brownies and Guides
Guides and Rangers
Rangers
Why not celebrate your spy skills with our 2023 Remembrance badge?
It was created in partnership with the Royal British Legion (RBL) to commemorate an exciting chapter in Girlguiding history. Through special agent Olive, this year's badge represents the real, amazing Guides that worked for MI5 during World War 1.
The RBL and Girlguiding equally split all profits from the annual badge. This partnership has raised more than £180,000 for RBL since 2019.
This money helps RBL to support over 22,000 veterans and their families every year, from providing expert advice and financial assistance to aiding recovery and rehabilitation from injury.
Buy the 2023 badge to honour these amazing Guides and support a meaningful cause.
Did you break the code that came with your badge? It says service not self, RBL's motto.
Grab your guiding items
All of our uniform items are available to buy online, direct from Girlguiding.