Design a robot competition - the results are in!
Check out the winning entry, along with some of the judges' favourites!
"We were so impressed at the submissions and engagement! The entries were incredibly creative, thought through, and carefully designed from algorithms through to robots features and details." Nicole McWilliams, Software Engineering Manager at Google
Brownies from across the UK took part in the design a robot competition, based on Google's Digital Adventure badge. Brownies were challenged to design a robot that could solve a problem and come up with the algorithms (the steps) the robot would need to make it work. The winner was the Brownie with the best idea, design and algorithms. Two Googlers and Girlguiding's CEO had fun choosing the winner!
Meet Broogle – the winner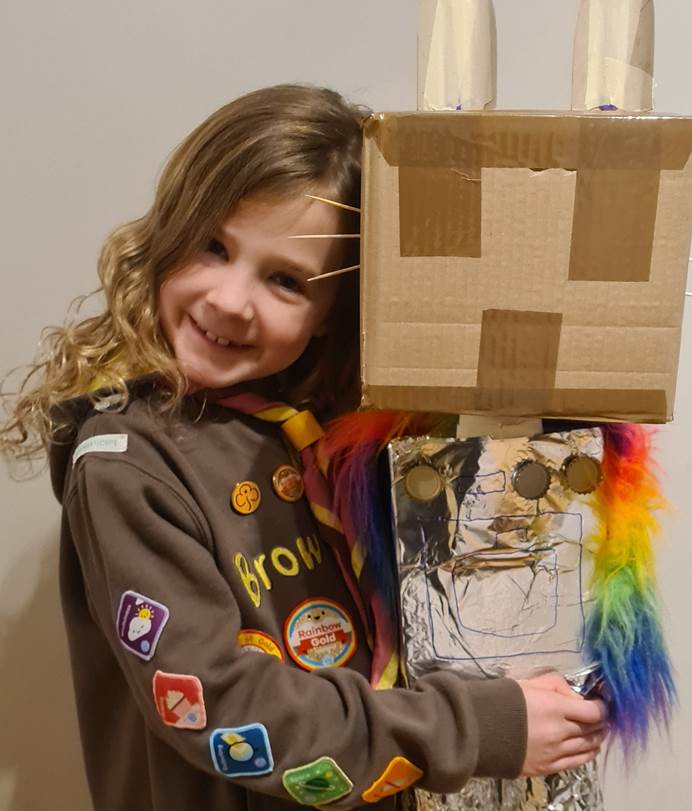 Amy's prize was for her robot, Broogle, to be brought to life through animation! You can watch Broogle do her job here.
Amy's unit also receives an online animation workshop and Q&A session run by Googlers.
"I wanted to make a robot to keep people company because a lot of people have been sad and lonely during the lockdowns. I've been writing to a lady in my village. She is 90. We haven't met but she told me it's good to have a friend in lockdown. I thought a cat would be a perfect (purrr-fect!) friend and that she should be like a Brownie and lend a hand. I made her name from mixing up Brownie and Google to make Broogle. It is said Brew-gull because she brews tea. She makes cakes and biscuits and brownies too. I wanted her to do a lot of different things." Amy
Special commendation – The Munchbot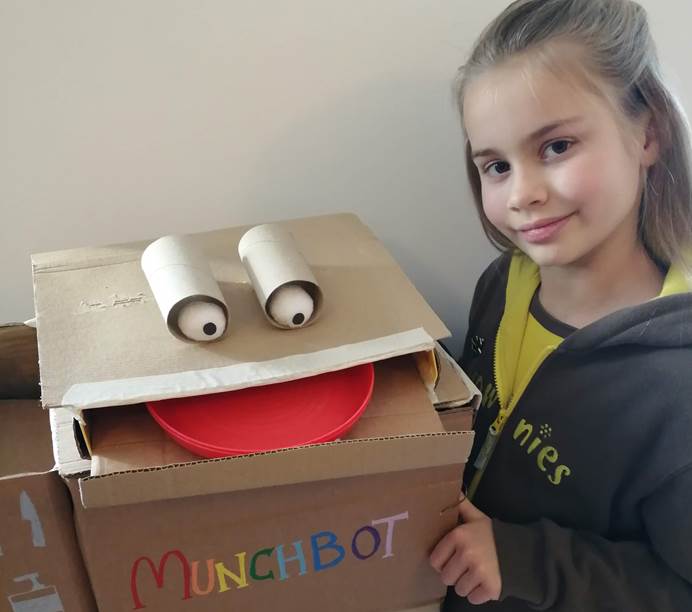 Suki receives a goody bag and her unit receives a Q&A session with Googlers!
"(I invented The Munchbot) because of lockdown and because life is hard for those in hospital and care homes, I thought this would be a safe way to give people their food and make them smile as well." Suki
See some other fantastic designs
Here's some of the other fantastic robot design entries…
Featuring Doogle the dog walking robot, designed by Ella, 2nd Netley Marsh Brownies; CovidBot, designed by Lola Abbott (aged 8) 4th Kidlington Brownies; and The Happy Hugger, designed by Ava Hudgel (aged 7), 10th Andover Brownies.