Stronger together
The Belmont Brownies feel the power of making music as a unit
guiding magazine
12 August 2019
From poet John Donne's declaration 'No man is an island' to Barbra Streisand's lyric 'People need people', we've long known that human beings need social connection.
Increasingly, research is backing this up and studies have found that being with people gives us a higher sense of self-esteem and empathy, and greater skills at managing our emotions, which results in lower rates of anxiety and depression.
Put this together with the fact that one in eight under-19s in the UK has a mental health disorder, and we can see that the sense of community that Girlguiding units provide can be vital. This is backed up by research. Professor Chris Dibben, University of Edinburgh, found that people aged over 50 who'd been in guiding as girls had better mental health than their peers.
I love singing together because you can really feel the connection. It makes me feel closer to people - Safina
Belmont Brownies get musical
We decided to put this to the test and invited the 4th and 7th Belmont Brownies to a singing workshop with Music Practitioner and Child and Adolescent Counsellor Millie Watts to see how group time affected them.
'People can experience so much isolation and loneliness,' says Millie. 'But the power of the group is its ability to give you a sense of purpose, belonging and expression, and a place to be seen.' As a music practitioner and a counsellor, she sees the particular value singing together can bring. 'In a group there's a sense of belonging and togetherness,' she explains. 'It builds confidence and self-esteem.'
Studies have shown that group singing regulates the heart rate, with some choirs' hearts synching as they sing. Other studies found that singing in a group lowers the stress hormone cortisol and endorphins associated with pleasure are released. Some people even show higher levels of 'love hormone' oxytocin, which makes us feel close to other people.
With friends, you're more confident and it's easier than when you're on your own - India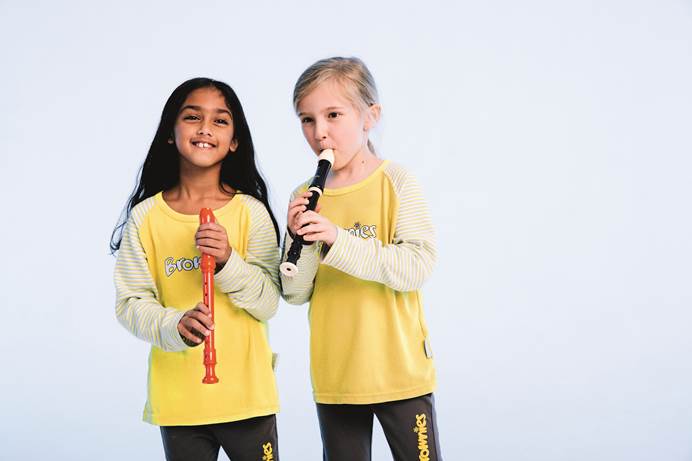 The benefits of group activities
And it's not just choirs. Christopher Dayson, Principal Research Fellow at the University of Sheffield, has examined the value to people's health of different kinds of groups. 'There's a whole load of qualitative science that says doing things in groups is good for people,' he says. 'If we take the social aspect out of our lives, it's going to have a negative impact, while being social will have a positive impact.'
He's researched how people's health and wellbeing was affected when, instead of receiving medical treatment for long-term conditions, patients were introduced to a community group.
His findings have led to several NHS Trusts introducing 'social prescribing' as a treatment option. This means that as well as medicines, some patients are being 'prescribed' community interaction as a way of improving their health. 'On a human level it makes sense,' he says. 'All the evidence for this is universally positive.'
Volunteers who run groups also benefit. 'It's not uncommon for people to join a group and end up leading it in some way,' adds Dayson.
Like 28-year-old Fiona Hewer, who's been in guiding since she was five and is now leader of the unit on our music-workshop photoshoot. 'It's really nice to watch the girls on the shoot, getting involved in the music,' she says. 'Watching them grow and seeing how they can be themselves when they're together is amazing. It makes me really happy.
This article was originally published in guiding magazine Summer 2019. Photography by Michael Clement.