10 egg-cellent activities for spring
Put a spring in your step with these cracking ideas for girls to do at home or with their unit
Egg-cellent things to make, do and play
Try these activities with your family or with your unit - either virtually or outside when you can get back to face-to-face guiding.
Why not mark the season with our special Easter badge from the official Girlguiding shop.
1. Decorate with dough
Create colourful decorations with this recipe for salt dough Easter eggs. Try different sizes, paint lots of patterns or decorate each egg to look like every member of your family!
You'll need:
500g plain flour
500g table salt
250ml warm water
Matte water-based sealer/varnish (e.g. Mod Podge)
Acrylic paint, glitter or any other decorating materials
What to do:
If you're planning to dry the decorations in the oven, preheat your oven to 150C.
Combine flour and salt in a large bowl.
Gradually add the water, mixing until it forms a dough. If it's too dry, add a little more water.
Turn out onto a lightly floured surface and knead for 5-10 minutes until smooth and elastic.
Roll out to about 0.5cm thick and cut out your decorations by carefully cutting around a cardboard stencil or using an egg-shaped cookie cutter.
If you want to hang them up, use a straw to pierce a small hole in the top of each one.
Either leave them to air dry or pop them on a non-stick baking sheet and place in the oven for 1-2 hours.
Once completely dry, paint your Easter eggs. Be as creative as you like! You could even paint with a little glue, cover with glitter and then dust off the excess for an extra sparkly finish.
Seal them (to protect them from cracking) with sealer/varnish. Adults should of course supervise children when using the spray so as not to get it in their eyes.
2. Make a bee and flower optical illusion
Magically turn two pictures into one with this amazing trick of the eye. Learn all about thaumatropes and how to make your own bee and flower one.
3. It's race time
Have a family egg and spoon race! Hard-boiled eggs will make less mess – and you can eat them afterwards. If you can't find eggs at the moment, you could use cotton wall balls, small fruit or potatoes instead.
Set a start and finish line, and race as fast as you can, making sure your egg doesn't roll off the spoon. Get creative with your race course – it doesn't need to be a straight line. And if your egg does fall, then you need to go back and start again.
4. Let's go fly a kite
Make the most of windy spring days to make and fly your own fighting kite. Find out about the Afghan tradition of kite fighting and learn how to make your very own.
5. Get hoppy
Challenge your family with the hopathon championships – start by creating a score board and then compete in these hopping games:
Game 1: Grab a timer and count how many hops each player can do within a minute.
Game 2: Mark a starting line and take turns for each player to hop as far as they can – mark down where each player lands.
Game 3: Stand against a wall or fence with chalk in the hand closest to the fence and hold this arm up high. Hop as high as you can and mark your hop height with chalk on the wall. Who hopped the highest?
Game 4: Set up an obstacle course, but you can only hop around it. Time each player from start to finish.
Tie-breaker: The two players with the highest scores could go head to head in a lightning round – play each game again to find the ultimate hopathon champion.
6. Make your own spring candle
Have you ever designed your own candle? Find out how to use natural items to turn a plain candle into a bespoke home accessory celebrating spring. Remember that trees, bushes and flowers hold onto what they still need, so only use things you find on the ground.
7. Hidden treasures
Plan your own Easter egg treasure hunt. Kids can create one for the adults and adults can make one for the kids. Create clues to guide each player to find the next treasure spot. You can do it virtually too - have someone in your household hide the eggs in your house and a family member or friend read the clues out over video call.
You can use anything you like for treasure – chocolate eggs, sweets, or even challenges, quizzes or activities that need to be completed at each spot!
8. Legend of 1,000 cranes
Small numbers of cranes pass through Britain in spring. Discover a Japanese tradition by folding origami cranes and find out how they've helped to inspire people all over the world.
9. Bunny fun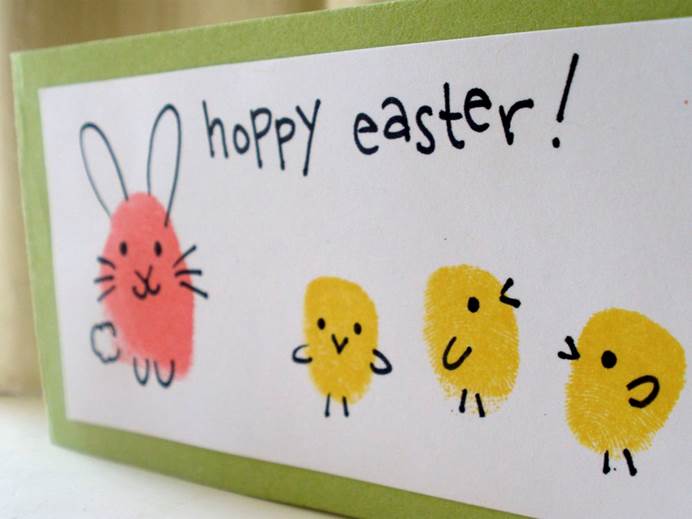 Get messy and create fingerprint bunnies. Dip the tips of your thumb and fingers in paint, and use your fingerprints to create a bunny head and body. Add ears and other details with a pen, one the paint has dried.
You could put your finished Easter rabbits up in your windows, use them as Easter cards or make a family keepsake – why not repeat this activity each year and put them all in a memory box?
10. Celebrate with an Easter badge
Whether you're teaching girls about the history and traditions of Easter or want to give badges out as gifts, our new Easter badge is perfect for spring. Pick yours up from the official Girlguiding shop.
Check out our blog on how to celebrate holidays sensitively. It's important to take care when talking to your unit about culture and religion as not everyone will have the same experiences and traditions.