I've made friends for life through music and guiding
Brownie leader Alice gives us the lowdown on fun, friendship and flautists at the National Scout and Guide Symphony Orchestra
Meet the musicians of Girlguiding at the National Scout and Guide Symphony Orchestra
In the summer, I was lucky enough to attend my fifth course with the National Scout and Guide Symphony Orchestra (NSGSO). Members of Scouting and Girlguiding travel from across the country to be part of the orchestra each year but I still find most people I meet in Girlguiding have not heard about it before.
What is the NSGSO?
The NSGSO has been running for 42 years and encompasses a symphony orchestra and concert band for members aged 12-25. We meet for a week every summer with a new selection of members each year. The week is spent working with professional tutors and conductors who ensure we maintain the high standard that has been set by previous cohorts.
What happens on the course?
On the evening of Sunday 30 July, the members of the 2017 orchestra gathered for our first rehearsal of this year's music, including Vaughan Williams' Symphony No. 2. Each day of the course has a mix of sectional and full orchestra rehearsals. This helps us to gradually bring the pieces together and get us performance ready in time for the main concerts on Friday and Saturday.
It's not all hard work though, and as a flautist, I can attest to the mischievous and light-hearted nature of the woodwind sections – after all, do you really know your section if you haven't cried with laughter at least several times during the week?!
I have made some of my closest friends through being a member of the NSGSO. Sometimes it can be surprising how little time we have all spent together over the years.
Our time off from rehearsals can be just as busy, with activities ranging from kayaking to archery, the beloved ceilidh and evening campfire.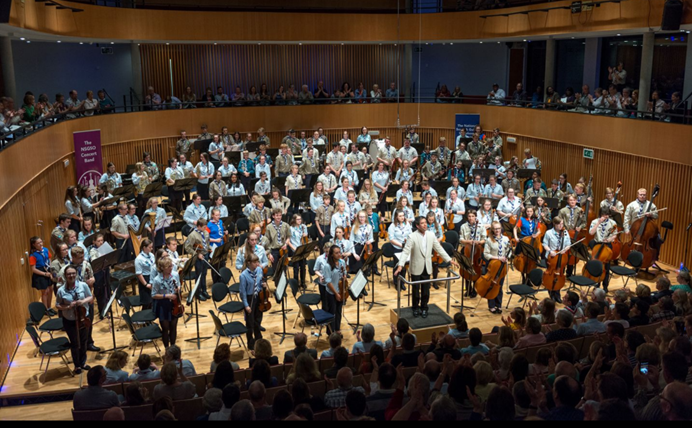 Where do we perform?
Both the orchestra and concert band have had the opportunity to play in some spectacular venues. This year they included Birmingham Museum and Art Gallery, MAC Birmingham and the Ruddock Performing Arts Centre. We enjoy the variety of venues available to us and the audiences they bring.
It wouldn't be a Girlguiding and Scouting event without some playing about of our own though! This year's unofficial post-show performance gave members an opportunity to celebrate the end of another fantastic year together in style. Highlights included a big band and string octet joining forces for one powerful piece, sibling teams performing their own arrangements, and individual sections of the orchestra teaming up to prove that they are indeed the best section – an energetic end to another brilliant course.
Take part next year
We often talk about Girlguiding being for all girls, so I think it is excellent that we get to celebrate the musical talents of our members.
Applications are now open for the 2018 NSGSO course - to find out more, please email [email protected] or visit the National Scout and Guide Symphony Orchestra website.
Exciting guiding events and activities