A big thank you!
You're the ones that make great guiding happen
As 2021 comes to end, we want to thank all of you amazing volunteers for your amazing guiding.
Girlguiding give girls and young women amazing experiences that aren't just appreciated by our members, but by their parents and carers too. We wanted to share some thank you messages from parents across the UK as the year ends.
Can I just say a massive thank you for all the support that my daughter has received over the time she was a Brownie. She is now going over to Guides, which is so exciting.
I'm very thankful to all the Rainbow leaders. The activities offered brought extra smiles to my daughter and a chance to make friends. My daughter and I would love to pass on our ❤️❤️❤️❤️.
A massive thank you to the leaders and helpers who have made the last 20+ months a positive experience for their Guides. Continuing to meet as often as possible, be that 'virtually' or physically (when allowed) has been one of very few elements of life that supports 'normality' and the range of activities over this time has been amazing. To continue to do this as well as they have during Covid-19 impacted times should not - and has not - gone unnoticed. Offered with our sincere thanks.
My daughter is very shy but has been attending Rainbows. Last weekend, she went on her first ever sleepover and came home the next day laden with badges, waxing lyrical about the science and tech experiments she had been part of, not to mention the fun she had with her new friends. Thank you for giving her an opportunity to be brave and face her fears in a kind and supportive environment.'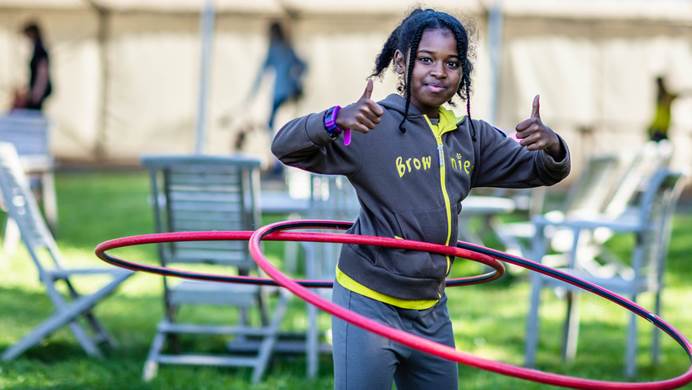 My daughter joined Rainbows in September and has loved every second! Thank you so much for all the effort you put in, not just for the girls but also in communicating with the parents and sharing their adventures. What a wonderful introduction to the Girlguiding journey! Thank you.
My daughter's Rainbows group closed during the pandemic last year and she wasn't able to finish her Rainbow journey. At the end of 2020 we were asked if she would like to do online Brownies with another pack five-ish miles away. Well, they have been amazing! The leaders have gone out of their way to make the girls feel welcomed at all the online meetings and they came up with new and imaginative activities for them to do online each week. My other daughter was asked to join their Rainbow group as soon as that went online, and it has been a pleasure to watch both girls bloom under these wonderful leaders. They have loved their time with them so much they have joined the groups permanently now and they could not be happier. My eldest is so enthusiastic about everything Brownies and can't wait for pack holiday in 2022. Thank you so much!
My granddaughter was given such a warm welcome when she started Brownies by both the leaders and the other Brownies after such a long time being at home due to Covid-19. She absolutely loves Brownies, and we are very grateful to all involved.
Just wanted to say a massive thank you to our Rainbow leaders. Every week they go above and beyond to give the girls the most positive and enriched activities. They are all so happy to be there, volunteers and the girls. They are organised and always inform us of what we need to do to support the girls' journeys. Thank you.
The ladies at Rainbows have made my daughter feel so welcome to their group. She looks forward to it each week and comes home happy and chats about all her new friends. Thank you to all involved.
I just want to thank everyone at Brownies for welcoming my daughter, who is very shy and having some difficulties at school. Attending Brownies, even though it has only been a few weeks, has done wonders for her confidence. It's lovely to see her be able to take part and not shy away - and it's really down to everyone making her feel to welcome and included.
So, thank you to all of you amazing volunteers for changing the lives of young members up and down the country throughout 2021!


Volunteer for us
Want to get involved? Register your interest with us and join our fantastic network of volunteers.