Help girls from low-income families join your unit
Help all girls to enjoy Girlguiding
Josie Crossley, lead inclusion volunteer
20 August 2021
Did you know that one in four children in the UK are living in poverty?
Despite the benefits that organisations like Girlguiding can have for children from a low-income background, there are several barriers that might prevent them from joining Girlguiding. We talked to unit leaders across the country about how they include members in areas of deprivation.
Make money manageable
For families on a low income, paying lump sums like termly subs payments and joining fees, can be challenging.
Lots of units already offer a 'pay as you go' approach to subs, where girls pay for the meetings they attend rather than for a full term in advance. This helps to break the cost into small chunks, and means families don't lose money for meetings they can't attend. You would need to take this into consideration when planning your unit meetings as you won't always know how much you will get each week, but having a flexible system opens the door to more potential members. Depending on the needs of your unit, you could even allow parents to decide whether it suits them better to pay termly or 'pay as you go'.
One-off joining fees can be another possible barrier to new members. £10 or £15 might not seem like much, but that money could pay for a week's worth of lunches for their child. You could consider absorbing any joining fees into the normal subs payments or find an alternative way of covering the cost. For example, new girls to my unit used to pay a joining fee for their promise badge, badge book and a bag to keep it all in. Now, we cover the costs using the money we receive from Gift Aid so that families don't have to.
Most of us will have fundraised for our units at some point from bag-packing and cake sales, to sponsored walks and stalls at a local event. But it would be impossible to run a unit on fundraising alone, wouldn't it? One unit in Leicestershire is proving otherwise as they fund everything from annual subscriptions to weekly running costs through termly bring and buy sales.
Find out about funding
Girlguiding grants can be a great source of additional income for units. If your unit needs extra financial support, you could look into funding opportunities like the UK units in need grants, or find out about other support available in your local area. Many country and regions (and even some counties) offer financial assistance for units as well as individual members so that they don't miss out on opportunities. But remember, you need to read the funding criteria carefully before applying.
You could also reach out to other local organisations that might offer support. For example, leaders in one unit wrote to a local water company explaining the benefits of guiding for girls in the area and received sponsorship to provide subsidised places to those from a deprived background. Not all companies will be able to financial support, but they might instead be willing to donate resources, offer meeting venues free of charge or even provide snacks!
Another great example of collaboration from our Space to Grow Together project is a school-based unit where the school uses some of its Pupil Premium funding to provide guiding, particularly for girls who are at risk of disengaging from the education system.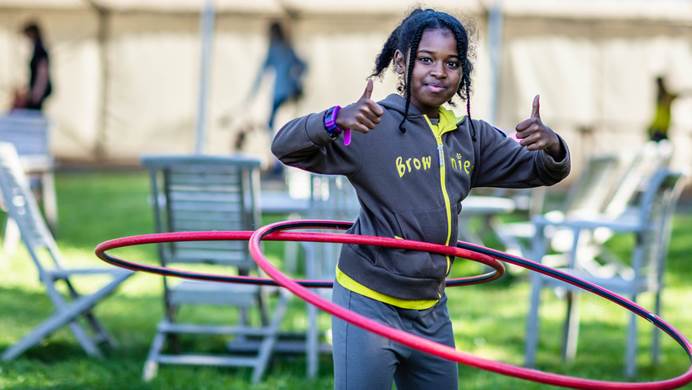 Offer uniform recycling and shared resources
Our uniform is a key part of our identity and ensures that every member feels a sense of belonging. The cost of uniform should not be a barrier to joining. Some units have created a 'uniform bank' so that girls can borrow or buy cheaper second-hand uniform to help manage the costs. You could ask parents and carers to donate old uniform, or even investigate local grants to buy a selection of uniform to get started.
Interest badges are a part of the core programme, so it's worth keeping a unit copy of the badge book that girls can borrow or look at to give them access to the criteria and achieve those all-important badges.
Plan inclusive events and trips
From visits to museums and outdoor adventures to camps and trips abroad, one-off events give our members new experiences they wouldn't get elsewhere, but they can also add significant costs. Even though we know that Girlguiding is great value for money, it's important to remember that not being able to afford to go on trips can make members feel excluded. It isn't just about money either: a lack of public transport access to the venue, not having the right equipment, such as wellies and and coats, and parents having to care for other children can also mean that members miss out on great guiding opportunities.
When planning events and trips, think about the members of your unit and how to make the trip accessible for everyone. Try to give as much notice as possible of upcoming expenses and make sure families know what support is available for them. This could be putting them in touch with other parents to organise lift-sharing, lending them a coat or offering payment plans. You could even follow the sponsorship model used by the Icelandic Scouts and ask parents to contribute a little extra if they can to enable another member of the unit to take part too.
For more ideas about how to include members from low-income backgrounds, read through our page on members living in poverty.