Awesome Girlguiding volunteers honoured by the Queen
Find out more about these guiding stars
Six amazing Girlguiding stars feature on the Queen's New Year's Honours list for their services to Girlguiding.
They're part of an amazing volunteer movement that inspire, educate and empower our young members week in, week out. Find out more about how two of them make great guiding happen.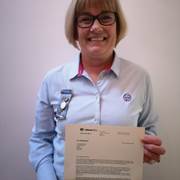 'Receiving this award is very overwhelming and exceedingly humbling but I feel I am accepting it on behalf of hundreds of people'
Jackie Moore has been part of Girlguiding since she was eight-years-old and has been awarded an MBE. Starting as a Brownie in 1969 when she moved to Northern Ireland from England, she 'got the Girlguiding bug and never left'. She went on to become a Guide, Young Leader and then adult Leader.
She set up Omagh's first and second Bunnies (now called Rainbows) units in 1984, both of which are still running. She's taken on lots of roles in the last four decades, but Jackie says her heart lies with her unit, which she passed onto her daughter in 2016.
'Girlguiding is all about teamwork. I am just a very small piece in a very large jigsaw with so many people around me to support and encourage me,' says Jackie. 'Girlguiding has personally given me so much over the decades and more than most people will ever know. It has helped to mould me into the person I am now, by giving me friendships, life skills, confidence and bucket loads of fun.'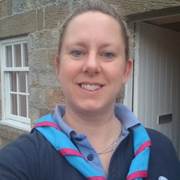 'I am incredibly proud to have been recognised for the work I do with Girlguiding and can't wait to see what come next in my Girlguiding adventure'
Katrina Moffat has been awarded a BEM for her services to Girlguiding. She joined after a friend suggested that it might be a fun hobby, and she was soon doing her Leadership Qualification and the Going Away With scheme.
In 2012, Katrina decided she was ready to lead her own unit and set up 1st Forest Hall Guides.
'As a unit we've done all of the things other units do: trips, sleepovers, holidays. But, in 2018, together with 1st Forest Hall Brownies, we launched The Happiness Project. The Happiness Project is a collaborative project with a local care home and aims to encourage the Guides and Brownies to play a more active part in their community as well as helping to alleviate the feeling of loneliness amongst the residents of the care home.
'We would visit the care home once a month to do arts and crafts with the residents and although Covid has put a temporary hold on the work we do, we do hope we'll be able to start again later this year.'
Katrina has also held half a dozen roles at county, region and national level, from County Growth Coordinator to Action for Change Network Coordinator for North East England. She has recently been appointed the Young Leader Specialist Volunteer at a national level as well.
'Without a doubt, my favourite thing about guiding is working with the girls and giving them the opportunities to have fun, try new things and develop skills for their future,' says Katrina. 'I am grateful for the opportunities that guiding has provided me and the friends I have made.'
We're also proud of Lorna Dane, Lucinda Porter, Beverley Tremayne and Maureen Davies, who all received a BEM.
Do you know anyone else who has received a New Year's Honour because of their support for Girlguiding? Email us at [email protected]
Volunteer for us
Want to get involved? Register your interest with us and join our fantastic network of volunteers.