8 ways Brownies made the world a better place in 2019
In 2019 Brownies fought for their local communities, equality and our planet.
Suzie, Girlguiding digital team
17 January 2020
Last year, Brownies were very busy. Many spent 2019 fundraising, litter picking and petition-making, not to mention earning lots of Girlguiding badges.
Throughout the year, Brownies fought for their local communities, equality and our planet. So, we thought we'd share a few examples to show how our second-youngest section made a big difference in 2019.
1. Evie changed Horrible Histories for the better
'I don't think it's right for him to say that, because girls can do anything and what he said makes it sound like girls are weak.' Evie earned her Speaking Out badge by writing to the BBC to complain about a line in a Horrible Histories episode. 👧👏 She got an amazing response! pic.twitter.com/p08XG903se

— Girlguiding LaSER (@Guiding_LaSER) April 3, 2019
When Evie heard a line on Horrible Histories that insulted girls, she knew she had to do something. So, Evie wrote to the BBC about the episode and she got a letter back – they agreed to change the line! Evie earned her Speaking out badge and taught us that equality is worth fighting for. Read Evie's story.
2. Ella and Caitlin convinced fast food chains to cut plastics
Sisters Ella and Caitlin are barely 10 years old, but they rallied 500,000 people to demand @McDonalds and @BurgerKing phase out plastic toys in kid's meals in order to protect the environment.

And they won! https://t.co/ywgp7q1Ytw

— Change.org (@Change) September 18, 2019
After learning about plastic pollution at school, Brownie sisters Ella and Caitlin started a campaign to reduce the number of plastic toys given out with fast food meals. When they were featured on the BBC's War on Plastic programme, both McDonald's and Burger King announced plans to remove or swap out plastic toys from meals. Result. Read Ella and Caitlin's story.
3. Sophie started a petition for trees
One of our Pixies is finishing up her Speaking Out badge & she's launched a petition online: https://t.co/9JjAVQtb7b?
after she was upset by the Council cutting down her favourite tree (https://t.co/jT9QVrWJqW…)@Guiding_LaSER @GuidingMembers @Girlguiding #PlanetProtectors

— 1st Lee South Brownies (@1stLSBrownies) October 4, 2019
Sophie from 1st Lee South Brownies was upset when her favourite tree was cut down. So, she started a petition to protect her local trees in Lewisham. Eco-warrior Sophie has also taken part in marches to protect the planet and has been speaking with her parents about the impact of products containing palm oil. Read Sophie's story.
4. Cyprus Division raised money for Children In Need
Akrotiri Rainbows, Brownies and Guides clubbed together to raise €430 for Children in Need last year. Did you spot our fabulous fundraisers picking up litter on the beach with Pudsey? He travelled all the way to Cyprus to thank them for their hard work.
5. Evie collected for her local foodbank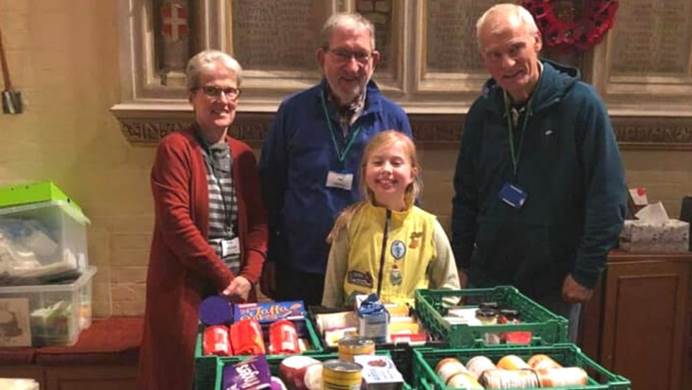 When Evie from 6th Hersham Brownies found out about foodbanks, she wanted to help collect food. She spent a few weeks telling her school friends, Brownie friends and family about her local foodbank and collecting their donations.
6. Lily's letter called for paper straws
Here's another fantastic article this #iwillWeek about Tweedbank Brownie Lily reaching out to her local Asda & asking them to stop using plastic straws! She felt inspired after taking part in the recent @Girlguiding #PlasticPromise campaign. #PowerofYouthhttps://t.co/YwQ6ZVyYJm

— Girlguiding Scotland (@GirlguidingScot) November 19, 2019
Lily from 1st Tweedbank Brownies was worried when she spotted piles of plastic straws wrapped in plastic at her local Asda's customer café in Galashiels. With the environment in mind, Lily wrote a letter which encouraged the café to introduce paper straws. The Asda store manager responded to say they loved Lily's suggestion and acted straight away. Lily's letter worked! Read her story.
7. Maisie raised money to help animals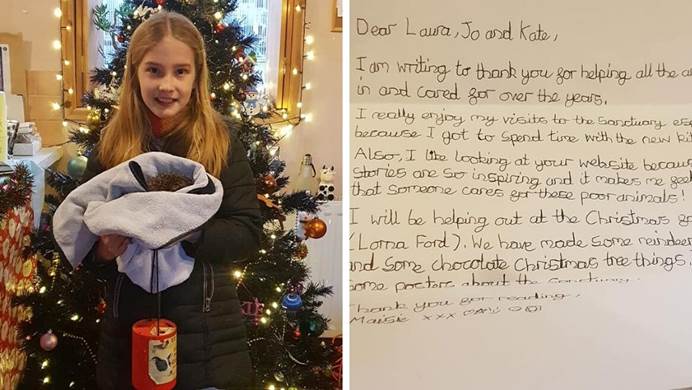 Maisie loves visiting the Pet Samaritans animal sanctuary and in December decided she wanted to do something to help the animals. So, Maisie took part in a Christmas fair to help raise money for the sanctuary and even earned her Girlguiding Charities badge.
8. Brownies helped leader Michelle battle breast cancer
Michelle, leader of 2nd Hamble Brownies, was diagnosed with breast cancer in 2018. She wrote to us in 2019 to tell us about the amazing strength she's found – in her Brownies and the Girlguiding community around her – since her diagnosis. Read Michelle's story.
Tell us how you made a difference
Was 2019 the year of the Brownie? We think so! We'd love to hear more stories from other Girlguiding sections, so if you know any Rainbows, Guides or Rangers who have done remarkable things, please get in touch with us by emailing [email protected].
More on day-to-day guiding