Be prepared
Comedian Lucy Porter talks about why her time in Brownies became the inspiration for her new stand-up show
Stevie, Girlguiding digital team
06 August 2019
We spoke to Lucy about why Brownies became the inspiration for her new stand-up show, and one lucky member won two tickets in our competition!
What made you decide to use your time in Brownies as inspiration for your new stand-up show?
I had a really happy time in Brownies and I absolutely loved my Brown Owl. I think that all the skills I learned in Brownies were really useful, especially first aid. I also think the values of being kind and friendly and always trying to do my best and lend a hand are still really important to me now. I was thinking about some of the problems in the world today and about the kind of leadership we need and I thought that my Brown Owl would be the perfect Prime Minister.
What's your funniest memory from your time in Brownies?
Brownie camp was so exciting and fun. I remember once Brown Owl was trying to show us how to cross a river safely and she fell in. Luckily only her pride was hurt, but we thought it was the funniest thing we'd ever seen.
What was the badge you earned that you were most proud of?
The jester badge of course! If I hadn't got that I might not be a professional comedian now.
What advice would you give to any girls who are thinking they might want to try stand-up?
Just start writing jokes and see what amuses your friends and family. It's such a great feeling when you make people laugh, but if you try to tell a joke and no one laughs it can feel pretty humiliating. You need to be quite resilient!
If you could create one badge for adults, what would it be?
I am quite an untidy person, so I'd probably just like a general tidying up badge. Although even if I got one I'd probably lose it in my messy handbag.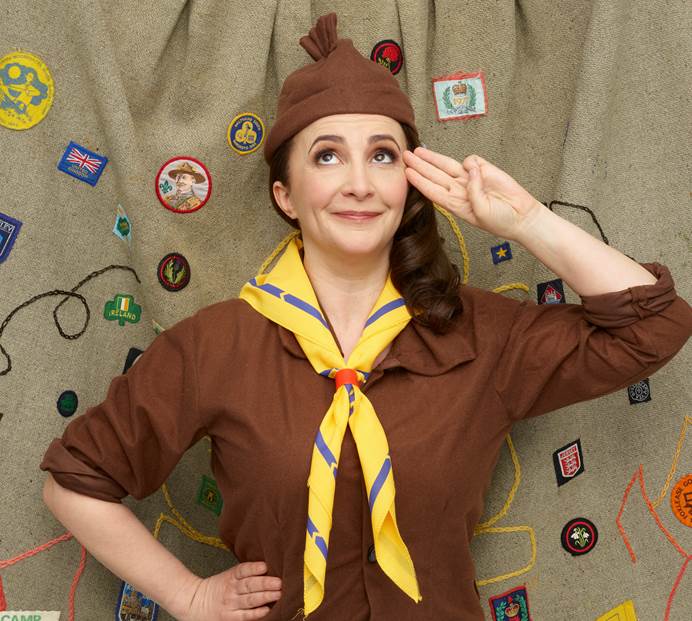 Competition winner
We asked our members what their Guiding badge for adults would be and we were blown away by the excellent suggestions! But in the end, there can only be one winner, and the two tickets went to Vicki Hambly for her brilliant suggestion that resonated with us all...
My #GirlguidingAdultBadge would be 'Me Time' @GuidingMembers because I do lots for other people and struggle to find time to do anything for myself! pic.twitter.com/cZfRfMsybM

— Vicki Hambly (@HamblyVicki) August 7, 2019
Congratulations Vicki - we can't wait to hear all about the show!