Meet Jess Bond, candidate for the WAGGGS world board
Jess Bond has been selected to be Girlguiding UK's candidate for the WAGGGS World Board election in July 2021
WAGGGS is the World Association of Girl Guides and Girl Scouts.
Their World Board is made up of 17 trustees, who are guiding members from around the world. These trustees have overall responsibility for the direction, governance and control of WAGGGS. The World Board members are elected every three years at WAGGGS World Conferences and Regional Conferences.
At the next World Conference, which will be held virtually in July, Jess Bond will be standing for election as the UK's candidate to the World Board for a term of five years.
Here she tells us more about what this means.
نسخة عربية
Version française ci-dessous.
Versión española abajo
Hello! Bonjour! ¡Hola!
مرحبا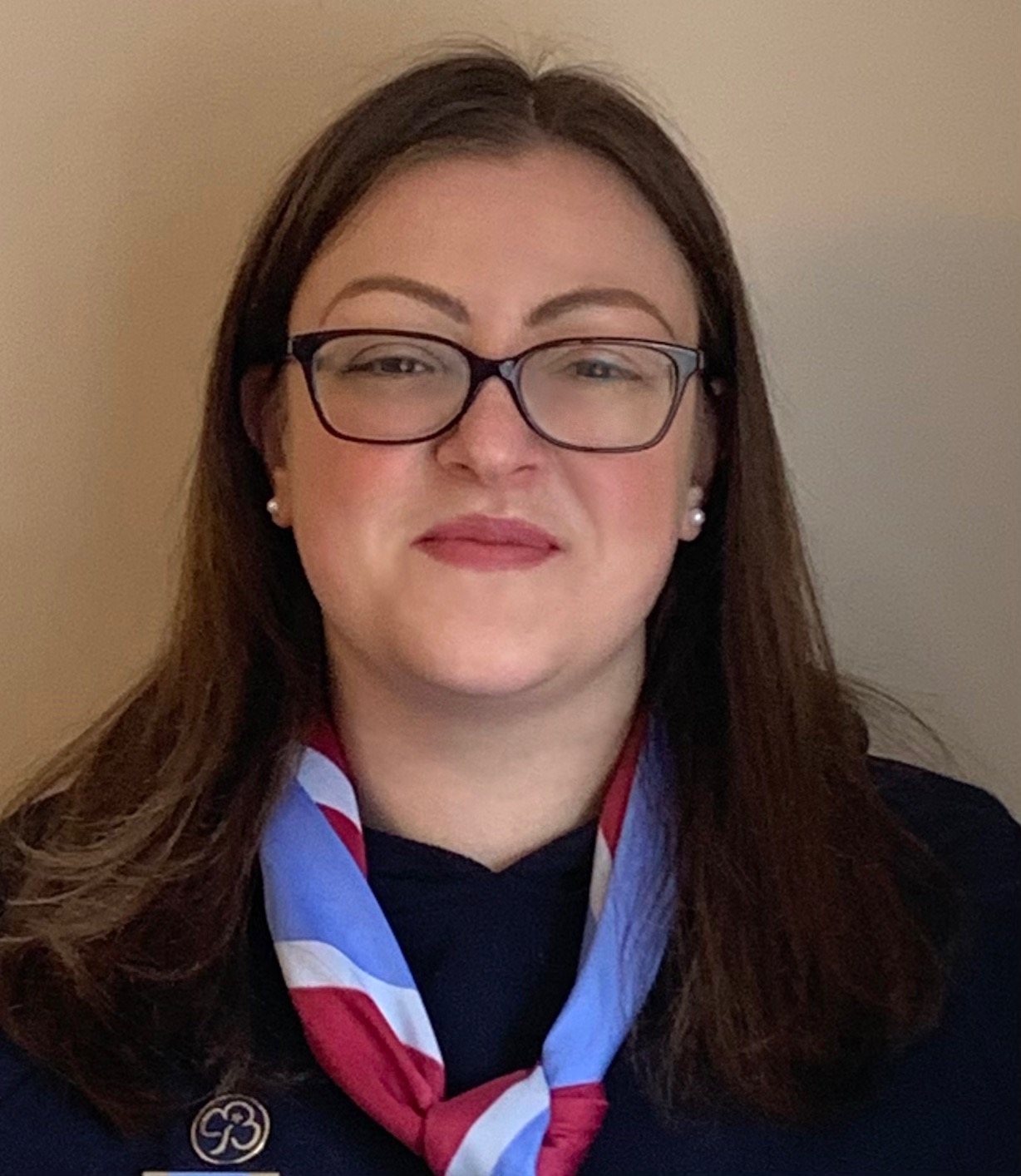 It's a huge privilege to have been nominated by Girlguiding UK to be a candidate for the WAGGGS World Board, having applied for the role in February.
I joined guiding as a ten-year-old in 1999 and have been a member ever since! I fondly remember completing the World Camp Challenge Badge shortly after I joined 1st Pontypool Guides in south Wales. Then I had my first taste of international travel when I visited the WAGGGS World Centre, Our Chalet in Switzerland, with a guiding group from Cambridge when I was a student.
However, I don't think I truly appreciated what it means to be a part of our incredible worldwide movement until I travelled to Our Cabana in 2010, for a WAGGGS Leadership Development Programme event with young women from Europe and Western Hemisphere regions.
That really was a life-changing event, helping me to understand more about the diversity and richness of guiding around the world, as well as shaping my leadership style even today. And I'm still in touch with some of the participants.
Since then, I've had a range of international roles in WAGGGS – from being part of the mentoring core group for Europe Region from 2013-16 to attending the Global Growth round table in 2015, from delivering inductions for the global volunteer pool this year to being the part of the procedural teams for Europe regional conference and meetings.
In all these roles, I've loved interacting with guiding members from all five regions, learning more about WAGGGS' programmes and helping to make a positive impact on guiding beyond the UK. Now I feel that I'd like to contribute to the development of WAGGGS in a more strategic role and that I would be able to bring a range of skills and relevant experience to the World Board.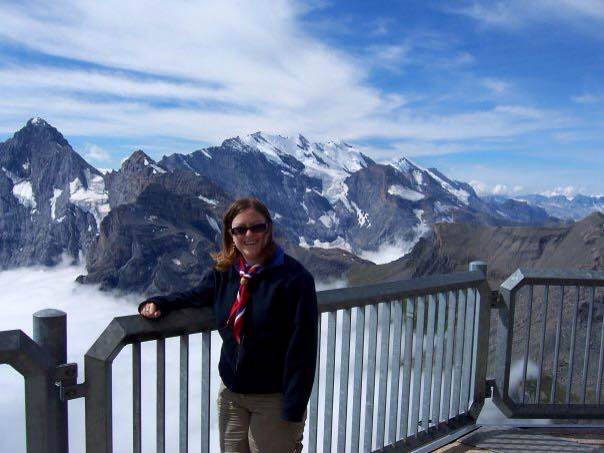 What would I bring to the World Board?
Passion and commitment to always putting young women at the heart of our Movement, and creative and ambitious ideas to embed meaningful youth involvement throughout WAGGGS' decision-making
Knowledge of WAGGGS, its structure and an appreciation of the huge potential and strength that comes from the diversity and efforts of more than 150 Member Organisations (MOs) around the world
Strategic leadership and governance experience, including knowledge of finance and management from previous trustee roles, from professional life working in higher education and from being a governor for a local primary school
An understanding of how to effectively develop, deliver, monitor and evaluate strategic plans and large-scale projects which have a positive impact on young members – like when I was lead volunteer for the launch of the new Girlguiding programme for ages 5-18 in 2018
Dynamism and an ability to work well with other people, with honesty, integrity and empathy and always in the best interest of our Movement, like I did when I was part of the national Girlguiding UK Centenary Management Group, working with staff and volunteers to deliver amazing celebrations to mark 100 years of guiding in 2010
What do I think WAGGGS' priorities should be in the next five years?
The pandemic will continue to impact WAGGGS, our Member Organisations and girls and young women globally for years to come. No doubt the World Board will need to make difficult decisions to maintain organisational resilience and financial health, use resources to best effect and always make decisions in the best interests of the Movement.
WAGGGS will need to anticipate and understand how external and internal factors will impact MOs and proactively support them to overcome these as part of the new Compass 2032 work, delivered in collaboration with MOs.
But there will also be unique opportunities – to amplify our advocacy, to rethink ways of working and to reach even more girls and young women. And that is exciting and has huge potential – it gives us the chance to be innovative and to be dynamic to have the biggest possible impact on the lives of girls and young women around the globe!
It's the chance to contribute to growing our membership and ensuring the long-term sustainability of WAGGGS which motivates me to stand for election to the World Board, at a time when I believe our Mission is more important than ever.
If you're representing your MO at the conference and would like to chat to Jess, email [email protected]
نسخة عربية
دبليو اي جي جي جي تي اس هو اختصار للجمعية العالمية لمرشدات وفتيات الكشافة. ويتألف المجلس الدولي لهذه المنظمة من 17 عضواُ من المرشدات من جميع أنحاء العالم وتترتب على هؤلاء الأمناء المسؤولية العامة في إدارة الجمعية وتوجيهها وحوكمتها. ويتم انتخاب أعضاء هذا المجلس الدولي كل ثلاث سنوات في المؤتمر العالمي للجمعية العالمية لمرشدات وفتيات الكشافة والمؤتمرات المحلية.
وقد وقع الاختيار على السيدة جيس بوند على أنها المرشح القادم عن المملكة البريطانية المتحدة للمجلس الدولي لمدة خمس سنوات قادمة، وستتقدم للانتخاب في المؤتمر العالمي القادم الذي سوف يتم عقده افتراضياُ في حزيران/ يونيو القادم. وهنا سوف تحدثنا عن برنامج عملها.
مرحبا في جميع اللغات
يشرفني أن أكون مرشحة المملكة البريطانية المتحدة لعضوية المجلس الدولي للجمعية العالمية لمرشدات وفتيات الكشافة بعد أن قدمت للترشيح في شباط/فبراير الماضي من هذا العام.
هذا وقد انضممت الى هذه الجمعية عام 1999 حين كنت في العاشرة من العمر ومازلت عضوة فيها منذ ذلك الحين. وتحضرني الآن ذكرى محبّبة تكللت باستكمالي لشارة تحدي المخيم الدولي، وذلك بعد أن التحقت بأول معسكر للمرشدات في مدينة بونتيبول جنوبي ويلز.
ثم استمتعت بأول خطوه لي على المستوى الدولي حين سافرت لزيارة مركز الجمعية العالمية لمرشدات وفتيات الكشافة في "أور شاليه" في سويسرا، وكان ذلك مع مجموعه من المرشدات من مدينة كامبردج حيث كنت طالبه فيها.
ومع ذلك لا أظن أني أدركت قيمة الانتماء لحركتنا الكشفية العالمية الرائعة حتى سافرت الى مركز "أور كابانا" عام 2010، وكان ذلك لحضور فعاليات برنامج تطوير وقيادة الجمعية العالمية لمرشدات وفتيات الكشافة التي تضمنت فتيات من مناطق أوربة وإقليم نصف الكرة الغربي.
لقد غيرت تلك المناسبة حياتي لأنها ساعدتني على أثراء فهمي لمدى تنوع وغنى فعاليات الإرشاد حول العالم، بالإضافة إلى صقل مهاراتي في القيادة حتى اليوم. ولا شك أني ما زلت على تواصل مع بض المشاركات حتى الآن.
ومنذ ذلك الحين وأنا أقوم بالكثير من الادوار المختلفة في الجمعية العالمية لمرشدات وفتيات الكشافة بدءاً من عضويتي في فريق المراقبة الأساسي في منطقه أوروبا من عام 2013 إلى 2016، وحضور فعاليات مؤتمر الطاولة المستديرة في النمو العالمي النمو العالمي عام 2015، ومن تقديم التعليمات لفعاليات مسبح المتطوعين هذا العام، إلى كوني جزءاً من فرق تنظيم الإجراءات العملية لمؤتمرات منطقة أوروبا واجتماعاتها.
وفي كل تلك الادوار، كنت أحب التفاعل مع المرشدات الأعضاء من المناطق الخمسة الرئيسية، وأستمتع بمزيد من المعرفة عن برامج الجمعية العالمية لمرشدات وفتيات الكشافة، وأساعد في ترك الأثر الإيجابي على حركة الإرشاد خارج حدود المملكة البريطانية المتحدة. والآن أشعر برغبة في المساهمة في تطوير الجمعية العالمية لمرشدات وفتيات الكشافة برؤية أكثر استراتيجية، كما أني أصبحت قادرة على تقديم طيف واسع من المهارات والتجارب المناسبة للمجلس الدولي.
ماذا يمكنني أن أقدم للمجلس الدولي
اولاَ، الالتزام بالعمل والتفاني من أجل العناية بالفتيات والتركيز الدائم عليهم في حركتنا الكشفية، وتقديم أفكار تحفّز الإبداع والطموح في الفتيات لمساعدتهن على المساهمة الفتيّة القيّمة خلال صنع القرار في الجمعية العالمية لمرشدات وفتيات الكشافة.
ثانياَ، التعريف الكافي بالجمعية العالمية لمرشدات وفتيات الكشافة ـدبليو اي جي جي جي اس ـ وبنيتها وتقدير القدرات والمهارات الهائلة التي تتأتى من تنوع وتضافر جهود أكثر من 150 عضو من المنظمات المحلية حول العالم.
الإدارة الاستراتيجية والخبرة في الحوكمة، بما فيها المعرفة بالأمور المالية، والإدارة بالاستفادة من خبرات الأعضاء السابقين التي اكتسبوها من حياتهم المهنية سواء في التعليم العالي أم في العمل كحاكم لمدرسة ابتدائية محلية.
شرح كيفية تطوير الخطط الاستراتيجية والمشاريع واسعة النطاق، وتقديمها، والإشراف على تنفيذها، وتقييمها بالشكل الفعال الذي يترك الأثر الإيجابي على الفتيات الأعضاء تماماً كما حدث حين كنت المتطوعة الرئيسة لفعالية تقديم وجب الغداء في برنامج إرشاد الفتيات في عمر يتراوح بين خمس سنوات وحتى الثامنة عشرة في عام 2018.
الديناميكية والقدرة على العمل مع الآخرين بشكل جيد، بصدق وأمانة وقلب عطوف بما يصب دائماً في مصلحة حركتنا الكشفية، كما فعلت عام 2010عندما كنت عضوة في المجموعة البريطانية الوطنية لإدارة الاحتفال باليوبيل المئوي للحركة الكشفية لمرشدات الفتيات، حيث عملت مع زملائي ومع المتطوعين في تقديم فعاليات احتفالية مميزة بمناسبة مرور مئة عام على تأسيس الحركة.
سيستمر الوباء في التأثير على الجمعية العالمية لمرشدات وفتيات الكشافة، وعلى المنظمات الأعضاء التابعة لها، وبالتالي على الفتيات والشابات حول العالم في السنوات القادمة. ولا شك أنّ المجلس الدولي سيحتاج إلى اتخاذ قرارات صعبة للحفاظ على ثبات عمل المنظمات وتأمين الاستقرار المالي، والاستفادة من المصادر المتوفرة بما يضمن المساهمة الأفضل في صنع القرارات التي تصب في مصلحة الحركة.
سوف تحتاج الجمعية العالمية لمرشدات وفتيات الكشافة لفهم العقبات الداخلية والخارجية والتنبؤ بها، والتي تؤثر على عمل المنظمات الأعضاء المحلية، ودعمها بشكل عملي استباقي لتجاوز هذه العقبات كجزء من عمل بوصلة 2032 الجديدة، والتي سيتم العمل عليها بالتعاون مع المنظمات المحلية.
ولابد أن تتوفّر فرص مميزة أيضاُ تجهر بقضيتنا وتعيد التفكير بطرائق جديدة العمل والوصول إلى مزيد من الفتيات والشابات حول العالم. وهذا ما يحفزنا على العمل وفيه الكثير من القدرات الهائلة إذ يمنحنا فرصة كبيرة لنكون أكثر إبداعاً وديناميكية بحيث يمكننا أن نغرس أطيب الغراس في حيوات هؤلاء الفتيات والشابات حول العالم ونجني أينع الثمر.
إنها الفرصة الملائمة للمساهمة في تنمية العضوية وتأمين ديمومة العمل على نطاق واسع في الجمعية العالمية لمرشدات وفتيات الكشافة، والتي تدفعني الآن للامتثال للانتخابات أمام المجلس الدولي في الوقت الذي أؤمن فيه بأهمية رسالتنا أكثر من أيّ وقت مضى.
إذا كنت تمثل منظمتك المحلية في المؤتمر وتحبّ أن تتحدث معي أنا جيس فإليكم عنوان بريدي الالكتروني [email protected]
L'AMGE est l'Association Mondiale des Guides et des Éclaireuses.
Leur Conseil mondial est composé de 17 mandataires, qui guide les membres du monde entier. Ces mandataires sont chargées de manière globale de la direction, la gouvernance et le contrôle de l'AMGE. Les membres du Conseil mondial sont élues tous les trois ans lors des Conférences mondiales et régionales de l'AMGE.
Lors de la prochaine Conférence mondiale, qui se tiendra en juillet de façon virtuelle, Jess Bond se présentera comme candidate du Royaume-Uni aux élections au Conseil mondial, pour un mandat de cinq ans.
Elle nous explique ici plus en détail ce que cela signifie
Hello! Bonjour! ¡Hola! مرحبا
C'est un grand privilège de voir ma candidature pour le Conseil mondial de l'AMGE avancée par Girlguiding UK, après avoir exprimé mon intérêt pour le rôle en février.
J'ai rejoint le guidisme à l'âge de dix ans, en 1999, et suis restée membre depuis lors. Je me souviens avec joie avoir obtenu mon Insigne de Défi du Camp Mondial peu après avoir rejoint le groupe 1st Pontypool Guides au Pays de Galles. J'ai ensuite goûté aux aventures internationales en visitant Notre Chalet, le Centre mondial de l'AMGE en Suisse, avec un groupe de guides de Cambridge pendant mes études.
Pourtant, je ne pense pas avoir réellement apprécié à sa juste valeur ce que cela signifiait de faire partie de notre merveilleux mouvement mondial avant de me rendre à Notre Cabaña en 2010, pour un événement du Programme de développement du leadership avec des jeunes femmes des Régions Europe et de l'Hémisphère occidental.
Cette expérience a changé ma vie, elle m'a aidé à mieux comprendre la diversité et la richesse du guidisme dans le monde, mais elle a aussi façonné mon style de leadership jusqu'à aujourd'hui. Et j'ai gardé contact avec certaines des participantes.
Depuis lors, j'ai assumé différents rôles internationaux au sein de l'AMGE, notamment : membre du groupe de tutorat de la Région Europe de 2013 à 2016, participante lors de la table ronde sur la Croissance Mondiale en 2015, responsable de l'initiation des bénévoles mondiales cette année ou encore membre de l'équipes de la procédure lors de différentes réunions et conférences de la Région Europe.
Dans chacun de ces rôles, j'ai pris du plaisir à interagir avec des guides des cinq régions, à en apprendre davantage sur les programmes de l'AMGE et à aider à créer un impact positif sur le guidisme au-delà du Royaume-Uni. Je souhaite désormais contribuer au développement de l'AMGE depuis une position plus stratégique, et je pense pouvoir apporter au Conseil mondial un éventail de compétences et d'expériences pertinentes.
Que puis-je apporter au Conseil mondial ?
De la passion et l'engagement de toujours mettre les jeunes femmes au cœur de notre Mouvement, ainsi que des idées ambitieuses et créatives pour ancrer la participation des jeunes dans le processus décisionnel de l'AMGE.
Une connaissance de l'AMGE, de sa structure, ainsi que l'appréciation de l'incroyable potentiel et la force que créent la diversité et les efforts de plus de 150 Organisations Membres (OM) aux quatre coins du monde.
De l'expérience en matière de direction stratégique et de gouvernance, y compris des connaissances relatives aux finances et à la gestion, acquises lors de mandats précédents mais aussi en travaillant dans le milieu de l'enseignement supérieur et en tant que directrice d'une école primaire.
De l'expérience dans l'élaboration, la mise en œuvre, le suivi et l'évaluation efficaces de plans stratégiques et de projets à grande échelle qui ont un impact positif sur les jeunes membres – par exemple lorsque j'étais la bénévole responsable pour le lancement du nouveau programme de Girlguiding UK pour les jeunes de 5 à 18 ans, en 2018.
Du dynamisme et la capacité à collaborer avec honnêteté, intégrité et empathie, toujours dans l'intérêt de notre Mouvement, comme je l'ai fait au sein du groupe de gestion du centenaire national de Girlguiding UK, lorsqu'avec des membres du personnel et des bénévoles nous avons organisé des célébrations exceptionnelles pour marquer les 100 ans du guidisme en 2010.
Selon moi, quelles devraient être les priorités de l'AMGE dans les cinq années à venir ?
L'AMGE, mais aussi nos Organisations Membres et les jeunes filles et femmes dans le monde continueront à ressentir les effets de la pandémie dans les années à venir. Le Conseil mondial devra sans aucun doute prendre des décisions difficiles pour assurer la résilience organisationnelle et la santé financière, il devra utiliser les ressources au mieux et prendre chaque décision dans le meilleur intérêt du Mouvement.
L'AMGE devra anticiper et comprendre la façon dont les différents facteurs externes et internes influenceront les OM, elle devra les soutenir activement pour les aider à relever ces défis, dans le cadre de la Boussole 2032, mise en œuvre avec la participation des OM.
Mais des opportunités uniques apparaîtront également : d'accentuer notre plaidoyer, de repenser nos façons de travailler et d'atteindre encore plus de filles et de jeunes femmes. C'est formidable et représente un potentiel incroyable – cela nous donne la chance de faire preuve d'innovation, d'être dynamiques et de créer le plus grand impact possible dans les vies des filles et des jeunes femmes dans le monde !
C'est l'occasion de pouvoir contribuer à la croissance de l'AMGE et de garantir sa durabilité sur le long terme qui me motive à me présenter aux élections pour le Conseil mondial, à une époque où, selon moi, notre Mission est plus importante que jamais.
Si vous représentez votre OM à la conférence et que vous voulez discuter avec Jess, envoyez un mail à [email protected]
La AMGS es la Asociación Mundial de Guías Scouts.
Su Consejo Mundial lo forman 17 fideicomisarias, miembros activos de todo el mundo. Estas fideicomisarias se encargan de la dirección, la gobernanza y el control de la AMGS. Los miembros del Consejo Mundial se eligen cada tres años en las Conferencias Regionales y la Conferencia Mundial de la AMGS.
En la próxima Conferencia Mundial, que se celebrará virtualmente en julio, Jess Bond se presentará como candidata por el Reino Unido al Consejo Mundial por un periodo de cinco años.
¿Qué significa todo esto para ella?
Hello! Bonjour! ¡Hola! مرحبا
Es un gran honor ser la nombrada por Girlguiding UK como su candidata al Consejo Mundial de la AMGS tras haber presentado mi candidatura en febrero.
He sido miembro del guidismo desde que me uní con apenas 10 años, en 1999. Tengo el gran recuerdo de conseguir la Insignia del Desafío del Campamento Mundial poco después de unirme al grupo de 1st Pontypool Guides en el sur de Gales. Luego disfruté de mi primera experiencia internacional al visitar el Centro Mundial de la AMGS, Nuestro Chalet, en Suiza, con un grupo de guías de Cambridge cuando aún era una estudiante.
Pero creo que no aprecié totalmente el verdadero significado de pertenecer a este increíble movimiento mundial hasta que viajé a Nuestra Cabaña en 2019 para un Programa de Desarrollo de Liderazgo de la AMGS con jóvenes mujeres de las Regiones de Europa y del Hemisferio Occidental.
Ese evento me cambió la vida. Me ayudó a entender mejor la diversidad y la riqueza del guidismo de todo el mundo. También influyó decisivamente en mi estilo de liderazgo entonces, y sigue influyendo en él hoy en día. Además, sigo en contacto con algunas de mis compañeras.
Desde entonces, he desempeñado varias funciones internacionales para la AMGS, como participar en el grupo central de mentorías para la Región de Europa en 2013-2016 o en la mesa redonda sobre Crecimiento Global en 2015, o como organizar actividades de formación para el grupo mundial de voluntariado este año, o formar parte del equipo de procedimientos para las reuniones y la Conferencias Regional de Europa.
En todas mis funciones he disfrutado de la interacción con otros miembros de las cinco regiones y de lo que he aprendido sobre los programas de la AMGS, y sobre todo, del impacto positivo que hemos tenido en el guidismo más allá del Reino Unido. Ahora, creo que ha llegado el momento de contribuir al desarrollo de la AMGS de una manera más estratégica, y confío en que seré capaz de aportar un gran abanico de habilidades y experiencia al Consejo Mundial.
Qué puedo aportar al Consejo Mundial
Pasión y compromiso para que las mujeres jóvenes sean siempre el centro de nuestro Movimiento, e ideas creativas y ambiciosas para incluir e involucrar a las jóvenes de manera significativa en la toma de decisiones en la AMGS.
Conocimiento sobre la AGMS y su estructura. Aprecio del gran potencial y fuerza que emana de la diversidad y los esfuerzos de más de 150 Organizaciones Miembro (OM) de todo el mundo.
Experiencia en liderazgo estratégico y gobernanza, así como conocimientos en el ámbito financiero y de gestión, al haber desempeñado labores como fideicomisaria previamente, mi carrera profesional en la educación superior y en el consejo escolar en un colegio de educación primaria local.
Conocimientos para desarrollar, aplicar, controlar y evaluar de manera eficiente planes estratégicos y proyectos de gran envergadura que tengan un impacto positivo en los miembros más jóvenes, como cuando fui nombrada voluntaria principal para la presentación del nuevo programa Girlguiding para niñas de 5 a 18 años en 2018.
Dinamismo y capacidad para trabajar en equipo con honestidad, integridad y empatía, teniendo siempre en mente los intereses de nuestro Movimiento, como cuando formé parte del grupo de gestión por el Centenario de Girlguiding UK, en el que trabajé con el resto de personal y voluntarias para organizar los espectaculares actos de celebración del 100.º aniversario del guidismo en 2010.
Cuáles me parecen las prioridades de la AMGS para los próximos cinco años
La pandemia afectará a la AMGS, a nuestras OM y a las niñas y mujeres jóvenes de todo el mundo durante años. Sin duda, el Consejo Mundial deberá tomar decisiones difíciles para mantener la resiliencia organizativa y la salud económica de la asociación, utilizar los recursos a nuestro alcance para causar el mejor impacto posible, y actuar siempre en el mejor interés del Movimiento.
La AMGS tiene que anticiparse y entender cómo se verán afectadas nuestras OM por todos los factores internos y externos, y apoyarlas de manera proactiva para que puedan superar todas las dificultades, en el marco del nuevo Brújula 2032, implementado en colaboración con nuestras OM.
Pero también tendremos oportunidades únicas: aumentar nuestra abogacía, pensar en nuevas maneras de trabajar y llegar incluso a más niñas y mujeres jóvenes. Es una perspectiva emocionante y nos ofrece un gran potencial, nos da la oportunidad de innovar y volvernos más dinámicas para tener el mayor impacto posible en la vida de niñas y jóvenes de todo el mundo.
Esta oportunidad para contribuir al crecimiento de nuestra membresía y para garantizar la sostenibilidad a largo plazo de la AMGS es lo que me motiva a presentar mi candidatura para el Consejo Mundial, en un momento en el considero que nuestro Movimiento es más importante que nunca.
Si representa a tu OM en la conferencia y quiere ponerse en contacto con Jess, envíe un correo electrónico a [email protected]
Need more information?
Get in touch with the Girlguiding press office for more information on our stories. We can also send you our latest press releases and provide comment on breaking news.