Meeting the Madrigals at our special movie screenings
Thousands of Girlguiding members took over ODEON screens to experience the magic of Disney's Encanto
Earlier this month, nearly 35,000 members gathered from all over the country to meet the fantastical Madrigal family, and experience Mirabel's story.
We were excited to meet such a vibrant, colourful set of new characters, and had a great time tapping our toes to the Colombian-inspired music! We loved the message of the film, and how much there was for girls to relate to.
Before the film, we even saw a special Girlguiding trailer starring two or our wonderful advocates. Kate and Alice interviewed Jared Bush and Charise Castro-Smith – the writers and co-directors of the film – and asked them lots of questions about the inspiration behind the story.
Watch the full version of our trailer.
And what did we think of the film?
3rd #Chislehurst #Rainbows, 1st #Brownies & #Guides, @9thPWRainbows & 10th #PettsWood #Rainbows had a fantastic time at our very own @Girlguiding screenings of #MirabelsMagicalMovie @ODEONCinemas #Orpington this morning. Huge thanks to the amazing staff & #volunteers pic.twitter.com/dcc71UDLfs

— Helen BB (@Helen_B_B) December 5, 2021
Our brownies had a fantastic time at the screening and loved every minute of it #mirabelsmagicalmovie pic.twitter.com/dWjmYS6JsE

— 2nd Gladsmuir Brownies (@2ndGladsmuir) December 5, 2021
7th Rainbows and Brownies had a great morning at #MirabelsMagicalMovie and then having lunch together!
It was so fun to be all together and we even made some very special Rainbow promises 😍😍🌈🌈
Thanks to our super leaders for making the trip happen!@Girlguiding @Guiding_LaSER pic.twitter.com/lUCb7ZQkIV

— GirlguidingStPancras (@girlguidingstp) December 5, 2021
Round 2 of seeing #Encanto but this time with my #Rangers!! They're definitely the easier group to take away 😊 @Girlguiding @gguidinganglia @GGLincsSouth #MirabelsMagicalMovie #Girlguiding pic.twitter.com/oil2JzVCFP

— Megan Girlguiding (@SnowyOwlMegan) December 5, 2021
We loved it! Thank you so much to ODEON for giving girls and volunteers such a special experience.
Celebrate your trip
Don't forget to grab a glittering Mirabel's Magical Movie badge, available from our online shop.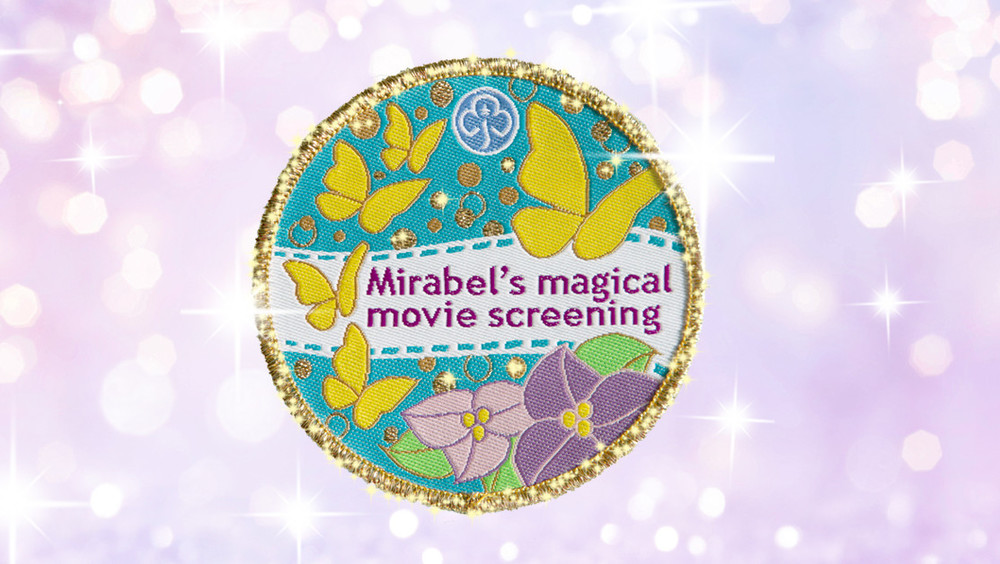 Buy the badge
Do something unforgettable
There's always a way that you can get more involved with Girlguiding. We have events and opportunities for all ages across the UK and around the world.