Thank you for your support following the death of the Queen
How Girlguiding members served the Queen and their communities during the mourning period
We were touched by members' thoughtful gestures and kind actions following the death of Her Majesty the Queen.
Here are just some of the ways Girlguiding members supported our communities and remembered our Patron during the mourning period.
Volunteered at the Queen's funeral
Lots of volunteers made the journey into central London on Sunday, 18 and Monday, 19 September to help before and during the Queen's funeral.
At the age of 7, 24 years ago I made a promise to serve my Queen. A promise I've renewed countless times of the years. Today, as a Queen's Guide I got to serve our Patron, HM The Queen, one last time by helping to Marshall at the state funeral. It was an incredible privilege 🇬🇧❤️ pic.twitter.com/Jm4gVz51Z1

— Vicki Rowe 💙 (@vicki_rowe) September 19, 2022
Well done to @Cobham Brownie leaders Rebecca & Debbie who provided help & information to the public during the Queen's funeral. They were fulfilling the part of their Promise to "serve the Queen and my community" #girlguiding @GGSurreyWest pic.twitter.com/98cOaDzfRN

— Girlguiding Cobham District (@ggcobhamoxshott) September 22, 2022
'It was an honour, privilege and a lovely experience to be involved volunteering for Girlguiding.'
'Thank you for the opportunity Girlguiding gave us this weekend. We felt we kept our Girlguiding promise to 'serve the Queen' today.'
View this post on Instagram
It was an honour and a privilege to uphold my #Guide promise for one last time "Serve the Queen and my community" representing @Girlguiding @Guiding_LaSER at the State Funeral. Thank you for everything Ma'am. #RIPQueenElizabeth #QueenElizabethII #mercercares pic.twitter.com/2nwjYjSCCG

— Yvette Saunders (@SaundersY12) September 20, 2022
Some volunteers stayed overnight in ICANDO. Assistant chief guide Liz Brown helped organise it and she said:
'Everyone that came in talked about doing their duty to the Queen one last time, how proud they were to take part and being pleased to have the opportunity to do it. Members from all countries and regions volunteered with the marshalling, even from France and Lanzarote.
'We also had members that came up to London and popped in when they realised HQ was open, they signed the condolences book and were pleased for a sit down to rest and we provided hot drinks and biscuits. We had families pop in with girls and looked at the uniforms, badges to buy and signed the book as a family.'
Spoke to the media about the Queen
Advocate Maddie spoke to BBC One about what the Queen meant to her as a Girlguiding member.
What an honour to speak on BBC One this afternoon about what the Queen meant to me as a member of @Girlguiding and so emotional to witness the procession too. Very proud to have been able to be a small part of it pic.twitter.com/WwxOXg04oB

— Maddie WR (@MaddieGGUK) September 14, 2022
Represented Girlguiding at the funeral
Amanda Medler, our chief guide, went to the funeral to represent the Girlguiding membership.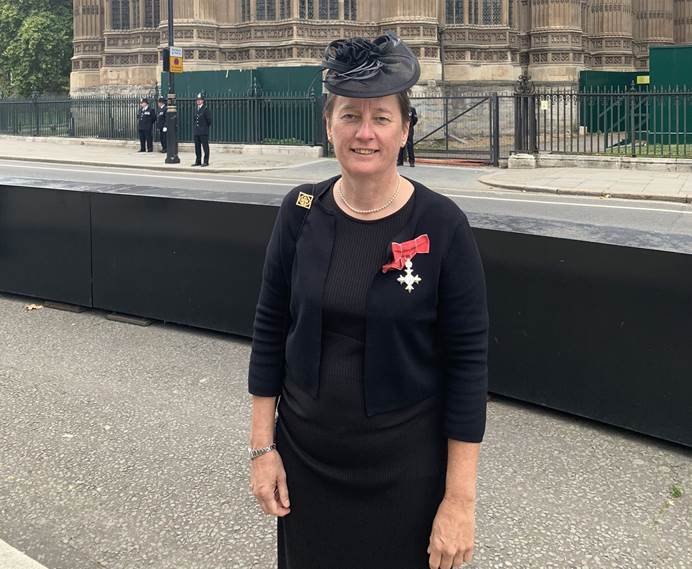 Laid flowers
Across the country, members laid flowers in the Queen's memory.
As my role of district commissioner I went up to Stormont this evening to place flowers on the gates on behalf of my units in Cregagh District @Girlguiding @GuidingMembers @ggulster pic.twitter.com/4WH4kTiZd5

— Little Susy 💙 (@little_susy7) September 14, 2022
1st Usk Rainbows placed their floral tributes in the grounds of the Sessions House and 1st Abbots Langley Rainbows decorated flowers which they made into a paper bouquet in memory of the Queen. It was laid at the local church with the other floral tributes. 'We are always proud of the care and effort the girls put into activities like this,' says leader Amanda.
Girlguiding members from Hartley Wintney paid tribute to the Queen at a local service of commemoration on Sunday, 18 September. Members carried the Union Flag and section flags and one of the Guides read out a poem as part of the service.
Brownie leader Clare said: 'Super proud of our girls today. I was very honoured to carry the Union Jack as Guides made their last dedication to the Queen before we welcome our new King.'
Remembered the Queen in unit meetings
Lovely evening celebrating and remembering the wonderful life and service of HM The Queen, our @Girlguiding patron. pic.twitter.com/zn2bQBO85e

— Vicki Rowe 💙 (@vicki_rowe) September 14, 2022
Wetheral Brownies paid tribute to the Queen as the sun set over their flag pole. Leader Lucy says: 'Your guiding light shines on Your Majesty.'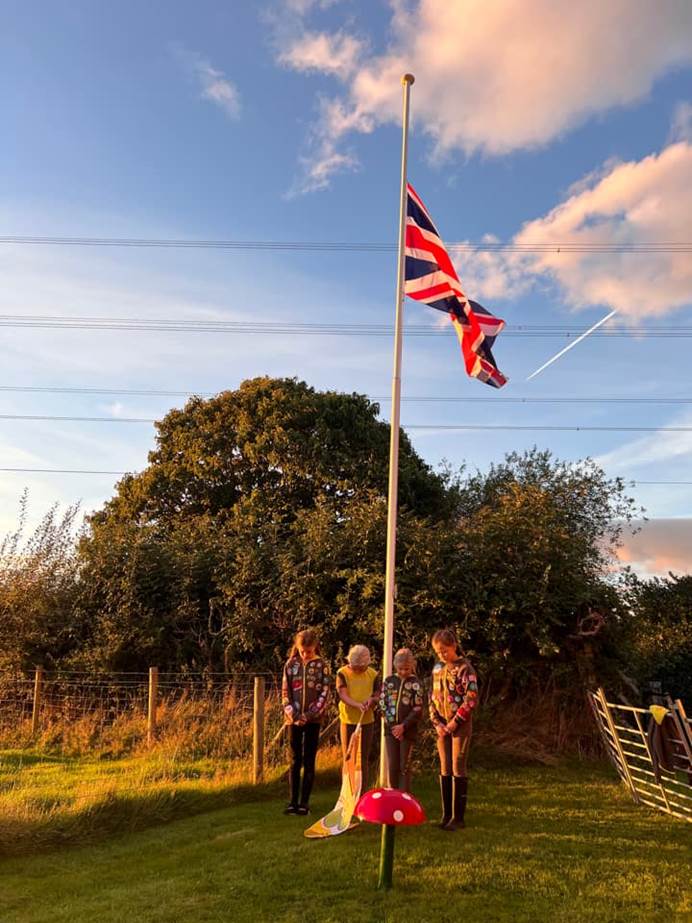 Shared our feelings of loss
Her late Majesty was a shining example of doing one's duty and she kept her vow to serve her people for all of her life.
You will always be our guiding light.
A fantastic role model for all our members thinking of all her family at this very sad time.
It was an honour to serve the Queen though my guiding life from a Brownie through to a leader.
Just wanted to say thank you for all you have done for Girlguiding and you will be missed.
I met the Queen- she loved hearing about all my Girlguiding adventures.
She was very encouraging for girls, a true Guide.
Saddened by the news of the death of Queen Elizabeth II. An inspirational role model to all of us who have promised to 'serve our community and help others'.
I've never met the Queen but have so much respect for her and the role she has played over her years of service. She was truly a 'guiding' light and was proud to serve her.
A message to all Girlguiding members from our Chief Guide, Amanda Medler. pic.twitter.com/OgPAcmugFY

— Girlguiding For Members (@GuidingMembers) September 10, 2022
Reflected on special moments with the Queen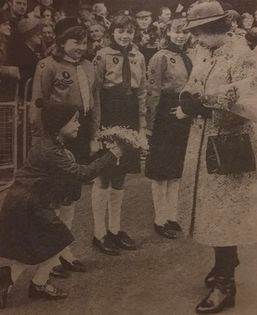 'When I was eight-years-old, in 1987, I was chosen to present Her Majesty with a bouquet of flowers at the end of a Scout and Girlguiding guard of honour. She was visiting Canterbury.' - Fay Oliver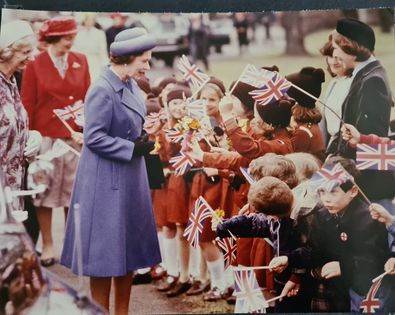 'Here's me meeting the Queen on walkabout in 1981 as a Brownie when she visited Norway. I remember it so well as Prince Phillip stopped and spoke to me.' - Anne Hillman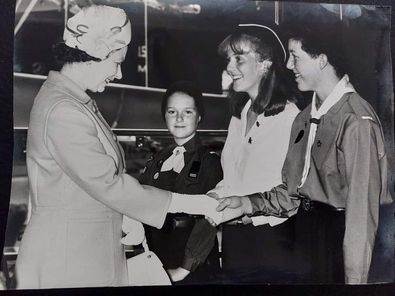 'In 1988 the Queen visited Paisley for its 500 years anniversary. I was honoured to be chosen to represent Girlguiding as a Guide when she visited the Lagoon Leisure Centre, my uncle was able to get me a copy of the photo taken by the local paper.
'I then had the privilege, as a Guide leader, of being invited to attend the garden party at Holyrood house in 2013. I purchased the DVD from the day a memory of the occasion. As a unit we have celebrated many occasions over the 37 years, the last being the celebration we had for her Platinum Jubilee.' - Karen Sheils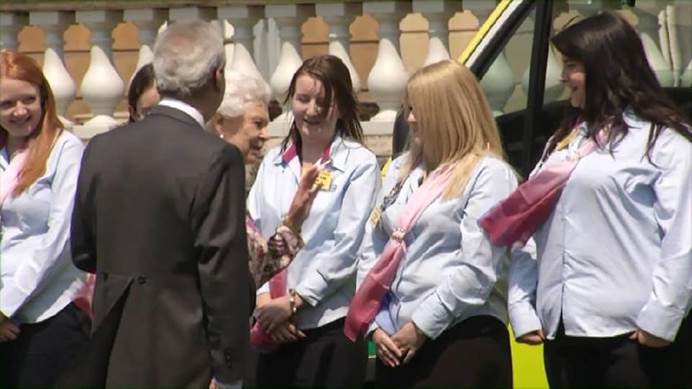 'I was honoured to be part of the Girlguiding North West England contingent who acted as garden party assistants at Buckingham Palace in 2013 and we were very fortunate to be presented to the Queen , we had a very lengthy conversation which was captured on the official garden party DVD ! Girlguiding has given me many opportunities but this is the one I will treasure the most.' - Kerry Ann Brown
We are touched to have received donations in memory of the Queen. We now have a dedicated page where you can donate in the Queen's memory and leave a message at the same time. Your gifts will go towards ensuring we are able to continue giving girls amazing opportunities.
And we know it can be difficult to know what to do to support young members following the Queen's death. This blog has some activities you can do with your unit to help manage conversations.
The Queen and Girlguiding