The Queen's guiding journey
Empowering girls and young women around the world
Queen Elizabeth II was our patron from 1953 until her death on 8 September 2022. As well as being our patron, she was a Guide, Ranger and loved guiding.
While the core values of guiding have remained constant, I have been delighted to watch it evolve, led by the ambitions and needs of the girls of the day.

Queen Elizabeth II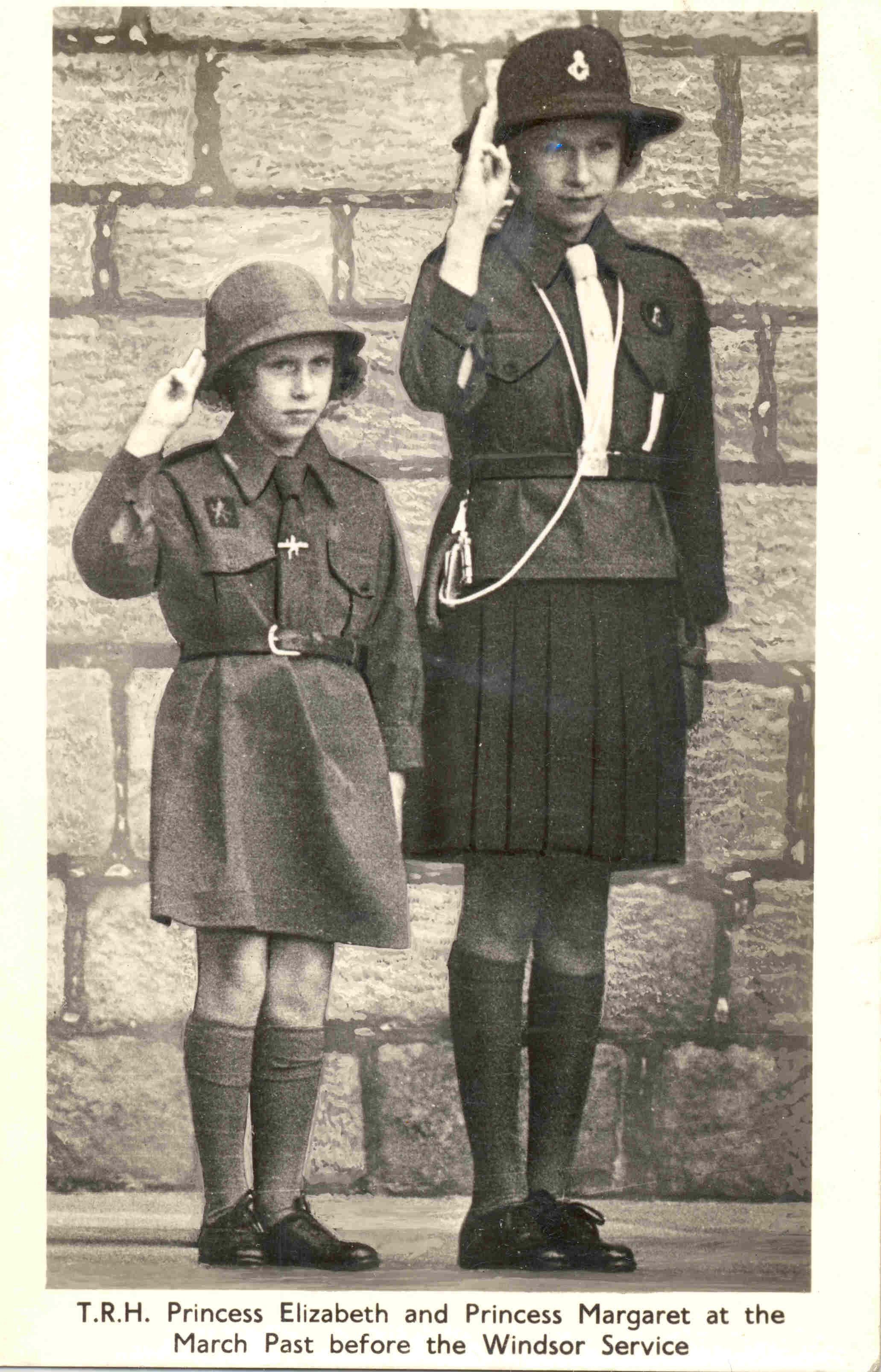 The Queen became a Guide in 1937, aged 11, when she was a princess. A Guide leader called Miss V M Synge was invited to Buckingham Palace where she met Princess Elizabeth, her sister Princess Margaret and 14 of their cousins and friends.
Together they started 1st Buckingham Palace Guides, using a summerhouse in the garden as their base. They did everything an ordinary Guide unit would do including hiking, making campfires, learning first aid and going on scavenger hunts.
In 1942, during World War II, the Guide unit moved to Windsor castle. Elizabeth, who was Patrol Leader of Swallows, kept guiding and helping with the war effort. And when the princess turned 17, she joined Sea Rangers and became Chief Ranger of the British Empire in 1946.
The Queen's involvement with guiding didn't stop there. On 13 July 1947, the International Scout and Guide Folk Dance Festival took place. 200 Guides who had done the Queen's Guide Award took part in a march-past in the Mall at Buckingham Palace. Princess Elizabeth joined them to take the salute, the first public duty she did following her engagement.
Even though the Queen didn't take on a leadership role after being a Ranger – being head of state is busy work! – her relationship with guiding continued. When she married Prince Philip in 1947, aged 21, two of her bridesmaids were former Buckingham Palace Guides and the ingredients for the wedding cake were provided by the Australian Guides.
She became patron in 1953, the year after she took the throne. From 29 July to 7 August 1957, 4,000 Guides from 70 different countries went to the Windsor World Camp. The Queen, who let the organisers hold the camp in the Great Park, one of the Royal Parks, visited the camp too.
Since then, we've been at the Queen's side, mentioning her in the Promise, celebrating her jubilees and remembering her impact on the world. Our patron took the time to meet hundreds of young members and volunteers over the years and is woven into the fabric of our history - once a Guide, always a Guide!
To me, she was an integral part of my Girlguiding experience. I remember making my promise for the first time as a Brownie to serve the Queen and my country over twenty years ago. We try to keep our promise everyday, so she's been there, everyday and at every unit meeting.

- Lucy, Girlguiding member