Things we already love about Mirabel
Join us for a magical adventure!
We can't wait to meet this new character and her family!
Tickets are now on sale for #MirabelsMagicalMovie, our exclusive screenings of Disney's Encanto, just for Girlguiding members.
This is the tale of an extraordinary family, the Madrigals, who live hidden in the mountains of Colombia in a magical house, in a vibrant town, in a wondrous, charmed place called an Encanto. The magic of the Encanto has blessed every child in the family with a unique gift from super strength to the power to heal—every child except one, Mirabel.
Ahead of the screenings, we've been watching the trailers to learn what we can about this new character, and we think there's lots of things about her that girls will relate to.
So here are five things that we already love about Mirabel, along with some special thoughts from some of the makers of Disney's Encanto!
'She's not afraid to stand up for what she knows is right.'
Mirabel is played by Stephanie Beatriz, who you might know from Brooklyn Nine-Nine. According to Stephanie, one of her favourite things about Mirabel is her bravery: 'Mirabel is a really funny, loving character who also deeply yearns for something more. She's also not afraid to stand up for what she knows is right—something I love and relate to very much.'
We love this! We know that girls and young women have strong opinions and big ideas about the world they want to live in. We're excited to see Mirabel go on her own journey too.
We also love that she believes in herself. In the trailer, we see Mirabel say that 'Gift or no gift, I am just as special as the rest of my family.' Although she might not have magical powers, we love that Mirabel has faith in her own special talents and skills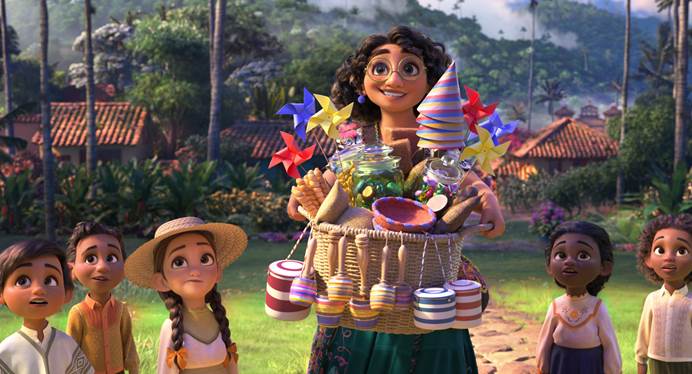 She's a leader
When the rest of her family begin to lose their magical powers, they turn to Mirabel in their time of need. Even though she doesn't have magical powers, they depend on her and trust her because of who she is.
At Girlguiding, we think that leadership is all about empowering the people around you, and helping them live up to their full potential. Our leaders and volunteers are people you can depend on and look up to, and we love seeing female characters represented in this way.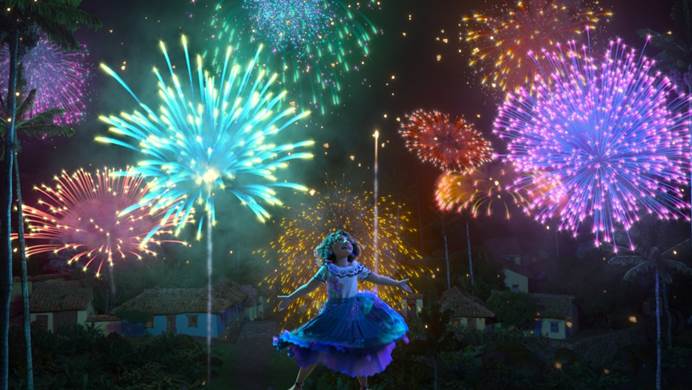 She's relatable
Mirabel is clearly a strong character, but nobody can be perfect all the time. Encanto's director and screenwriter Jared Bush said:
'Mirabel is all of us. She is the ordinary member of her family among a bunch of extraordinary, magical people. Many of us can feel like we're surrounded by superstars in our lives—we can feel intimidated; we can suffer from imposter syndrome. It doesn't matter who you are or what you've achieved—there's always someone who's doing it bigger or better. Mirabel is that character we can all relate to.'
We know that girls today are under a huge amount of pressure. We love seeing a character who can be vulnerable about her doubts and insecurities, as well as confident in her strengths.
She has amazing fashion sense!
It has to be said, Mirabel's clothes are beautiful! We love her vibrant embroidery – it's so detailed it looks like it could have been done by hand.
We especially love the butterflies scattered on her top and skirt – according to associate production designer Lorelay Bové, 'The butterfly is important in Colombia… there's an otherworldly quality.'
She has strong ties to her roots and her family
Disney's Encanto is set in and inspired by Colombia, in South America and that's so important to Mirabel's story.
'We knew our story was going to be about a family, which pointed us to Latin America, where family bonds are so strong,' says director Jared Bush. 'We wanted to land in a place where there are lots of different types of people and ethnicities and cultures on top of music, dance and amazing architecture.'
We're so excited for girls to explore such a vibrant, colourful world, and can't wait to meet Mirabel and the rest of her fantastical family.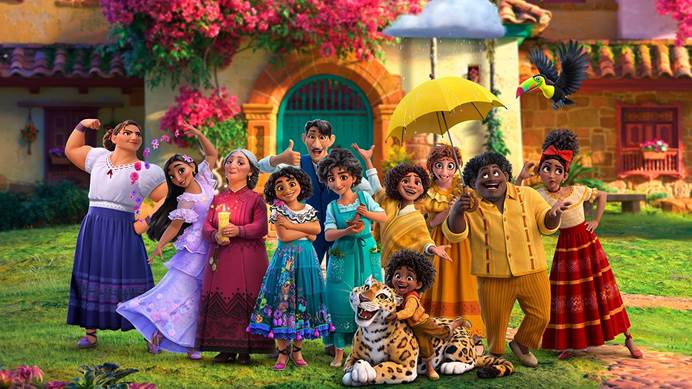 If you haven't booked tickets yet for Mirabel's Magical Movie screening, it's not too late! Join us for a magical adventure on 4-5 December at an ODEON cinema near you.
Do something unforgettable
There's always a way that you can get more involved with Girlguiding. We have events and opportunities for all ages across the UK and around the world.