100 barefoot marathons
Anna McNuff gives us the low down on how she plans to run 100 marathons across the length of Britain, barefoot
guiding magazine
19 August 2019
Does the idea of running 100 marathons back to back blow your mind? What if they were all done barefoot? It might sound like an impossible task, but we can't think of anyone better to take it on than adventurer and Girlguiding UK Ambassador, Anna McNuff.
What made you want to create the Barefoot Britain challenge?
At the core of this journey is an aim to show the young women of Great Britain that there's more magic in them than they will ever know. As a proud ambassador for UK Girlguiding, I'm working to visit as many guiding units on the route as possible, speaking to girls of all ages about the joys of adventure and the great outdoors. Adventures are about a quest for growth. I figure that if I'm going to stand in front of young girls around the UK and encourage them to take on challenges that they believe are just beyond their reach, then I have to be on that journey too.
But why are you doing it barefoot?
I've had a quiet obsession with minimalist running for a few years now, ever since I read Born to Run and spent time in New Zealand, where many of the kids run around barefoot. I love nothing more than a barefoot wander in the local park and take great joy in returning home with grubby feet. I also think that (just like every other part of our bodies) feet are amazing. They're quite the complex machine, with over 7,000 nerve endings in each sole and 26 bones in each foot. As always, this adventure is a huge experiment – I'm looking to see if I can coax my feet into doing what they were built to do, after a lifetime of being squidged up in shoes. Am I terrified? Yes. Am I excited? Yes, that too. Am I wondering if I've gone one step too far this time? Absolutely. Which is exactly why I know that this is the right challenge to take on.
Will you have to run a marathon every day for five months?
No, I won't. The overall distance is equivalent to 100 barefoot marathons, but in a bid to inject some realism into the equation, sometimes I'll run less and (as the run progresses) sometimes I'll run more.
You'll need a break sometimes, surely. Where will you sleep?
There'll be nights when I'll campout in the middle of nowhere under the stars with a bivvy bag, but often I'll be in the homes of the kind people of the UK. I'm hoping to get to know the people of our amazing country as well as I do the landscapes.
How have you prepared for this challenge?
I'm not sure anyone is prepared to run 100 barefoot marathons – that would be madness – but I'm as ready as I can be. I've been running in minimalist trainers for three years now, and over the past year have transitioned to run in just thin socks or totally barefoot. There are still some terrains, like gravel track, that are agony, but others that are dreamy, such as the Yorkshire Dales. It will depend on what I come across as to how I'll fare. If I step on glass or cut myself, I'll cross that bridge when I come to it.
How can units get involved?
This time around, I won't be carrying all my worldly possessions on my back as I run. Instead I'll be relying on the kindness of strangers to help my gubbins get from one part of the UK to the next.
Here are some ways you can help:
Arrange for me to visit your local unit
Offer to host me for the night
Come and run with me on one of the open stages
Have me come and talk to your local running club
Offer advice on my intended route and the terrain
Tell the world about this adventure! Sharing is caring, after all
Follow me on social media @annamcnuff – this helps spread the love more than you know
This interview was originally published in guiding magazine.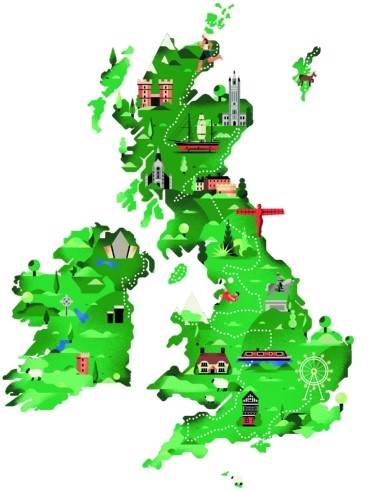 Want Anna to come and talk at your unit?
Get in touch to find out her availability. The talks are booked on a first-come, first-served basis. Email Anna's logistics team to find out more.
Email Anna's team