It's time to end sexual harassment in schools
Today the Women and Equalities Select Committee begin their inquiry into sexual harassment and sexual violence in schools
Hannah Stubbs, Girlguiding Advocate
19 April 2016
Girlguiding members have been campaigning on the issue of sexual harassment in schools since 2014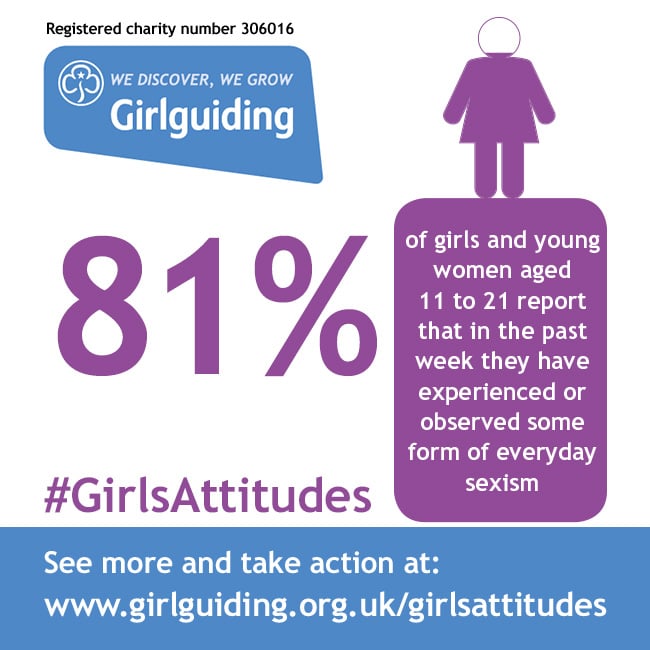 Violence against women and girls (VAWG) continues to be one of the biggest dangers for women today, with one in three women worldwide experiencing some kind of sexual violence during their lives.
School should be a safe haven from these kinds of problems, but sadly Girlguiding's research has found that girls as young as 11 can experience sexual harassment. 25% of 11 to 16 year old girls say that concerns over potential sexual harassment make them consider whether or not to speak out in class. A fifth of girls have experienced unwanted touching or unwanted sexual attention at school.
This is wrong and must stop.
My experience
Girls I know have had their bras undone, had boys look up their skirts and touch them inappropriately at school. Even worse, their teachers often do nothing about it. I have been catcalled and harassed at university, where the culture of sexual harassment is endemic and harmful.
We have to acknowledge that something is going wrong in schools, when some young men are allowed to harass girls without punishment, then go on to university and do exactly the same thing.
Anxiety over sexual harassment in school affects girls and young women in other ways too. 51% of 11 to 21 year olds say that their choice of what to wear is linked to worry about sexual harassment and 49% say that their body confidence is affected by this. With society already pushing harmful and sexualised expectations onto girls and young women, this added stress may have consequences for them mentally and physically.
In addition, only 40% of young women agree with the statement 'I believe we can change society to be free from violence against women and girls in the future'. This suggests that VAWG has become normalised in society and many girls feel powerless to change a situation which affects their lives so profoundly.
Making a change
But it's clear that we want to do something about it - 90% of girls aged 13 to 21 agree that the government should make sure all schools are addressing sexual harassment and sexual bullying. Hopefully, through this inquiry and further campaigning, we can end sexual harassment and sexual violence in schools and make all schools safe places for girls where they can learn and grow without fear.
If we can stop sexual harassment in schools, we may be able to stop further violence against women later on in life - improving the lives of girls and young women not only in school, but outside of school too.
End sexual harassment in schools
Support our Advocates' campaign - so that no girl has to experience sexual harassment when she is trying to learn.
More about campaigns and advocacy at Girlguiding