I'm encouraging girls to learn about dementia
This World Alzheimer's Day Ranger Anya tells us about her campaign to increase young people's understanding of dementia
Anya, 15, Ranger
19 September 2018
Dementia affects millions of us.
The lack of knowledge we have about dementia has led to misunderstandings about it. I think that it's time that we learnt the truth about dementia - especially young people. It's World Alzheimer's Day on 21 September which is a brilliant opportunity to get talking and break the stigma. As part of my Girlguiding Action for Change project, and to help girls in Girlguiding units to learn about dementia, I have created a challenge badge resource.
Dementia affects millions of people one way or another. It has been estimated that 850,000 people in the UK have dementia (Alzheimer's Research UK). Whether it be they're a dementia patient themselves or a relative of someone. 38% of the UK population know someone with dementia (Alzheimer's Research UK). I have been affected myself, so I feel it's important for people to know about it.
When I was young, my great grandma was diagnosed with dementia. This sadly means that I can't remember her before she was 'poorly'. I loved visiting my grandma, she always had stories to tell me and my family, especially from when she was younger.
Action for Change is a great Girlguiding programme to help young women, like myself, to shout about what's important to them. I signed up because I wanted to have my voice heard, meet new people, and learn new skills. With Action for Change, I have been able to achieve all three. I've been supported by a strong group of other young women. I have been supplied with resources to help me with my project, such as public speaking tips, and a calendar to carefully plan what I want to do. I also have regular catch ups with my network coordinator, to ensure I'm making progress with my project.
I strongly believe that we need to tackle the issue of our misunderstanding of dementia. If we lived in a more dementia-friendly society, we'd have the tools to support one another. Public places, such as town centres, would be accessible. This would help people with dementia, as they can have poor balance, so would benefit from level flooring, and ramps instead of steps.
Let's learn about dementia in our units
The aim of my project is to get people talking about dementia. I'm doing this mainly through Girlguiding. I think that young people should be aware of dementia.
After talking about dementia with some of the girls in my units, it became apparent to me that young people do not know much. I made it my mission to help girls understand dementia, and tell them what they can do to help. I'm giving Girlguiding units the opportunity to complete my 'Dementia Awareness Challenge'. By completing my challenge, units can learn about dementia and raise funds for charities supporting dementia.
The challenge is filled with crafts, games and other activities for girls to get stuck into! I have tested the activities with girls from my units, and each one has been carefully written to make it inclusive and educational.
So far, I've raised over £300! I've organised a bake sale, taken part in a sponsored walk, and ran Christmas themed parties, as part of Alzheimer's Society's 'Elf Day'. Money raised can be donated to charities that support people with dementia, for example, Alzheimer's Society or Alzheimer's Research UK. The money can then be used in many ways, such as care, training, and research to find a cure, which we currently do not have.
To increase awareness and support my challenge you could: fundraise, become a Dementia Friend, or follow me on Instagram, Facebook and Twitter: @dementiaawareah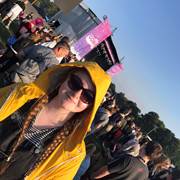 Anya
Ranger, 15
Anya is a Ranger and part of our Action for Change programme, giving girls the skills to take action on the issues they care about.
Anya says "My favourite thing about guiding is being able to make new friends and experience new things!"
Share your story
Have you got a story to tell? We're always keen to hear and share tales of what you've been up to with Girlguiding.