Festive crafts on a budget
Get crafty and keep costs down
With the festive period fast approaching, here are some ideas to do with your unit, and some for you to do at home as well.
Crafts to do in your unit
These crafts can be done with any section and use things you might have already or are cheap to buy if you don't.
Wobbly festive decorations
For these, you'll need paper plates, PVA glue or a stapler, scissors, coloured paper, wiggly eyes, pompoms and paint. Depending on the paint colours you have, you could create Christmas trees, penguins, reindeer, angels, Santas, or, if you have no paint, snowmen. One paper plate will make two festive decorations.
Cut the paper plate in half, fold each half in half again and glue or staple together. Then, decorate however you like! Paint it green and add pompoms for a Christmas tree (you could also cut out lines of paper and stick on for tinsel, or cut out a star for the top), paint it brown and add wiggly eyes, paper antlers and a red pompom nose for a reindeer, or just add wiggly eyes, an orange paper nose, wiggly eyes and drawn on buttons and mouth for a snowman. There's loads of possibilities!
A winter den and giant snowflake
Spiral Christmas tree
This craft requires paper plates, green paint, scissors, glue, hole punch, thread and things to decorate with like coloured paper, pom poms, sequins and bio-degradable glitter. This craft might need to be done across two meetings to let the paint dry. If you have green paper plates, you can skip the painting step and go straight onto cutting and decorating.
Paint both sides of a plate green, and then cut it into a large spiral, starting in the middle and working towards the edge. The spiral should be quite thick so it's easy to add the decorations. Dig out your craft leftovers from the year and use these to decorate your tree spiral. Once the decorating is done, punch a hole in the top of the tree and tie on some thread so it can be hung up.
Festive truffles
Pinecone gonks
Did you know that gonks are inspired by gnomes and hobgoblins found in Scandinavian and Nordic mythology? These short, bearded folks would make their home in the houses and barns of farms and if they liked the family they chose to live with, they would protect that family and their land with fairy-like magic, bringing good fortune.
An old Nordic tradition is leaving out a bowl of porridge during the winter solstice, so that the gonk can feast and join in the festivities.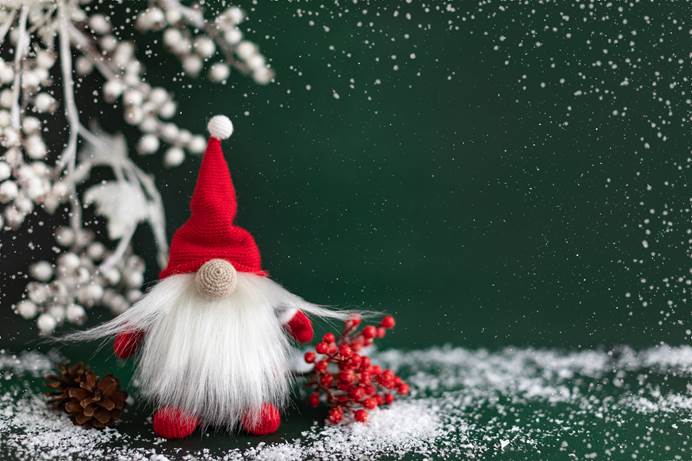 Make this craft a two meeting activity by going on a winter walk to collect pinecones and then turn them into gonks the following week. Before picking anything up outside, check the area with an adult for any unsafe materials, such as broken glass. Only pick up things with gloves, never use bare hands, don't pick up anything sharp or dangerous (for example, broken glass or syringes) or anything unhygienic or harmful (for example, dog waste) and always stay a safe distance away from roads and other hazards.
After collecting them, bake them in the oven at around 100 degrees Celsius for about 30 minutes to make sure they're free of pests.
To make each gonk, you'll need a pinecone, felt, fabric or paper for the hat, buttons or beads for the nose and PVA glue.
Cut out fabric into a pizza slice shape, to create a cone when it's rolled up.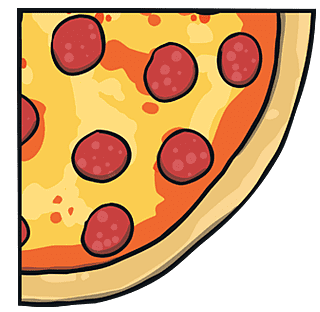 Glue it together into a cone and then glue it onto the pinecone. Then glue on the bead or button just below the bottom of the gonk's hat to create its nose. PVA glue would work for this but will take longer to dry so a glue gun might work better. Be careful when using the glue gun and ensure young members use them with very close supervision by an adult.
Crafts for adults
Reuse and rewrap
Avoid waste this winter with these new ways of wrapping. You could do our free unit meeting activity that teaches you how to make wrapping out of beeswax, transform newspapers into gift bags, decorate thrifted baskets, glass jars and other containers, learn about furoshiki, the art of fabric wrapping, and give scrap materials a second lease of life. Read our guiding magazine article about reusing and rewrapping.
Make an advent calendar
Get in the festive spirit with this starry, feel-good activity. Find out how to make it in the latest issue of guiding magazine.
Relax with a DIY bath bomb
Take time to look after yourself this winter. If you're in need of a moment of relaxation, you could try making your very own bath bomb. These homemade bath bombs make great gifts too! Before making them for yourself, as a gift, or with your unit, check for allergies and sensitivities. Find out how you can make them using ingredients from your kitchen cupboards in our guiding magazine article.
Exciting guiding events and activities