54321…it's here!
Last weekend we revealed the brand new Girlguiding programme. From cake and parrots to midnight openings, take a look at all the celebrations across the UK.
Zoe, Digital team
26 July 2018
On 21 July it finally happened – the new Girlguiding programme was revealed!
Let's just say we were VERY excited to reveal the 800 new activities and badge challenges that make up the programme. And we were blown away to see so many of you so excited about it too.
Right across the UK, girls and volunteers celebrated the launch in true Girlguiding style. There were midnight shop openings, girls exploring the new activities and much discussion of favourite new badges. And of course there was cake (lots). And some parrots too...
Here's our round up of the celebrations as they happened.
Midnight openings
At midnight, across the country, members queued at Girlguiding shops to be the first to pick up new programme books and activity cards. That's excitement levels to rival a Harry Potter book launch! Particular mention must go to the Girlguiding Scotland shop, which was opened via Skype by lead volunteer Jess Bond.
@GirlguidingScot how exciting to see all the enthusiasm at midnight in the shop - queues the length of the shop and staff working into the wee small hours to serve them all @Girlguiding @JessBond247 @Chief_Guide #EveryGirl pic.twitter.com/ZdVOz76n4D

— Carol Morwood (@Carolmorwood) July 21, 2018
Finally that's us, lots of excited leaders. Shop closed - 2.30am #EveryGirl #RevealED @GirlguidingScot @Girlguiding pic.twitter.com/oLOidRus3y

— Tina (@TiinaXander) July 21, 2018
Stop the press – the new Girlguiding programme is here
By breakfast, the airwaves and newspaper columns were chock full of all things Girlguiding. Our new programme and badges were covered by nearly every national newspaper including The Guardian, The Daily Mail, the Huff Post and CBBC Newsround.
Guide Sophie and lead volunteer Jess were interviewed for Sky, young members Laura and Maddie joined Acting CEO Ruth on the BBC breakfast sofa and Head of Youth Programmes Kat was on the BBC News. We even trended on Twitter!
Fabulous @JessBond247 and Sophie on Sky breakfast - good work Tawny Owl Jess 🦉 ! @Girlguiding #EveryGirl pic.twitter.com/85QJ4alPQx

— Emma Guthrie (@EmmaFGuthrie) July 21, 2018
Some of the great pieces on the new @Girlguiding badges and activities for #EveryGirl in the national papers yesterday @_Laura_Payne @victoriafinan @dialemma #PR #dreamteam pic.twitter.com/rGWfshTNgq

— Angelah Evans (@AngelahEvans) July 22, 2018
WOW!! This is what I've spent the last 18 months doing as a volunteer - so excited to new reveal our brand new @Girlguiding programme with loads of fab new badges - there's really something for #EveryGirl https://t.co/NHPSrTk5Se

— Jess Bond (@JessBond247) July 22, 2018
What would a launch be without a party (and cake)?
We held a launch event at Waddow Hall with Chief Guide Amanda where girls tried out new activities like Triple boxer. Over in Ulster girls took a break from trying out new interest badges to cut a very special cake. And 50 leaders from British Guiding Overseas came from right across the world for a weekend of training at Girlguiding HQ!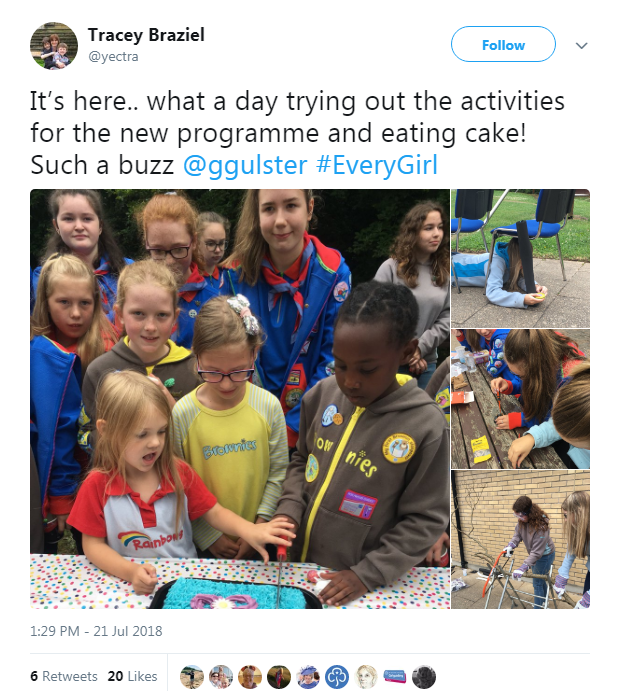 Sun breaking through here @WaddowHall with girls from all sections trying out the new activities and badges. @Girlguiding #Everygirl pic.twitter.com/GX9FhvLOaq

— Evelyn (@Evelyn_Dick) July 21, 2018
And then there was cake at the @girlguidingbgo programme training #EveryGirl pic.twitter.com/jen1oTs33p

— BGO (@girlguidingbgo) July 21, 2018
Some of you celebrated in rather unusual places
Lots of you couldn't wait to read up on the new programme so got stuck in wherever you happened to be - planes, trains, parrot houses…
Sharing the new Rainbow badge book with new friends at West Midland Safari Park #EveryGirl #AdventureintheMidlands pic.twitter.com/buCHqPpwhF

— Girlguiding Midlands (@GirlguidingMids) July 22, 2018
Sitting on the train reading up on the new @Girlguiding Programme. Archaeology & Aviation badges, and the Royal Astronomical Society has even paired up with them for a Space badge! 😍💪 Love it! ... So excited! #Girlguiding #EveryGirl pic.twitter.com/LvVzoNlGMH

— Berni King (@BerniBee90) July 21, 2018
Reading all about the new Programme that launched today. I'm studying the badges and new resources on the plane 🤣 - doubling the excitement of my holiday to a certain magical destination! 😁 #EveryGirl @GuidingCymru @Guiding @GuidingGwent pic.twitter.com/w99qCm5ZML

— Andrea Rodley (@Cc4gwent) July 22, 2018
What's your new favourite badge?
By tea time, lots of you had already picked out your favourite new badges. And some girls and their parents even started trying them out.
I've loved seeing some core guiding skills brought right up to date in our new badges - like Backwoods cooking and Bushcraft. Great that #EveryGirl will get to explore the outdoors as she does her interest badges! pic.twitter.com/fGSCXOX8Qg

— Amanda Medler (@Chief_Guide) July 21, 2018
Been out to try the new Geocaching Badge and discovered a trail near our house! Bagged 4 so far!! #EveryGirl @Girlguiding_NWE @Girlguiding #whenyourmumistheleader pic.twitter.com/BctMrcxU2P

— Emma Maudsley (@TawnyOwlEmma) July 21, 2018
I was already sold on the new Archaeology badge but THERE IS A SPACE BADGE TOO. @Girlguiding you're really spoiling me! #EveryGirl pic.twitter.com/ibyiTWo2Pu

— ✨Poppy✨ (@PoppyStarkie) July 21, 2018
Last year @Girlguiding asked for our #BadgeGoals - @Sophie_ains asked for a #Campaigning badge - and look what we've got in the new programme! Sophie went on to found @raiiseuk Raising Awareness of Invisible Illnesses in Schools and Education #EveryGirl 💪🏻 pic.twitter.com/Kqkc3tiVJL

— loobydotlu (@loobydotlu) July 21, 2018
https://t.co/G9u3MUwXpg my daughter is very excited about the new girlguiding vlogging badge! Popped into our local shop yesterday for the launch and came away with the new badge book as she is so keen to start working on the badges 😀 @Girlguiding

— SRS (@SRS_001) July 22, 2018
Fantastic weekend celebrating the reveal of the new @Girlguiding programme - a few of my new favourite badges! #EveryGirl pic.twitter.com/a6Q6geOjhn

— Bekky Ashmore (@BekkyAshmore) July 23, 2018
Thank you for making it special
Thank you to everyone who made the programme reveal weekend so special, from the late opening shops, to the cake bakers to the geocachers to everyone who shared the word on twitter. It was incredible to see so many of you so excited about the new programme.