Our Guide unit joined the women's suffrage march
Jeannie, Hollie, Isabelle and Sam share their unforgettable experience taking part in PROCESSIONS - a march and artwork celebrating women's suffrage
Jeannie, Hollie, Isabelle and Sam, 3rd Sidcup Guides
29 June 2018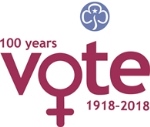 When our leader suggested going on
a march to celebrate women getting the vote 100 years ago, we thought it was a great idea.
Even better, we would get to design and make a banner, which is something we all love doing as we enjoy being creative.
We were very excited about the idea of going on a march, but before we could reach the grand event we first had to plan. Planning was a key aspect of this challenge; we had a brief, a deadline to work to and had to find time to design and make it! - Hollie, 14
Making our banner
Our brief was to create a banner which would represent women's suffrage through the voice of Girlguiding across the world. The design? Five women, handprints in purple and green to represent the colours of the suffragette movement and a quote to truly make our banner feel at home amongst the dozens of others around us at the parade: "Deeds Not Words."
We worked incredibly hard to perfect the banner and its design. Whilst I sewed the banner together, Jeannie painted the bamboo poles and Hollie and I did the handprint border around the edge of the banner. We had a sleepover at my house so we could get it done – we even managed a bit of sleep! - Isabelle, 14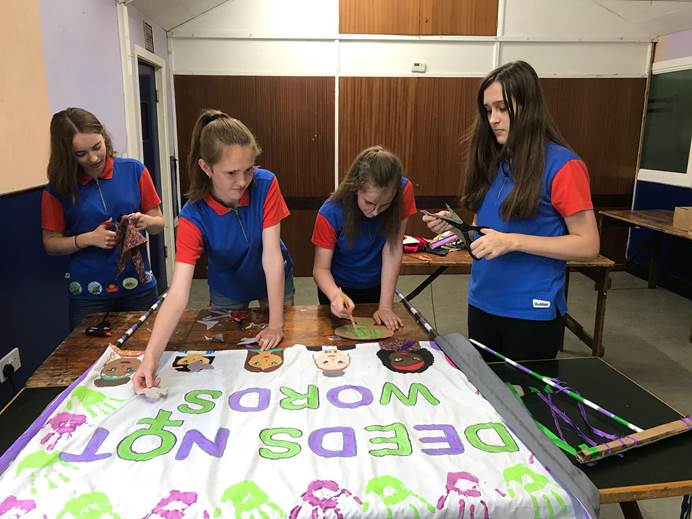 The day of the march
On the day of the march (10 June), we all met at the station and went into London.
When we arrived at Hyde Park the atmosphere was amazing. Even before we got to the start of the procession, we saw women of all kinds walking around, banners in hand. We sat down to have lunch before we set off and marvelled at all the other amazing banners. We unrolled our banner and as we took to the streets to start the procession we could hear the enthusiasm of all the other Guides. We walked down the streets of London carrying our banner and listening to "Run the World (Girls)" by Beyoncé. - Jeannie, 13
3rd Sidcup Guides at march with banner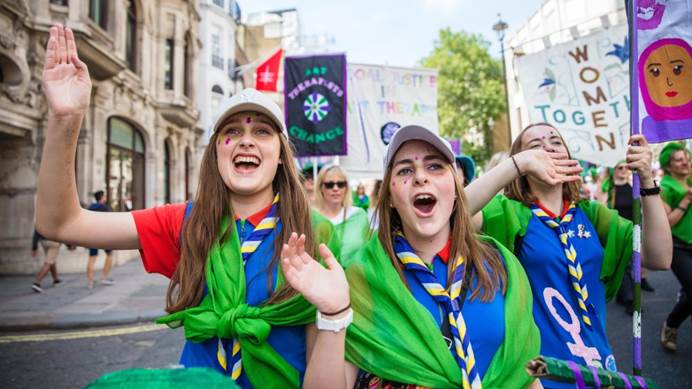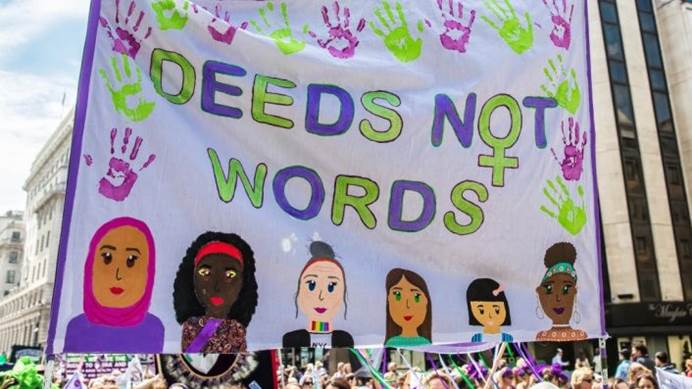 We all got given coloured scarves and kept marching on, taking it in turns to hold the banner. Quite a few people complimented our banner and stopped to take pictures – which made all of us feel very happy and definitely very proud. There was also a photographer who was snapping some pictures of the four of us as we marched – we felt like superstars!
The procession was genuinely one of the best experiences I've ever had with the Guides. I'd always wanted to go to some kind of march, and I'd never been to one before, which made it even more exciting. It was such an incredible feeling to march alongside so many women all celebrating the same thing, and to feel like I was really part of a wider community. I'll never forget the procession, and I'm hugely proud to have been a part of it. - Sam, 14
Inspired? Join us for Parliament Week
If you've been inspired by all the units taking part in PROCESSIONS, you can sign up to take part in Parliament week, which is taking place from 12-18 November 2018.
This year, to celebrate 100 years since some women got the vote, the kit will include activities exploring both equality and the campaign that led to votes for women. It'll also include a Votes for Women sash.
It's a great chance for girls to learn more about politics and democracy - and to find out how they can speak up on the issues that matter to them.
Share your story
Have you got a story to tell? We're always keen to hear and share tales of what you've been up to with Girlguiding.