Girlguiding advocates speak out about online safety in Parliament
There's a long way to go to keep girls and young women safe online
Last month we marked Safer Internet Day 2022— a day to show the importance of a safe and positive experience for children and young people online.
The message is even more important this year because of the Online Safety Bill. This is a new law that's been made because offline laws aren't working to keep people safe online, a place where we all spend lots of time.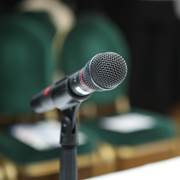 Phoebe, Girlguiding advocate
'As Girlguiding advocates, we're calling on the government to do three key things. First and foremost, we want to see online violence against women and girls recognised in the text of the Online Safety Bill.'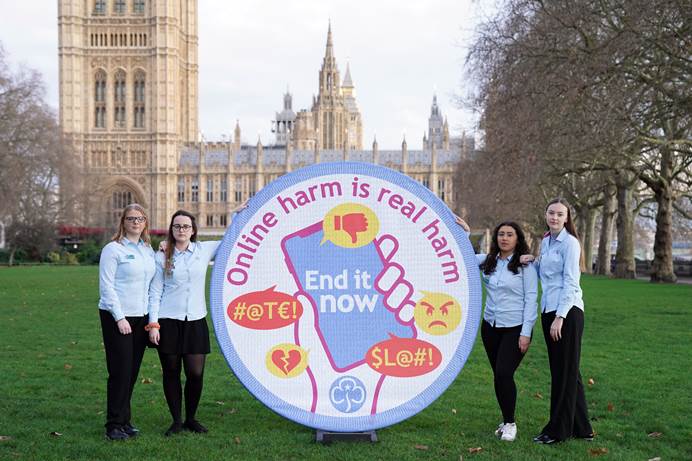 To raise awareness about the need for girls and young women to be safe online, we researched what girls experience on the internet. The results show there is a long way to go to keep girls and young women safe online.
Online harm includes sexist comments, cyberflashing, sexual harassment, catfishing pressure to share nude pictures and cyberstalking.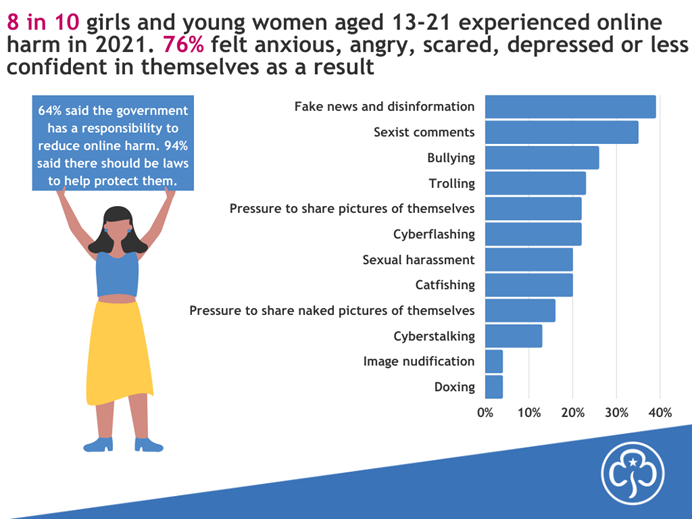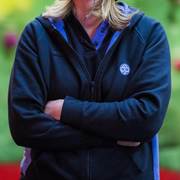 Francoise, Girlguiding advocate
'As a young woman who has grown up with the internet, Girlguiding's research resonates with me, I've seen friends receive unwelcomed comments, sexual images and messages online. I've seen members of my peer group very upset as a result of bullying and this needs to stop. The government needs to prioritise protecting girls and young women from online harm. Feeling safe online is imperative to the mental health, wellbeing and self-esteem of the younger generation.'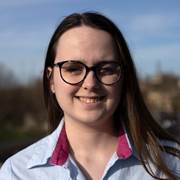 Maddie, Girlguiding advocate
'I really enjoyed being about to speak to politicians about such an important subject and being able to have my voice heard in such an important place! I also really enjoyed being able to represent Girlguiding in Parliament and show off all the great work we do!'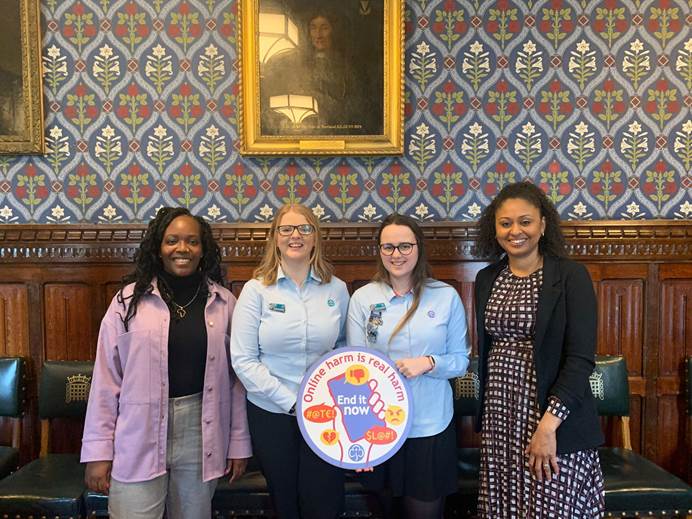 Our advocates will keep speaking out about this important issue so that, one day, we'll all be safe online. We're really thankful to the players of People's Postcode Lottery for their support, so that we can keep making change.
'I am pleased that players of People's Postcode Lottery are supporting the work of Girlguiding in campaigning to improve the lives of girls and young women,' says Laura Chow, head of charities at People's Postcode Lottery. 'We support Girlguiding's ambitions to make sure girls and young women are empowered, confident and self-assured. We are glad to see Girlguiding enabling girls and young women raising their voices on this important issue.'
Read more about our work on online safety and what activities you can do to reduce the impact of online harm

More about campaigns and advocacy at Girlguiding