10 inspiring women under 25
To mark International Women's Day and celebrate 100 years of The Senior Section, we asked members of The Senior Section to tell us which young women most inspire them
Members of The Senior Section
08 March 2016
'These women are inspirational because they show that even if you're young, it doesn't mean that your voice and abilities cannot impact the world in a positive way.'
Over 1,000 members of The Senior Section took part in the special poll. We can now reveal the 10 young women, aged 25 or under, who inspire girls in guiding and what our young members aged 14 to 25 said about them.
Amandla Stenberg, 17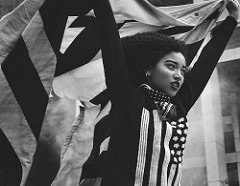 Who: American actor
What: Acts and speaks out on issues, including feminism and race on social media.
Best known for: Playing Rue in The Hunger Games
'She's shown that age isn't a barrier to who can use their voice to speak out. She uses social media as a platform to raise awareness and participate in vital conversations. This is massively motivating for teenagers to use the internet to make a change.'
Emma Watson, 25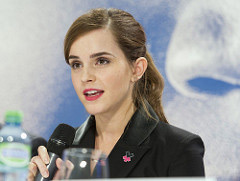 Who: British actor
What: Acting and gender equality work – she launched the UN Women campaign HeforShe as an UN Women Goodwill Ambassador
Best known for: Her role as Hermione Granger in the Harry Potter films
'She has found a way to use her fame to make a difference.
'She embraces her intelligence which encourages me not to hide my nerdy-ness. I loved herHe For She speech, it really cleared up any myths about feminism and opened up the issue of gender equality to a global audience.'
Fahma Mohamed, 19
Who: Campaigner
What: Campaigns for gender equality and an end to violence against women and girls
Best known for: Leading the Guardian-backed 'End FGM' campaign in 2014, to raise awareness about female genital mutilation in schools.
'She has promoted awareness of the serious issue of female genital mutilation and is currently running a campaign to end violence against girls and women regardless of the form of abuse.'
Hannah Cockroft, 23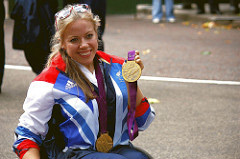 Who: British Paralympic athlete
What: Wheelchair athlete, holds the Paralympic and World records for both the 100m and 200m races.
Best known for: Winning two gold medals at the 2012 Summer Paralympic Games
'Like her I have cerebral palsy and during the 2012 Paralympics she inspired me so much when I felt really alone and different. She is an amazing example of someone who's been through a lot but is determined.'
Katarina Johnson Thompson, 23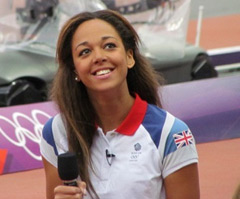 Who: British Olympic heptathlete
What: Represents Great Britain in the heptathlon (100 metres hurdles, high jump, shot-put, 200 metres, long jump, javelin, and 800 metres). Competing in Rio Olympics this summer alongside Jessica Ennis-Hill
Best known for: Holding the British high jump and indoor long jump record.
Maisie Williams, 18
Who: British actor
What: Actor and ambassador for the Always #LikeAGirl ad campaign which dispels negative stereotypes around the phrase 'like a girl'
Best known for: Playing Arya Stark in popular TV show Game of Thrones
'Through the #LikeAGirl campaign she is helping to end stereotyping against girls and young women – by addressing something which can seem quite small but has a big impact.'
Malala Yousafzai, 18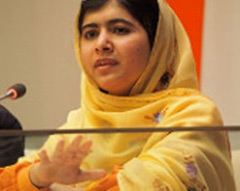 Who: Human rights activist from Pakistan
What: Campaigns for girls' right to education
Best known for: She was shot by the Taliban in 2012 and is the youngest person ever to receive the Nobel Peace Prize
'She risked her life to stand up for girls' right to education which is something very few people would have done in the face of such adversity.
'When she survived being shot, she used her new-found voice to speak up and fight for education for all children, whereas many people would have been too scared. Education is an investment and Malala really sees the value in every child.'
Mhairi Black, 21
Who: MP for Paisley and Renfrewshire South in Scotland
What: Represents her constituency and speaks out on issues such as unemployment and housing
Best known for: Being the youngest MP elected to the House of Commons in almost 200 years
'She defies the stereotype of politicians.'
'She gives me hope that parliament is diversifying and given how interested I am in politics, I really look up to her.'
Tashi and Nungshi Malik, 23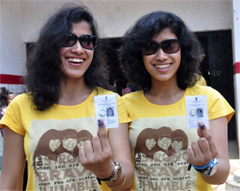 Who: Twin sister adventurers from India
What: Record-breaking mountaineers
Best known for: For being the youngest mountaineers ever to scale the highest peak on every continent and make it to either pole of the earth – a feat known as the Explorer's Grand Slam
'Their determination and limitless goal-setting is inspirational. They're gender stereotype defying and boundary breaking. They even climbed Mount Everest together!'
Yeonmi Park, 22
Who: North Korean human rights activist
What: Campaigns for victims of human trafficking and works to promote human rights globally
Best known for: Her memoir 'In Order to Live: A North Korean Girl's Journey to Freedom' was published in September 2015
'I think Yeonmi Park is hugely inspirational as she shows that it is important to speak out despite the risks and the hardships she has faced in her life.'