Could you nominate someone for a special guiding award?
Find out what it's like to receive a Hero Award, Silver Fish and Laurel Award
Awards are a wonderful way to celebrate the achievements of members and volunteers.
There are awards for years of service, exceptional volunteering and more. Find out what it can mean to get one of our awards.
Karen, Cheltenham division commissioner and Brownie leader, received one of our newest awards. The Hero award is for members and friends of Girlguiding who have done something special.
'It was a lovely surprise,' says Karen, who was nominated for her lockdown garden display. 'It meant so much to me that someone had taken the time to nominate me for such an award. Throughout this pandemic, I have tried to stay upbeat and keep the spirit of Girlguiding alive, but it was never about being personally rewarded and instead all about helping to keep the girls within my local area as positive as possible.'
Karen started Teddy's adventures during lockdown for children to pass on their daily walks and would often do #AdventuresAtHome activities. She adds: 'I knew that there were many units who hadn't been able to move across to Zoom like my unit managed and so this was my way of ensuring the Girlguiding spirit was still visible.'
Members and guiding friends have to be nominated for the chance to get a Hero award and Karen says to go for it if you're thinking of nominating someone you know.
'Do it!' she says. 'Make someone's day! We are all part of guiding for the benefit of the girls, and so to get a thank you for the hard work that we all put in means so much. It just reminds you of the important difference you are making, and that people genuinely appreciate the time and effort.'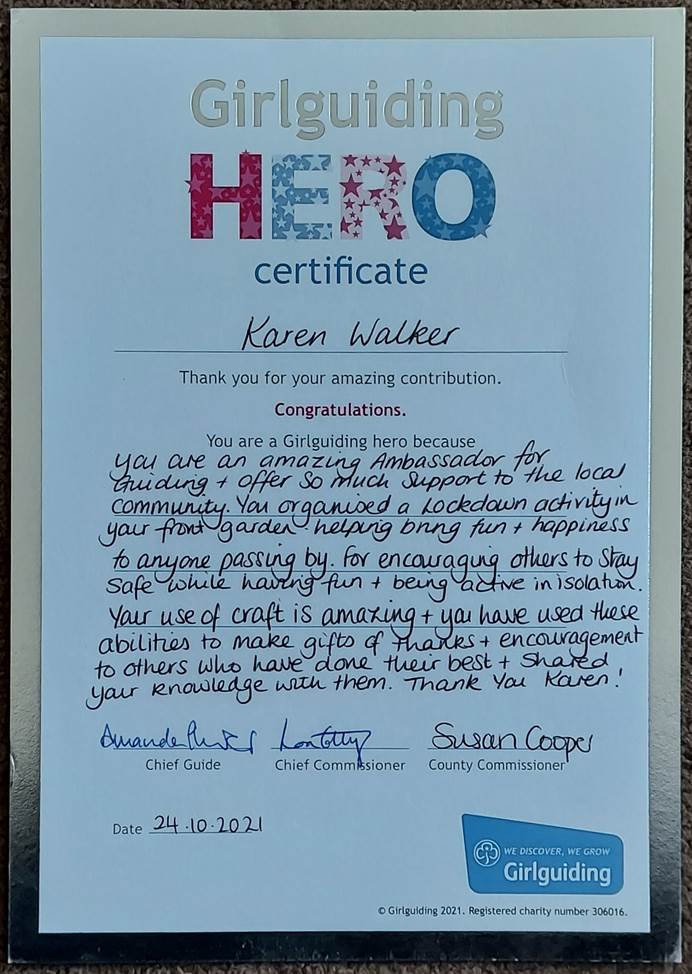 Jane, a county vice president, trainer tutor and commissioner mentor, was awarded the Silver Fish at the end of 2021. It's our highest award and given to members who have held lots of different roles and made a big impact on the organisation. Only a few are given out each year.
'My county surprised me,' says Jane, who has been guiding for almost 70 years and has chaired national committees, been a region training adviser, division commissioner and Guide and Ranger leader.
'I was thrilled that the Chief Guide came to present me with my award and delighted to see friends from Girlguiding. Hearing the lovely things said and written about me I felt honoured, humbled and excited all at the same time.'
Members have to be nominated for the Silver Fish, with letters of support submitted too. The nomination is looked at by the awards committee, and they look at guiding experience, impact, personal qualities, and wider guiding influence.
Jane recommends that anyone thinking of making a nomination should have a chat with either their county commissioner or local awards adviser. She says: 'It's important to paint a broad picture of experience and the level, variety and length of service given. I would recommend a few focussed citations - each picking up a different aspect of the nominee's service to Girlguiding.'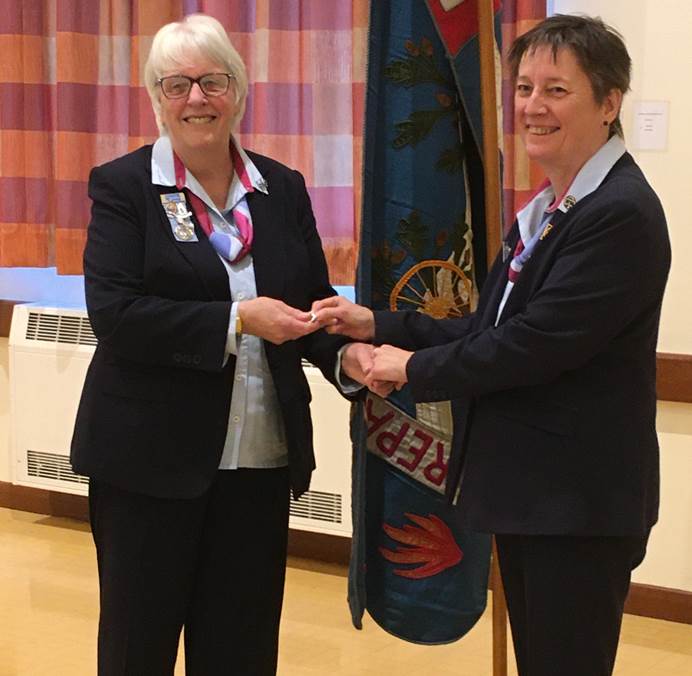 There's also the Laurel Award, given to members who have made an outstanding contribution to guiding. It's Girlguiding's second-highest honour and so only a few awards are given each year. Like the Silver Fish, members have to be nominated, with letters of support submitted.
Brenda, from Banff and Buchan county, was one of recipients in 2021.
'I had the most amazing afternoon,' says Brenda. 'Never in my wildest dreams did I ever imagine I'd be presented with Girlguiding's Laurel Award! Guiding is what I do for fun and there's been lots of fun over the years! I've made some amazing friends, been to places I'd never imagined I visit and have so many wonderful memories.'
There are other awards too, which can be a great way or celebrating a member or thanking a volunteer. The Guiding Star is a brooch for members aged up to 19 who have showed resilience, been an exceptional role model or showed initiative in an emergency. There's also the Thanks badge and Good Service brooch, which thanks members for their support.
Hilary Cooper is chair of the awards committee, which is made up of seven people who decide who gets an award. She is also a Ranger leader and has held a range of roles, including region chief commissioner and a trustee. She wants awards to be more known to members so that more people can be nominated for their amazing work.
'Everyone should look around at the people they know and think of who meets the criteria,' says Hilary. 'As chair, my best moments are seeing the stunned, delighted face of a person getting a totally unexpected accolade.'
More on managing volunteers in guiding