Introducing our Express Myself theme
Explore Express Myself, one of six new programme themes
Programme team
09 October 2018
Light that little spark of inspiration
Girls develop their creativity in all sorts of ways. One day they might be a storyteller, an artist or inventor, another day a designer or presenter. Our Express Myself theme gives girls space to explore their creativity and think differently. Through the theme's badges and activities, they'll make up stories, think up inventions, solve problems and share their skills with friends.
Everything in our new programme - from badges and awards to unit meeting activities and skills builders - fits into one of our six programme themes. Join us now to find out all about our Express Myself theme. And then challenge yourself with our just for fun Express Myself quiz!
Awards, activities and badges to fire up the imagination

The Express Myself theme is full of badges and activities to get messy and motivated with, from Costume and Confectionery to Painting and Performing to our Communicate and Innovate skills builders. Check them all out in our badge finder. There's lots of Express Myself unit meeting activities to try too.
And young members who want to take it even further can achieve their section Theme award by completing:
One interest badge
1 stage of Innovate or Communicate skills builders
A certain number of hours of unit meeting activities from the Express Myself theme: 3 hours for Rainbows, 4 hours for Brownies and 5 hours for Guides and Rangers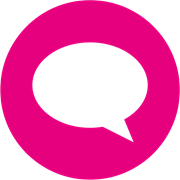 Look out for the Express Myself icon
The Express Myself icon is a white speech bubble in a bright pink circle.
All our Express Myself awards, badges and unit meeting activities can be recognised by their bright pink colour.
We recommend you spend about 60% of your unit meeting time on Girlguiding programme activities.
What does Express Myself mean to you?
Having the courage and conviction to be me, the real me, regardless of what others think or what those around me may be doing - Emma
Our Brownies have chosen Express Myself Innovate Stage 2 for our first Skills Builder in the new programme 😊 #EveryGirl - Karen
Take the quiz
Now see if you can beat our just for fun Express Myself quiz.