A day in the life of a volunteer
Find out how Katherine Mathieson, CEO of the British Science Association, balances being a Brownie leader with her day job
Stevie, Girlguiding digital team
02 October 2019
Are you thinking about volunteering but wondering how you'll fit it in around your day job? Katherine Mathieson tells us how she balances being a Brownie leader and the CEO of the British Science Association.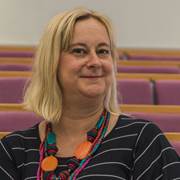 Introducing Katherine
Katherine Mathieson is Chief Executive of the British Science Association and assistant leader at 23 Bethnal Green Brownies, London.
Tell us a bit about yourself
I'm a Brownie leader in Bethnal Green in East London. I've been volunteering with Guiding since I left Brownies aged 11. I was a young leader and then an adult leader. I've also been abroad with Guiding – I went to a European conference about health equality, and to South Africa as part of the GOLD programme.
What do you do for your day job?
I am the chief executive of the British Science Association. I've worked for the organisation for ten years – the last three of them as chief exec. My role is to manage our team of great people, liaise with the trustees, tell lots of people about what we do, and help raise funding.
What does an average day look like when you're working and volunteering in the evening?
I volunteer alongside a small team of amazing leaders and unit helpers. We get together each term to plan our activities. I usually want to do lots of science activities so it's down to the other volunteers to make sure we have a balanced programme! We also play lots of games and invite visitors who we think will be good role models – we recently had a community arts organiser, a young mayor and a medicines researcher.
We meet on Monday evenings in term-time. I need to leave work at 5pm on Mondays to get to Brownies in time. The other volunteers are great if I need to work late for an event or a deadline. I've always been lucky enough to have bosses who are fine about me leaving at 5pm on the dot. And now I'm the chief exec, I don't have a boss to ask – I just ask myself (and I always say yes!).
What made you sign up to become a volunteer for Girlguiding?
I've always enjoyed being part of Guiding. It's taught me useful skills (like planning and teamwork) and given me some amazing friends who now live all over the world. The Brownies make me laugh with their daft jokes and their appreciation for silliness. But I always come away from a Brownie meeting feeling positive about the future of our society – their passion and commitment to making the world a better place is both humbling and inspiring.
What do you enjoy most about volunteering?
I love the camaraderie of working in a small volunteer team. We all have other demands on our time and energy, like work, and we help each other out.
What would you say to people who're thinking about volunteering, but don't feel they have the time?
There are many ways to volunteer – you need to find one that works for you. Not everyone can sign up to go along every week but even if you can only do every other week (or whatever), that might be enough to enable the group to exist. Maybe you can only do Tuesday evenings, or only do weekends, or only do the last half of every meeting, or only volunteer in a particular geographic area? Whatever your availability, there will be other volunteers who will be delighted to have you. And because we are all volunteers, we know that health, family, work, etc have to come first so there's no pressure to give more time than you can freely give.
Do you have any tips for people on how to fit volunteering in around their day job?
Most employers now recognise that volunteering is a fantastic way to develop people's skills for free! You can explain to your boss that in return for letting you leave work early for weekly meetings or letting you occasionally print stuff on the work printer, you will grow your people skills and organisation skills – and then your day job can benefit from those skills.
Don't be afraid to beg, borrow and steal other people's activity ideas! There are loads of amazing ideas in Guiding's resources and online – and even if an activity doesn't quite work as you intended, Brownies are very good at helping you find a way through.
If you get involved in the admin side, you'll find that you can run almost everything from your phone while you're standing in queues or watching TV.
Are there any ways in which the skills and experience you get from Guiding help you in your day job?
The skills I've learned through Guiding have been some of the most useful skills in my career. Experiences I've had through Guiding have taught me how to work as part of a team, plan activities for different groups, manage personal information securely, have difficult conversations, motivate and manage volunteers, give talks, run training sessions, keep to a tight budget and communicate clearly (e.g. with parents). I've also learned about very practical things like first aid, risk assessments, bank accounts, safeguarding, international travel, HIV/AIDS and small business skills.
How do you use your skills and interests from your day job to encourage and inspire girls to take an active interest in STEM?
I want to show Brownies that you don't need to be super-brainy or geeky to be interested in STEM. Any of us can use science and engineering to explore and understand things that we're interested in – from cakes to skyscrapers, from asthma to zebras, from star gazing to shampoo. We do lots of STEM activities, especially during British Science Week. We use the CREST Superstar resources that my colleagues have developed and we encourage the Brownies to ask questions about the world around them.
Could you volunteer too?
We always need new volunteers. So if you've been inspired by Katherine's story, find out how you can get involved by registering your interest online or speaking to your daughter's leader.
Register your interest in volunteering