Girlguiding in the news
Did you spot us in the news this year?
Throughout 2022, members have been featured in the news – from local newspapers to BBC Blue Peter:
February 2022
We kicked off the year celebrating the Queen's Platinum Jubilee and planting trees for Her Majesty's Green Canopy.
Rainbows, Brownies, Guides and Rangers from Guernsey were featured on the BBC website for planting more than 70 trees at Sausmarez Manor.
'Our young members and volunteers care deeply about the environment and this was our chance to take part,' said Baliwick commissioner Colette. 'It is also a chance to keep part of our promise to serve the Queen and our community.'
Also in February, we marked Safer Internet Day by releasing new research to encourage the UK government include the elimination of violence against women and girls in the Online Safety Bill.
We found that more than a fifth of girls and young women in the UK had been 'cyber-flashed' in the last year. The Independent and Guardian reported on our research, but we don't yet know if the changes we said need to happen will become part of the bill.
April 2022
In April, we announced our new unit meeting activities created in partnership with Google. The BBC reported on this exciting news.
The aim of the partnership is to get more girls into science. Our 2021 Girls' Attitudes Survey showed that 42% of girls said they didn't feel there were enough women role models in STEM sectors.
The activities teach Rainbows about app design and Brownies how to write code. Guides and Rangers learn about chatbots and phone designs. Download the Google unit meeting activities for free.
May and June 2022
We announced our partnership with UEFA in May. Women's football magazine SheKicks and CBBC Newsround featured us, our badge and activities. The women's Euros attracted record-breaking crowds this summer and our partnership with UEFA was all about showing girls that they can play football too.
We also celebrated the Queen's Platinum Jubilee in May and June – from doing activities in unit meetings, to holding parties and lighting beacons. Did you spot members on the BBC News, CBBC Newsround or BBC Blue Peter?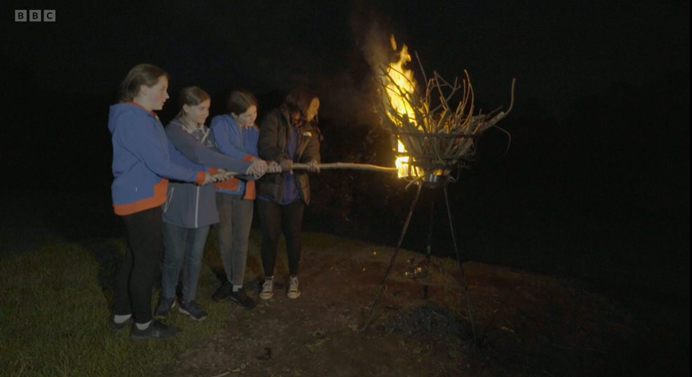 We also had a spike in membership in May and June, and Children & Young People Now, a magazine for people who work to improve the life chances of children, young people and families, reported on it. There was a 20% increase in new members, and the highest number of young member enquiries recorded since 2015 too.
July and August 2022
New research from Girlguiding revealed that a third of young women and girls in UK can't access free period products in schools or colleges. Stylist and the Guardian used our research to report on the problem.
After our successful campaign, the UK government introduced free period products for schools and colleges in England in 2020. But our latest research shows the scheme is not working, so we're calling for the government to fix this and end #PeriodPoverty by 2025 🧵👇 1/8

— Girlguiding (@Girlguiding) July 28, 2022
September 2022
When our Patron, Her Majesty the Queen, died in September, the amazing work that members did was featured in the news, and the Queen's service to Girlguiding was reported on too. The BBC wrote a story about the Queen's guiding history, and WalesOnline reported on members reciting their Promise to the Queen one last time.
We also wrote a blog on all the amazing things members did when the Queen died, because so many people did so much good.
October 2022
To mark International Day of the Girl on 11 October, photographer Emily Stein captured some of our four-year-old Rainbows and prove that girls can be more than 'sugar and spice and all things nice'.
The Evening Standard reported on the photoshoot and assistant chief guide Emma Guthrie said: 'Too often girls are still expected to be sugar and spice and all things nice, but working with girls and young women for over 100 years, we know they are made of so much more.'
We also released our 14th Girls' Attitudes Survey. One of the big findings was that girls in the north of England feel less confident, happy and safe, which the Daily Mail Online and Evening Standard reported on.
Chief executive Angela Salt said: 'It is shocking how many girls and young women, some as young as 11 years old, don't feel safe at school, on social media or out in public,' said chief executive Angela Salt. 'Our research shows just how common discrimination, stereotyping and sexism is in our society and how unsurprisingly this creates barriers to happiness, confidence, and success.
'Coupled with the disparities in girls' experiences across the country, it is vital we act now to address these issues to ensure every girl and young woman is provided with the opportunities to fulfil their potential, no matter where they live.'
We also shared an open letter with the education secretary in October and the Telegraph reported on it. We asked the Government to renew the commitment to the delivery of relationships and sex education and aim for 100% of young people to be learning about consent. The letter featured our new research, which showed that only 36% of children and young people aged 11 to 17 have learned about sexual consent at school, despite it being a mandatory part of the relationships and sex education curriculum.
November 2022
Units across the UK took part in BBC Children in Need in November, and a unit meeting visit by our ambassador, Anna McNuff, members joining in the Walk with Joe events were featured in the news.
The West Bridgford Wire reported on Girlguiding members and volunteers from across Nottinghamshire joining Pudsey and fitness coach Joe Wicks and footage of Anna at 16th Gloucester Brownies was included in BBC One West's roundup on the appeal.
Also in November, a new virtual unit was featured on BelfastLive. 18-year-old Keira McQuaid was inspired by her disabled sister to start a virtual Girlguiding unit for Brownies and Guides who can't attend regular meetings.
'It's amazing to see Kiera's dedication to Girlguiding,' said Girlguiding Ulster chief executive Clare Flowers. 'While it is wonderful to meet in person, many of our units proved during the Covid pandemic that if girls can't get to us, we can get to them via the internet. It's fantastic that Kiera is still thinking of girls that can't make it to regular meetings despite restrictions being lifted.
'We want Girlguiding to be a place where everyone is welcome and free to be themselves. A big part of that is making sure we include everyone so that every girl has a chance to do amazing things, whoever they are and wherever they're from.'
December 2022
And to finish the year, the Huffington Post featured Brownie Freya-Rose. Freya-Rose's mum, Rachel, wrote about how her disabled daughter was accepted into Rainbows, and now Brownies. 'She's been in Brownie's for 12 months, after finishing Rainbows, and completed all her interest badges within six months of being there,' said Rachel. 'She's absolutely flying.'
Read more about Freya-Rose in our blog post about Makaton.
If you have a story that you think might work as a news story or a case study, please get in touch with the Girlguiding PR team at [email protected]. We'd love to hear from you!
Share your story
Have you got a story to tell? We're always keen to hear and share tales of what you've been up to with Girlguiding.