What it's like to volunteer at our activity centres
Volunteers share their experiences
Each year, we run four large-scale events and around 160 smaller events at our five nationally owned activity centres.
From big member events like Fearless Fun and Magic and Mayhem, to smaller, non-member events such as our Wellness Weekend and family fun days, an amazing team of volunteers makes each one an incredible experience.
Our centres are located across the country. Waddow Hall is in the north of England, Glenbrook is in the Midlands, Blackland Farm and Foxlease are in the south, and ICANDO is in the centre of London.
Volunteers of all ages, walks of life and experience help out at events held at our centres. You'll find dedicated volunteers doing everything from supporting instructors running adventurous activities to being round the campfire to making lots of cups of tea.
Lesley Travis, who supports events at Foxlease in the New Forest, has found 'purpose, friendship and confidence' by volunteering and has helped out at everything from Sparkle and Ice to South West England's Flame event.
'They are adaptive to my needs; I get tired, use a wheelchair or mobility scooter mainly outside and have a canine partner,' says Lesley. 'Everyone should go for it! It is so rewarding and once been you will want to keep going.'
Jennifer Jackson is a volunteer at Waddow Hall in Lancashire and at a Rainbow unit.
'Highlights are big events such as Wellies and Wristbands and small things like helping a Brownie in the shop to sort out how much she can spend,' says Jennifer. 'It is great fun; you will be well supported by staff and other volunteers; you will make lots of friends and you will have a great feeling of satisfaction that you are supporting members to develop themselves.'
Amy Halls, a Brownie leader and residential outdoor adviser who has been helping out at Magic and Mayhem since 2015 and has recently helped out at some of the nature events funded by Generation Green at Foxlease.
'I would definitely recommend volunteering,' she says, adding that 'it's good fun, but it is hard work as well'.
'Sometimes things might not go to plan, or there will need to be last minute changes, and it can be complicated to get these sorted out in time for the next activity, the next group, the next meal time!
'But there is always an excellent 'can do' team spirit amongst the volunteers, and a close working relationship with the activity centre staff means that problems are usually solved without any participants being aware there was a problem to begin with! Oh, and bring good waterproofs and an insulated mug - you never know what the weather is going to do, but a hot cup of tea can make everything feel more manageable!'
Pauline and Bill McDonald volunteer at Waddow Hall. Pauline, who has a range of roles, has been volunteering at the activity centre for more than 50 years. Husband Bill has been volunteering there for almost ten years.
'I first went to Waddow Hall as a Brownie aged eight and have never stopped enjoying all it has to offer and watching it grow and improve,' says Pauline. 'Volunteering for me started when I was a young Guider when they held working days at the start and end of the camping season.'
Since then, Pauline has helped at loads of events, from Fearless Fun and Generation Green funded nature events to county weekends and Skoolz Out holiday club.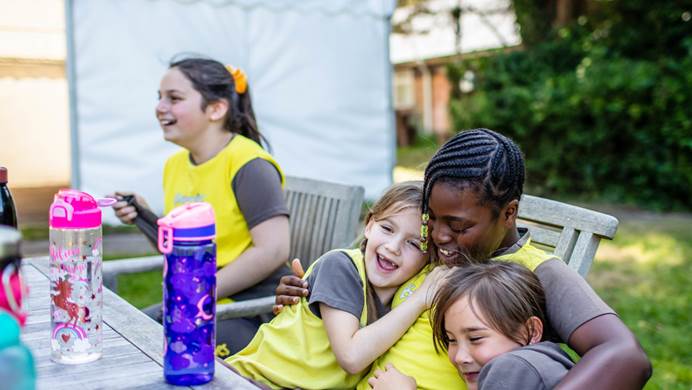 'There are so many highlights of volunteering at Waddow Hall; knowing that everyone is in a safe environment, being out in fresh air even if it's cold, wet, frosty or snowing - yes, we have had all three in one day - you can still turn that round to a memorable experience,' says Pauline and Bill. 'With so many events and volunteers you never know who you are going to meet, you get a warm feeling when you arrive as everyone is pleased to see each other and spend time chatting over a cup of tea.'
The pair encourage anyone thinking of volunteering at an activity centre to give it a go; everyone is welcomed and will be supported to have a great time, adding: 'You are made welcome by the staff and you leave feeling appreciated by all who work at Waddow Hall which is very important.'
Anyone over the age of 16 can help out at our centres. While some people have volunteered for years, some got their first experience helping at recent events, like 21-year-old Josie Lindley.
'The recent Generation Green event was my first visit to Blackland Farm and I thoroughly enjoyed it,' says Josie, who is studying a Masters in climate change at the University of Liverpool. She also leads a Rainbow unit in the city.
She's using the hours she builds up at the centre to put towards her Queen's Guide Award. Young people working towards their Duke of Edinburgh Awards can also use the time that they spend volunteering at an activity centre for the volunteering section.
'I really enjoyed meeting other leaders from areas I wouldn't otherwise visit and loved sharing guiding stories,' says Josie. 'I would definitely recommend helping out whenever you can, it's always so much fun and you never have the same experiences. You get the opportunity to meet some fantastic new people and get stuck in with activities you might not otherwise get to experience.'
We've got lots of events planned for 2022 at all of our activity centres. You could not only learn loads of new skills and meet new friends, but also give members the chance to have an incredible experience.
You could spend a weekend dancing along to great music at Wellies and Wristbands in August or have fun at Magic and Mayhem with Rainbows and Brownies. Or you could help out at a smaller event – could you get creative and Scatter and Splatter, or enjoy eating eat al fresco at the Rainbow Teddy Bear Picnic? There are more than 160 events taking place this year and thousands of members that will be attending. You can be part of the team that inspires them and gives them the best time imaginable.
If you want to help out at an upcoming event, email [email protected] or contact your closest activity centre.
Do something unforgettable
There's always a way that you can get more involved with Girlguiding. We have events and opportunities for all ages across the UK and around the world.