We took over the City of London for a day
Find out what happened when more than fifty girls took on the world of business - and the glass ceiling
Alice and Eloise
01 March 2018
Last month we sent over fifty young guiding members behind the scenes of the City of London.
The day - called She Can Be and run in partnership with the Lord Mayor's Appeal - was designed to give girls and young women first-hand experience of the world of business.
So what did they make of it? Our inside reporters Alice and Eloise were there on the day to bring you the lowdown.
On 13 February I woke up at 5:30am - yes 5:30am in the school holidays!
Alice tells us about a surprising morning
My dad and I hopped on the train, made our way to London Liverpool Street and walked down to The Mansion House - the official residence of the Lord Mayor of London. We signed in and went to our allocated groups. I was in group 4.
Waiting to find out where we were going for the day felt like waiting at an airport, exciting but nerve-racking.
We soon found out we were going to Cleary Gottlieb Law firm. This was perfect for me as I hope to go into law as a career. The leaders in our group said we had to do some orienteering to find the firm. I instantly knew it was going to be a good day.
We went to the 16th floor and to meeting room 16.6 where we talked about what they do at Cleary Gottlieb and what activities were happening during the day. We were given a project called "Project Truffle" where we had to go around the floors finding out what each employee does. This was very interesting as it let me see the different jobs in law that I didn't know about.
After completing the project we had a networking lunch - the food was amazing - and it gave everyone the opportunity to ask the employees questions. I mainly asked about pathways and which subjects the employees took at sixth form and university. I was surprised when I found out most of the people I spoke to took English at university and only one person I spoke to took law.
I had an amazing day, and would love to do it again in the future.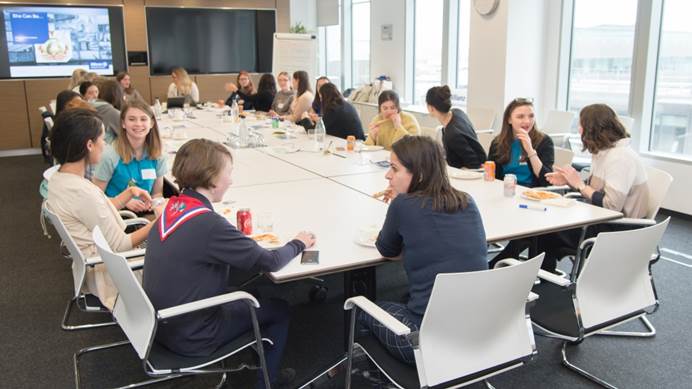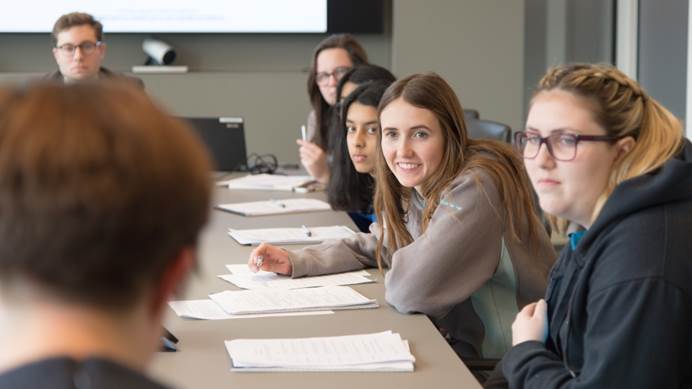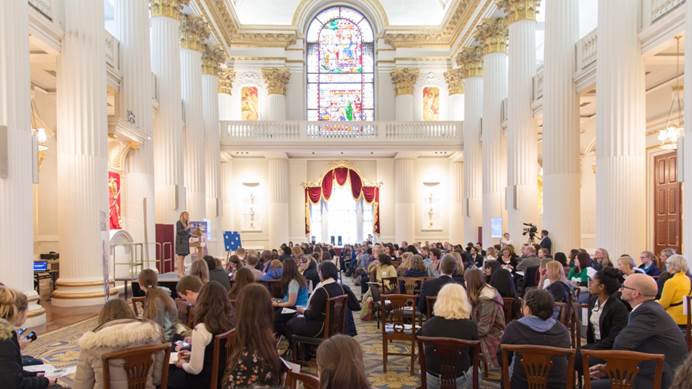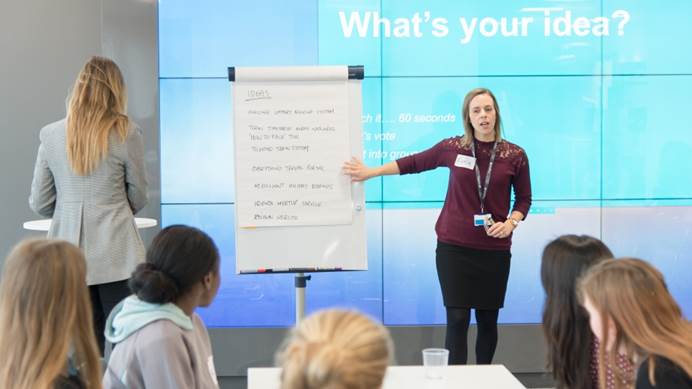 In the afternoon, inspiring women spoke about their own life journeys and opportunities in the City
Eloise tells us about an inspirational afternoon
"We should be filled with bags of confidence and believe in ourselves" said former Lord Mayor Dame Fiona Woolf DBE. Professor Averil Macdonald OBE told us that "we were worth it". Other inspiring guest speakers like Nayema Chowdhury and Holly Rostill told us to recognise that we all had brands and to protect our reputation online.
There were other speeches from Frances Duffy, Devia Gurjar and Donna Robertson, who helped us realise that no doors are closed to us just because we're female.
We also looked over research that showed that most girls, when compared to boys, would be less likely to consider choosing a career in the City. And that 64% of girls felt that employers would employ a man over a woman (Girls' Attitudes Survey).
However, the feeling in the room was that everyone felt that the doors were open to them - 84% expected equal work opportunities.
At the end of the session, we made pledges about our future. I pledged that I would do what makes me happy and increase my self-confidence. The whole day was very useful as we learnt about the opportunities that are open to us in the City.
And that we could do anything we wanted to do.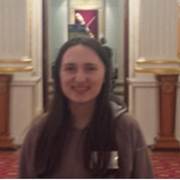 Eloise, 16
Eastbourne Division Rangers
Eloise's favourite thing about Rangers is the opportunities available - like doing relaxing activities with friends or taking part in amazing events!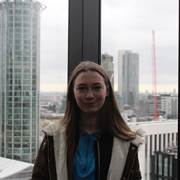 Alice, 15
4th Moulsham Guides and B.A.D Rangers
Alice enjoys Rangers and would love to go into a careeer in law
Do something unforgettable
There's always a way that you can get more involved with Girlguiding. We have events and opportunities for all ages across the UK and around the world.