"The best memories come from saying yes to new experiences"
Follow two young women's journeys around the world as part of Guiding Overseas Linked with Development (GOLD)
Beth and Nicki
19 April 2018
The adventure of a lifetime
From the beaches of Sri Lanka to the mountains of Peru, GOLD partners young women with guide associations right around the world. Together they share skills and work on projects that make a lasting difference. And usually find time for quite a few adventures too.
Here two young women at the opposite ends of their GOLD journeys – one about to start and the other at the end – share their stories.
Want to join GOLD too? Apply now for the Go for Gold selection weekend. It could be the first step in your own GOLD journey.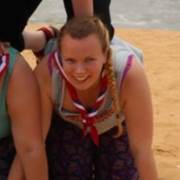 Beth, Brownie leader
Beth took part in the Sri Lanka project as part of GOLD 2013 and 2014
"In 2013 I got my first taste of a GOLD project. Along with five other guiding members I flew out to Sri Lanka for three weeks. My best experience has to be exploring the country; we saw temples, waterfalls and all different types of animals.
It is hard to find a stand out moment but I loved meeting all the Girlguiding members, especially seeing all the Butterflies (Rainbow equivalent) practicing for their enrolment. But the best was yet to come….
A few weeks after our debrief I got a phone call asking if I wanted to lead the 2014 project to Sri Lanka, I was so shocked I couldn't answer for a few moments. That led to my second project travelling to different areas of Sri Lanka to teach leadership skills to adults and Guides.
One of my best memories is teaching girls to make S'mores over a campfire in 40 degree heat (and the girls saying it was too hot)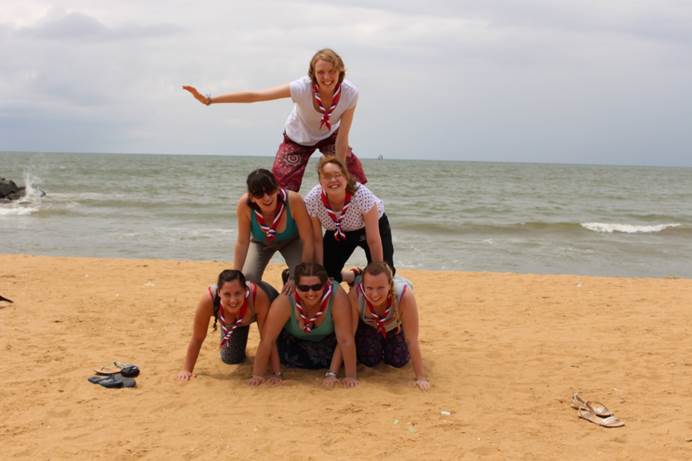 I finished in 2014 with six new friends for life. We travelled for three weeks together, having a laugh, seeing all things Sri Lankan, holding baby turtles, seeing some of the most beautiful beaches and getting to know Sri Lankan Guide leaders.
I have learnt so much - about travel, personal skills and skills for the workplace. I learnt to embrace everything while travelling; sometimes the best memories come just saying yes to new experiences and food. My GOLD projects helped me develop my communication and team working skills as well as being able to manage changes at short notice.
I thought after my last GOLD project that would be it for me and international travel with Girlguiding. How wrong I was. In 2016 I was asked if I would lead a project around Europe. For two weeks. Interrailing. I lead 14 girls and young women (with the help of an excellent leadership team) around Europe on the interrail trains. We visited eight different countries, tried all manners of local food and visited two world centres.
Advice for those going on GOLD or thinking of applying
For those heading off on their first GOLD project my most valuable piece of information is embrace and enjoy it! As a team try everything, food, activities, sightseeing! Things may change from the plan but sometimes that works out for the best!
I almost never made it to that first GOLD selection weekend as I was on the waiting list. Sometimes the best things come at the last moment.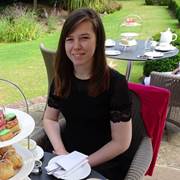 Nicki, Assistant Brownie leader
Going on GOLD this year
"My GOLD journey started with the selection weekend - Go for GOLD. I can't give away too much about the weekend itself, but it was certainly an interesting experience.
Spending a weekend with 84 strangers seemed a bit daunting, but it felt safe as it was with Girlguiding. It made me realise that I can go away from home, with a random bunch of people and it will be ok.
I made friends, tried new things and challenged myself, and that is something to be proud of.
I didn't know what the assessors were looking for, so I just made sure I gave it my best and ultimately, was myself. A month later I found out I had got a place on the GOLD trip to Aruba. As soon as I read the outcome email I was so excited, I knew I had to accept my place.
Meeting the team
At the first briefing weekend 5 months after Go for GOLD I got to meet my team, do some fun activities and start to find out more about the trip. We allocated our roles - I am going to be the photographer and videographer and I can't wait. Other roles include first aider, written documenter, training and resources co-ordinator, finance and of course the team leader, who has taken part in a GOLD trip before.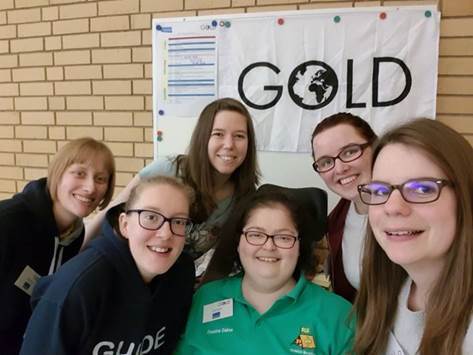 What's next?
I am already looking forward to spending time with my team and finding out more about what we will be doing on our trip. My fundraising is going well too – I'm planning a quiz night and doing some "Rent a Leader" sessions, which have been good fun.
Apply for Go for GOLD
To apply for GOLD 2019, you first need to attend the Go for GOLD selection weekend, 28-30 September 2018. Apply to take part in the weekend by Friday 27 April.
Go around the world with guiding