Spread some positivity in your local community
Here are five safe ways you can show your community some love at this difficult time
Laura, Girlguiding Digital team
06 April 2020
At a time like this when we're all social distancing or in self-isolation, it's easy to feel disconnected from others – particularly if you're in the house all alone in quarantine.
Thanks to some inspiration from our ever-optimistic members, here are five safe ways you can show your community some love at this difficult time.
1. Brighten people's day with a window display
Guiding leader Keela came up with this simple yet genius #WindowWellness idea… Create a window display to bring some cheer to your household, neighbours and passers-by.
You could decorate it using thankful messages, positive drawings, twinkling fairy lights, inspirational photographs (a great idea for Guides pursuing the Photography interest badge) or even soft toys – the sky's the limit so long as you make people smile!
Here are a couple of examples of our members' handiwork. This poster expressing gratitude to the NHS was made by 10th Lee South Guides:
One of our Guides made this lovely poster. #WindowWellness pic.twitter.com/gq7c0a2mLA

— 10th Lee South Guides & Rangers (@10thLSGuides) March 28, 2020
And Jenni Spence shared this cuddly and colourful display created by her daughter: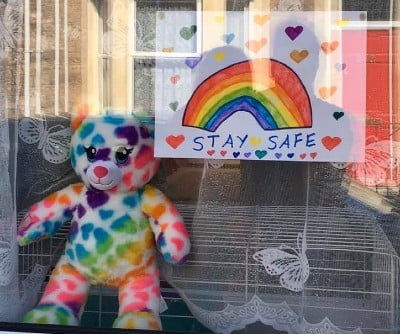 2. Write a letter to a friend or neighbour who is self-isolating
A lot of vulnerable and elderly people in your local community will live alone and, if they need to self-isolate, may be lonely and unable to get the everyday things they need.
Why not write a note to a friend or neighbour asking if they need help with anything? This could be a good way for younger children to work towards their Rainbows Helper interest badge.
Please note, however, that children under 14 should always ask permission from their parent or guardian first, only write to people they know (not to strangers) and get an adult to deliver their letter safely (groups like Covid-19 Mutual Aid UK are a good source of comprehensive advice on posting letters without spreading infection).
In your letter, you could offer help with things like:
grocery shopping
collecting medicines
posting mail
dog walking
other chores like car-washing or mowing the lawn
keeping up their hobbies or interests (e.g. check if keen knitters need wool or lend readers new novels)
regular company – whether through phone calls, letters or video chats.
Just receiving a few kind words through their door could be enough to lift someone's spirits even if they don't take you up on your offer.
3. Show a caregiver you care
Being cooped up inside all day can be tough – even if you're lucky enough to have some company.
Who in your home deserves a break? Encourage someone in your household who works hard to take care of you and others to be cared for… for a change!
Show them you appreciate them by planning a pampering session including all their favourite things. You could run them a bath, bring them a cup of tea and set up a relaxing sofa space loaded with comfy cushions.
If someone you live with is an essential key worker, you could hide notes or treats in their lunch box or bag letting them know you're thinking of them. At a stressful time like this, it could make all the difference during their hectic work day.
4. Give what you can
Due to the coronavirus (Covid-19) crisis, foodbanks across the UK are experiencing record levels of need, hospitals and charities are under strain, and we all need to band together to protect the most vulnerable in society.
If you can afford to do so, you could donate:
We want to give a big pat on the back to our 23rd Aylesbury Brownies and 1st Garstang Rainbows who've both donated bags of stuff to their local foodbanks (including yummy Easter treats!):
My Brownie Unit, 23rd Aylesbury Brownies, have collected all this for the local food bank. So proud of the kindness the Brownies have for their local community @Girlguiding @gguidinganglia pic.twitter.com/X4q3AK3Z3u

— Julia Parker-summers (@parkersummers80) March 18, 2020
Easter eggs & Easter treats ready to be sent off to Morecambe food bank for children in our local area 😊❤️ @Girlguiding @Girlguiding_NWE @LancsNW @garstanguiding @TrussellTrust #BeKind #wecare pic.twitter.com/jrEkz6yGc8

— 1stGarstangRainbows (@Garstang1st) March 18, 2020
5. Start a virtual club, blog or vlog
Embrace technology to share your passions with others and you're bound to be onto a winner.
Are you a known joker? Capture some rib-ticklers on video to make others chuckle and ask them to do the same.
Keen to teach others about ways to survive self-isolation or working from home? Start a blog packed with hints and tips.
A big reader? Set up a book club where others can dial into each session by video or phone. Or why not choose your favourite bedtime story and read it to someone online?
These could be lovely ways to keep isolated neighbours company, and Rainbows, Rangers or Guides could explore their Book lover, Blogging or Vlogging interest badges to boot.
We love 11th St Michael's Guides leader Alison Pinto's idea of livestreaming a virtual campfire! The hour-long March campfire attracted 600+ live viewers who sang their hearts out as it burned away in the night.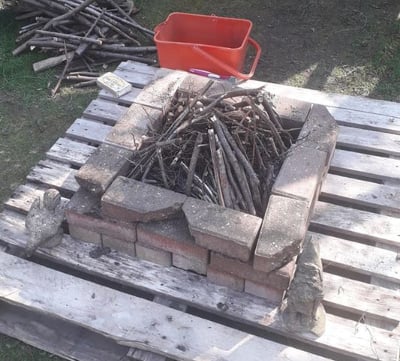 You can tune in to next month's virtual campfire via the Facebook event.