Ideas for getting active
Get moving with these ideas for at home exercise
Jump, dance, run or wiggle – however you choose to move, staying active helps you stay happy and healthy.
Although a lot of our regular activities will not be possible at the moment, and we should only be going out for exercise once a day, there's still plenty of ways to have fun and keep moving - at home or outdoors.
Our activity of the day ideas on social media include some unexpected ways to introduce exercise into your day. Try the funny walk to work those laugh muscles or have your own Girlguiding dance party.
The Crofts Guides took on this dance challenge and shared this great version of the Blinding Lights challenge:
As part of #AdventuresAtHome we set the guides the dance party challenge to do the #BlindingLightsChallenge here's Grace showing us how to do it like a pro! 🕺🏻@girlguiding @Girlguiding_NWE @GirlguidingCF @GrowingGuiding @theweeknd pic.twitter.com/1vbSKFuS0s

— Croft Guides (@croftguides) April 15, 2020
You can more find physical games and ways to warm up in the activities from our programme that are shared each week as Adventures at home. Check out the stretch it out activity or why not try a game of Jianzi?
Get inspired by the experts
Our friends at Sport England are inspiring people to join their movement, use the hashtag #StayInWorkOut and share their at home workouts on social media.
They've got some fantastic, free ideas for exercise on their Stay In Work Out site. We especially love the Disney dance-alongs and the superhero workouts from Get Kids Moving!
We'd like to say a special thanks to Sport England, because they're supporting us with an incredible grant of £92,000. We'll be using this to send out hundreds of sports equipment kit to guiding units in England.
We'll be working on this from autumn this year, and we can't wait to start improving girls skills and confidence in sports and getting active. More news about this project will be coming soon, so stay tuned!
Members get moving
We couldn't resist finding out our members' top tips for keeping fit and having fun during lockdown, so over on Facebookwe asked our volunteers what they've been up to.
Dog walking, yoga, vacuuming and gardening were all firm favourites. One of the more unexpected suggestions came from Harriet, who says she's been building her strength by lifting and walking at a sheep farm as they prepared for lambing season.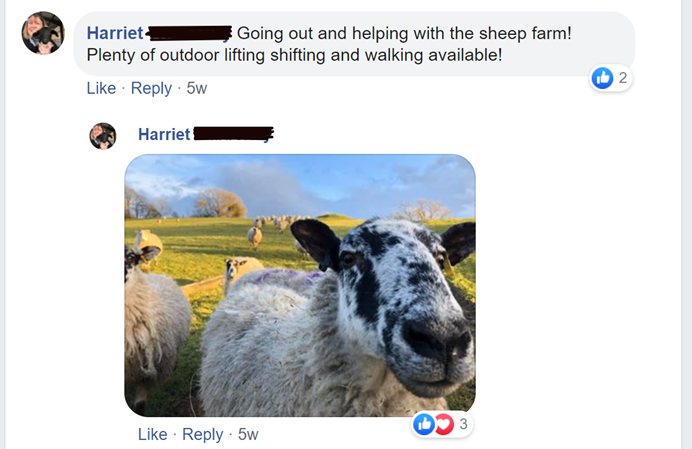 That's not something we can all try, but Tiff sent us a picture of her creative home gym which could inspire you to make your own
Remember – if you are heading outside for a walk or a run, follow Government guidelines and stay safe. And share your own ideas and pictures with us on social media!
Explore the great outdoors with your girls