Your good turns and acts of kindness
Our members really made a difference in 2020
Girlguiding has looked very different this year.
And all our volunteers and young members have done so much to keep the guiding spirit going. To thank you for all you've done during 2020, we're celebrating moments of kindness where you've helped and supported each other and the people in your community.
Thanks to all of you who shared your experiences with us. Here are some of your stories.
Staying connected
Becky Smith, a Ranger leader and assistant division commissioner, ran online meetings for leaders to help them stay connected. The leaders built confidence and went on to run virtual meetings with their units.
"Guiding during this time has been hugely important for the girls and volunteers. We're a space outside of school or work which has really benefited so many of us - we've kept it fun and light-hearted as a remedy to all that's going on.
"I've become closer to some of my fellow volunteers as I usually wouldn't see them on a regular basis, but weekly leader Zooms means we've played games, chatted and shared our experiences more than ever before. Without Guiding, I'd have found the lockdowns much harder as it has given me things to do, people to chat to and fun evenings."
New ways of meeting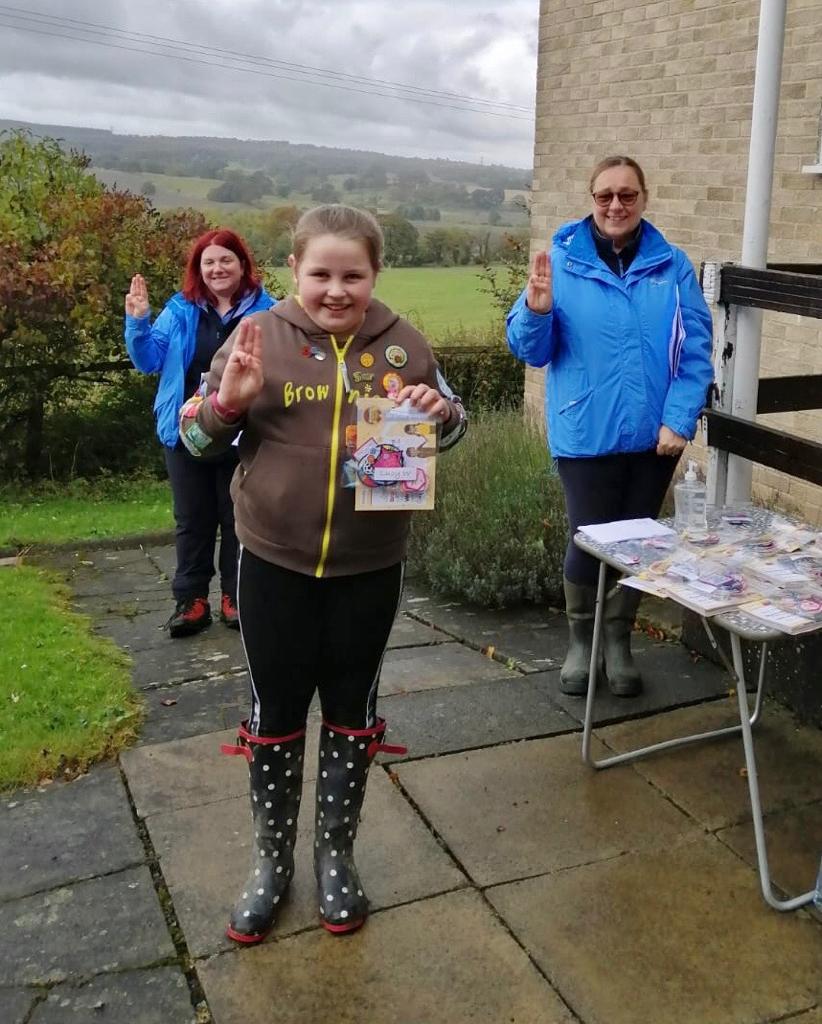 Nicola, a helper at 3rd Spennymoor Brownies, wants to thank unit leaders Linda and Lisa for all they've done this year. This included sharing activities on WhatsApp, running meetings on Zoom and holding a special badge ceremony to celebrate everything the girls achieved during lockdown.
Nicola's daughter Lucy, who attends the unit, said: "My favourite activity was when we went to camp house for a meeting outside. I loved seeing my Brownie friends again and having fun with them. I've also loved doing badges on Zoom."Nicola said: "The number of badges the girls have achieved is astounding, all through the amazing support of Linda and Lisa. I cannot thank them enough for the experience they have given my daughter. They are amazing leaders normally, but they have gone over and above during the pandemic.
Volunteer Helen Beecher Bryant found different ways to keep units engaged, from monthly mailouts of items such as badges and chocolate to weekly virtual meetings.
Life changed beyond recognition for our young members, meaning regular Guiding input became a vital constant in their lives when everything else was so uncertain. Many activities had to be tweaked and adapted for virtual meetings, but this quickly became a 'normal' part of the preparation."
Helen was also part of a team who ran virtual growth and retention training sessions across LaSER, Anglia, Cymru and the South West and a virtual growth conference for the North West.
"We need to capitalise on this new opportunity to reach out to those parents and carers who have experienced Guiding meetings in their front rooms and may now realise we aren't just another activity, we're a life-changing organisation designed to empower girls and young women and support them to understand their potential."
Learning new skills and sharing them
Like many, Lisa, a Guide and Ranger unit helper, was a Zoom novice. She picked up skills with support from other volunteers and is now helping others. Lisa and unit leader Alison ran four virtual camps, as well as weekly meetings and they invited other units to join their meetings.
Lisa said: "Their leaders were very keen to start zooming but didn't feel confident initially. Very quickly their skills and confidence improved, whilst being co-hosts in our joint Zoom meetings, and they 'fledged' to go on to run their own unit Zoom meetings."
Lisa and Alison also supported leaders at their feeder Brownie unit who, in turn, have gone on to run meetings for their feeder Rainbow unit. In total, Lisa and Alison have helped 19 units from Derbyshire, Wiltshire, Sheffield and Leeds.
Lisa said: "The absolute best part of being able to help leaders to Zoom has been seeing their faces fill with complete joy when they first see their girls after months of not seeing them.
"On a personal note, I periodically suffer with debilitating depression and it did recently rear its head. When I saw a leader post on Facebook that her district's virtual sleepover had been let down by its special guest, I suggested line dancing as an option. I ended up running the session. It turns out this was the best thing to help me at that time."
Making a difference in your community
After lockdown, Brownie Emilia made Oreo truffles and left them for her neighbours with a card to say she hoped they were okay. Unknown to her, one neighbour had been seriously ill, while another had just moved to the area. They both got in touch to tell her how much the gift meant.
She said: "I wanted to deliver the chocolates to my neighbours to make them smile and to make them happy after the coronavirus lockdown."
Sisters Isobel and Rebekah have helped hundreds of people in their local area by packing food parcels and crafts for families. Over the next few weeks, they will be busy packing Christmas packages.
Rebekah said: "We wanted to help out families who were finding it hard during lockdown. I normally help at summer holiday clubs as a young leader so know what a difference this makes."
Isobel said: "Lots of people had been short of work in our town, I was lucky as my parents have jobs that continued as they're key workers. I wanted to help people who weren't as lucky as me."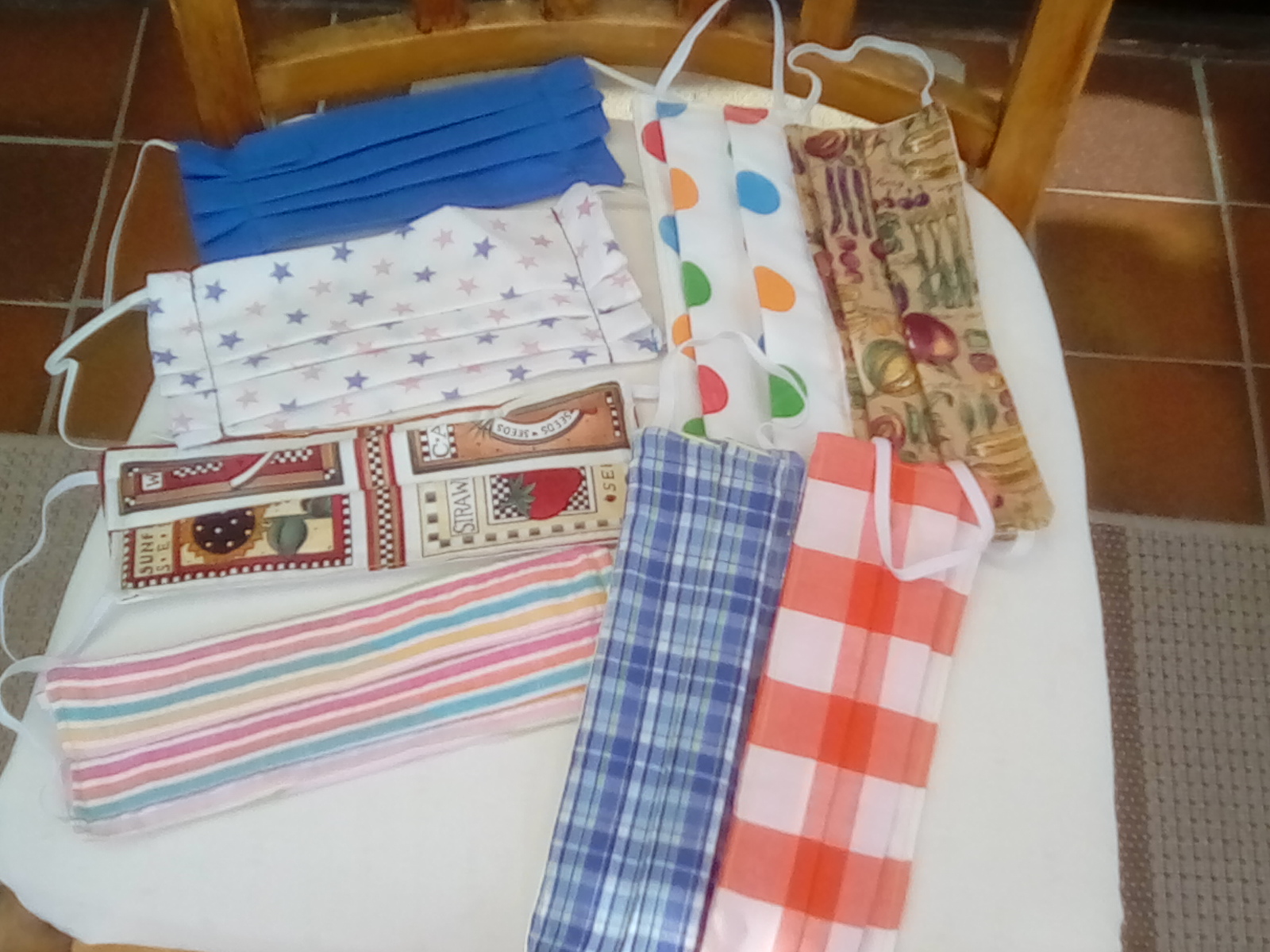 Guide and Ranger leader Jacqueline Rylatt-Connock, and young leader Sarah, made and distributed face masks in their community and to a charity supporting homeless people.
Jacqueline said: "I had the idea when I saw people making them and charging huge amounts of money. I couldn't believe people would take advantage of the vulnerable. I made some and popped a post on the local Facebook page to say I was a Guide leader who was doing what Guides are good at...serving the community. I was inundated with requests.
"The rest was just a lot of hard work in evenings and weekends. My husband was my delivery driver. Most people wanted to give me money, but I said I didn't want any. People were leaving envelopes outside their doors with " For the Guides" written on them. I was blown away with how generous people were. We split the money between the Guides and Rangers."
If these stories have inspired you to start virtual guiding, explore Adventures at home for activity ideas.
Girls making a difference