How glitter got girls guiding
The story of a saved Rainbow unit
Hannah, Rainbow leader
04 December 2018
Well, girls…and one adult!
I made my Brownie Promise in 1987 and stayed until I was a Ranger and young leader. I then had a twenty year gap before the district commissioner in my area, who's a friend of mine, told me about a Rainbow unit that was about to close. She knew which buttons to push - mainly my love of craft and glitter - and that I'm a big kid myself.
And that was me back into guiding!
Growing our new unit
I took over the unit in September 2017 when it had only two members. To set about growing it, we ran a campaign on Facebook and took flyers to local schools.
I then did some Facebook posts explaining that we needed adult volunteers to grow the unit. Without their support, we wouldn't be able to offer the opportunities guiding brings to girls in the local area.
It worked! We now have three additional adult volunteers, a young leader and a pack of 20 girls.
About our Rainbows
They're such a fun-filled bunch and very upbeat so seem to enjoy most activities.
It's one of the things I enjoy about it so much – they will approach everything with enthusiasm and energy.
They're all focused on keeping to their Promise too – they love telling me about how they've put it into action during the week.
And they love anything involving huge amounts of glitter of course!
My favourite things about running a unit
My absolute passion in Girlguiding is resilience. It's such an important, often overlooked, skill.
I love it when the girls think they can't do something and you show them that they can – that the ability was inside of them all along. Their joy when THEY do it is incomparable.
I love the girls most of all, when they run up to me shouting my name – they're always so pleased to see me. But I do really enjoy planning the activities and seeing the girls' interpretations of everything – they have such a unique way of seeing the world!
What it means for girls
I asked the Rainbows' parents what it means to their girls. I was delighted when one emailed me to say their daughter had always been anxious about meeting new grown-ups and nearly didn't start Rainbows. But we made her feel welcome and helped her settle so quickly that her confidence has since shot through the roof. She doesn't even look back when she goes in to each session now!
My thoughts on volunteering
We give girls an opportunity to develop an amazing set of skills that will set them up for their entire lives. I'm still using things I learnt in Brownies thirty years ago today! I'm so grateful to the volunteers that helped me grow.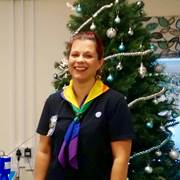 Hannah
Rainbow leader
Hannah's favourite thing about guiding is the resilience it builds in girls and young women (and glitter of course!)