Programme overview
An illustrated overview of the structure of our programme
There's so much to try in our programme, all designed so there's something for every girl.
The structure of our programme means girls can grow along with the themes from from Rainbows right up to Rangers.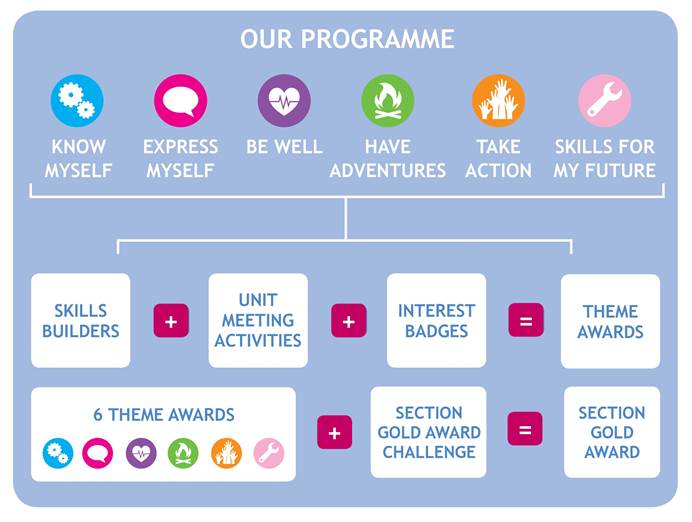 Our members worked with us at every stage to design and test every element of this programme, from activities to badge design. Interest badges alone were tested and tried by over 1,000 girls and parents, and many more members and young women tried out activities at unit meetings, consultations, focus groups and camps.
Themes
The programme has six consistent themes that run all the way from Rainbows to Rangers.
Find out more about the themes
Anniversary badges
These bold badges celebrate membership and commitment. There's a badge to mark each year a girl spends as part of the guiding family – no matter what age she joins.
Interest badges
Interest badges are a girls' opportunity to explore her own interests, hobbies and passions outside of the unit setting.
Find out more about interest badges
Unit meeting activities
There are lots of fun, ready-to-go unit meeting activities of varying lengths and styles, which can be dropped into gaps in your programme to add balance and variation to the guiding experience.
Find out more about unit meeting activities
Skills builders
Skills builders are designed to stretch and challenge girls of all abilities and enable them to develop core skills throughout their guiding journey.
Find out more about skills builders
Theme awards
A combination of unit meeting activities, interest badges and skills builders on the same theme will help girls build up to a Theme award that demonstrates the time they've dedicated to exploring that area.
Section Gold awards
Once girls have completed all six Theme awards within one section, they'll have the chance to complete one final challenge to earn this very special 'top award'.
All you need to know about upcoming changes to programme