Using GO for volunteers
Manage membership records for girls and volunteers and update information about your area
Page last reviewed: 15 August 2022
GO is our online membership system. You can keep records for members up-to-date as well as unit, district, division or county information.
This page is to help volunteers. If you're a parent or carer, go here.
If you are looking for the learning platform, go here.
There is a GO Community project running until the end of March 2023. Laura is your GO community coordinator. You can email her if you have suggestions for training resources or help files for GO via [email protected].
You can:
Update your contact details

Update your unit, volunteer, and young member details

Download reports, emergency contact forms, forms for events and other useful documents

Contact other members and answer enquiries.
First you'll need to activate your account.
Step 1: After you've filled in the form to volunteer with us, you'll get an email from us with an invitation code.
If you don't have this, click the 'Don't have a login?' button on the GO sign in page. Use the email address you signed up with or contact [email protected] if you need to update or add an email address. We'll then send you a new invitation code.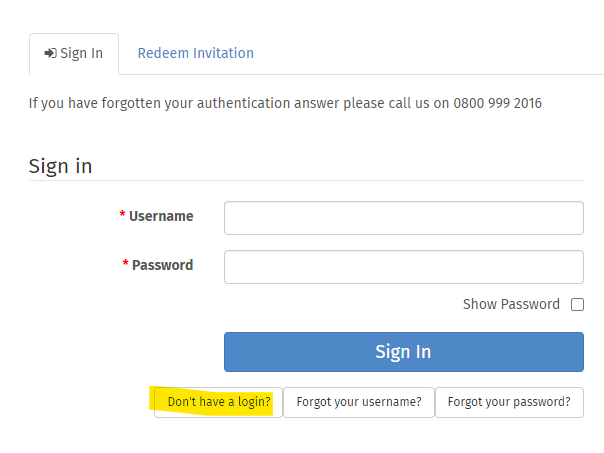 Step 2: Head to the GO sign in page. You can get there from the main website homepage or bookmark it.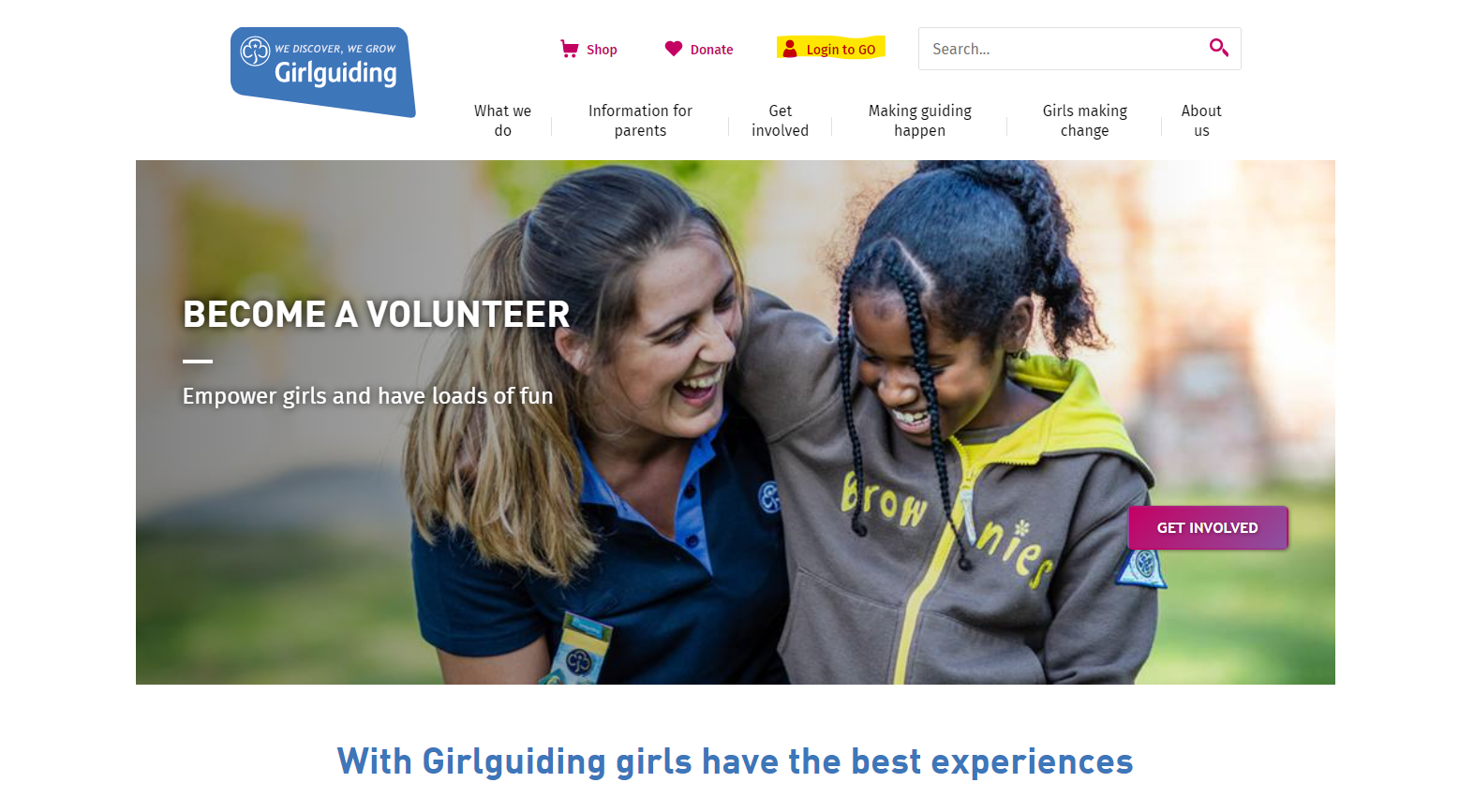 Step 3: Copy your invitation code from the email we sent when you signed up and click the 'Redeem invitation' tab in GO.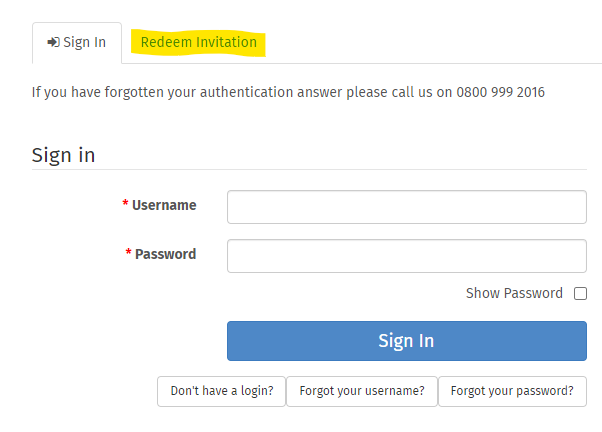 Step 4: Paste the code into the 'Invitation Code' box. If you're having issues, double check to make sure there aren't any full stops or spaces at the end of your code.
Step 5: Enter your date of birth in the format DD/MM/YYYY. Click 'Register'.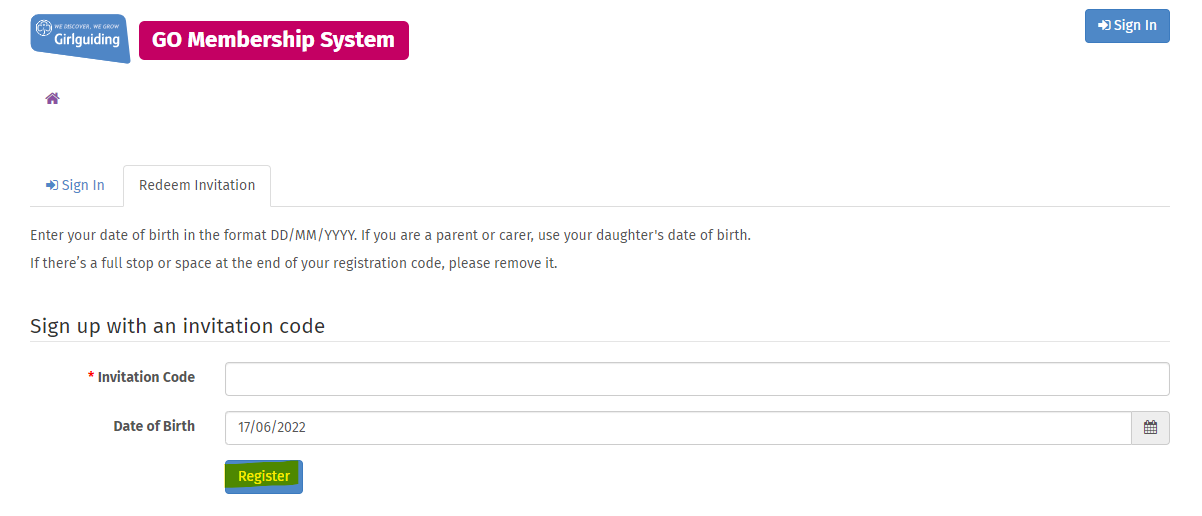 Once you've activated your account, you can sign into GO at any time using the same username and password.
If you're still having trouble signing in, contact our membership systems team: [email protected].
Head to the GO sign in page and click 'Forgot your password?'. You'll be asked for the username you used when you first signed up. We'll send you an email to reset your password – keep an eye on your spam folder in case it goes in there. If it's not there, use the 'Don't have a login' button to request a new invitation code.
Head to the GO sign in page and click on 'Forgot your username?'. You'll need to enter the email address you used when you signed up. We'll send you an email with your GO username.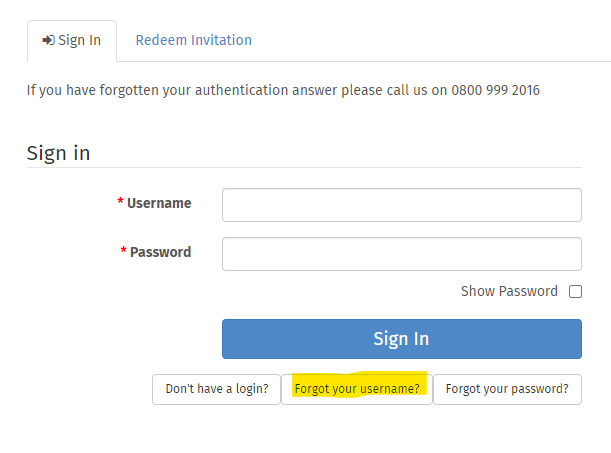 When you sign in to GO, you will see the link to the help section on the top of every page. There's lots of resources here to help with things you may need to do on GO.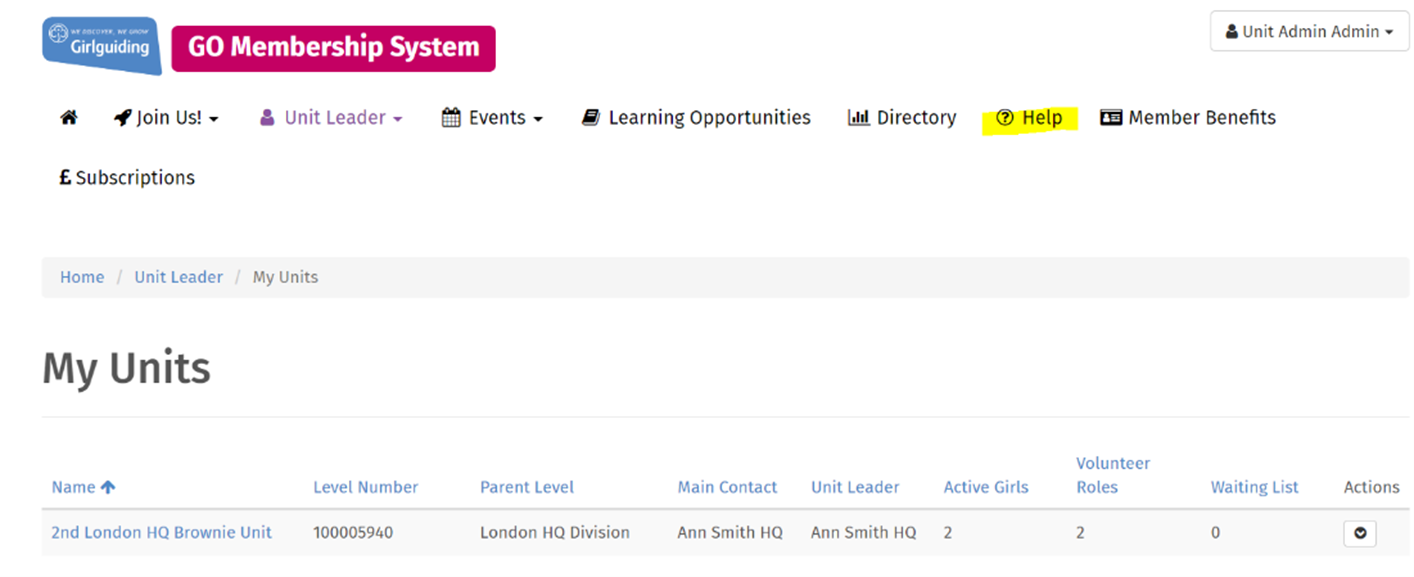 The help area looks like this: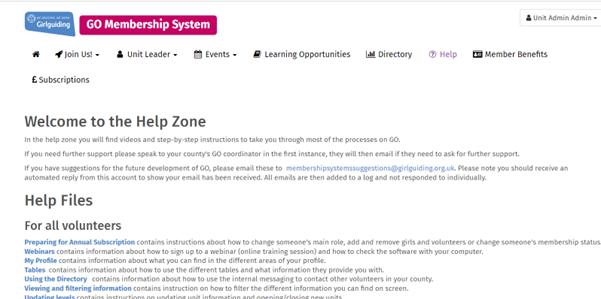 If you can't find what you need in the help area, contact your local commissioner in the first instance, or the membership systems team via [email protected]
If you're part of a district, division, or county team, you can:
Update information about volunteers in your area

Update awards and qualifications

Contact your volunteer team

Update information at different levels, depending on your access.
No, you don't need to update your training on GO. This is either automatically updated 24 hours after you complete it in the learning platform, or your country or region office will update it for you. Please check the help section of the learning platform for more information.
As with any online system, it's important that you use it safely and not put yourself at risk. Make sure you have effective security software installed on your computer, such as anti-virus software, anti-spyware software and a firewall.
If you think your computer has been infected with a virus or other malicious software, don't access GO until you've had it checked out and it's safe.
You should also avoid using a shared computer. If you have to use a shared computer, make sure you:
Have your own email address to keep messages confidential.
Don't leave the computer signed in and unattended.
Set up a screen saver to lock the computer when you're away from it - even if it's just while you make a cup of tea.
And keep your GO account secure by following these tips:
Don't write down your username and password.
Don't share your username and password with anyone else.
Choose a strong password and change it regularly.
If your web browser has a 'remember my passwords' feature, turn this off when you're using GO.
Always click the 'Sign out' button to make sure you've signed out when you're done.
More information on running your unit