Unit meeting activities
A closer look at unit meeting activities
There's a huge range of things to try in our growing suite of fun, ready-to-go unit meeting activities.
Girls will be able to explore topics as diverse as DIY, self-defence, exploring nature and 3D craft and design – and many, many more!
We've worked with our members to develop lots of new activities, on topics that girls and young women told us they wanted to explore with their friends at their regular meetings.
What are the activities about?
These activities are about taking part, trying new things and having fun as a group. There's a variety of lengths and styles, so they can work for 10 minutes of fun at the end of a unit meeting or a longer introduction on a new topic. And they all sit within our programme themes and count towards earning a Theme award.
Activity cards
These unit meeting activities come on specially designed activity cards. They're bright, colourful and simple to follow, to encourage all girls to get involved or to take the lead.
'Our Rainbows all participated and enjoyed the activities, building confidence in even the shyest girl.' – Rainbow leader who tested activities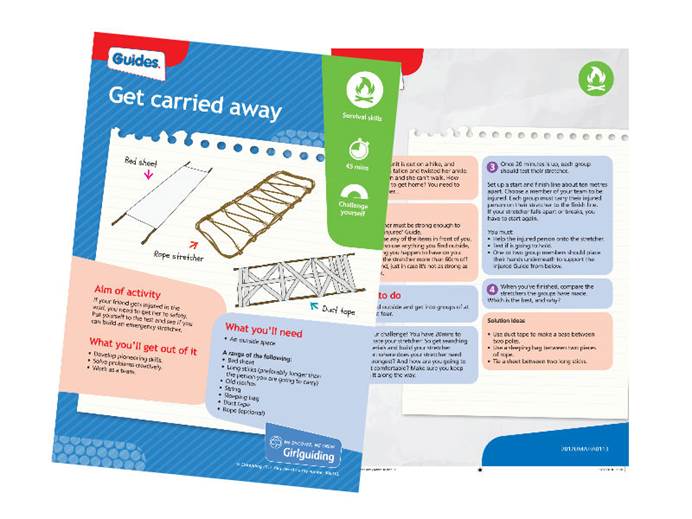 The format of the cards themselves was designed with input from 538 girls. We tested activities with more than 11,000 girls, from Rainbows to Rangers, to make sure they're girl-led, meet the needs of our young members and can be easily delivered in unit meetings.
'Love my Rainbow pack. The cards are sturdy, clear and the activities are fun.' – Rainbow leader who tested the activities
There are lots of different activities now available for units, and new packs of activities will be developed and released regularly each year, so there'll always be something fresh for girls to try.
Working towards awards
As girls focus on a range of themes they'll build up the activity hours they need to get their hands on their Theme awards. Leaders can record the activities from each meeting in the recording section of GO.
There's also plenty of room for leaders and girls to do other activities too. These can be anything you want, including adventurous outdoor activities, games, trips and visits that don't connect to a theme.
Come and join us
With Girlguiding girls have the best experiences. Register your daughter to join us - or volunteer to make guiding happen.