Challenges and activities
Try new things with our challenges
Stay inspired and try new things with a new challenge every quarter.
Our challenges are for girls to explore and investigate however they want.
You don't have to do them in your unit meetings, but you might want to talk about how you are all getting on.
These challenges are not part of the Guide programme, but they are inspired by our interest badges and we hope they inspire girls to try new things.
Happiness and me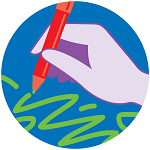 You've told us how hard the last year's been. We want to make sure you feel supported to look after yourself, even when times are hard. Happiness is unique to everyone, there isn't one single thing that makes everyone happy. It's time to discover what your happiness looks like.
What could you and others do to look after yourself when times get tough? It can be really hard to think about these things when you're feeling down, so creating a happiness plan can really help as something to reflect on when you need it.
Try out some of our ideas below to see if any of them are right for you:
Doodling, colouring and drawing can let your mind focus on your wonderful creations. Check out our doodling sheet to have a go yourself! You could print it off, copy the doodles onto a piece of paper or use a drawing app on your computer or tablet.
Watch our How To Video: Checking in. Meditation can help you feel grounded and relaxed.
Create a playlist of all your favourite get-up-and-dance songs or ask someone else for theirs! Put it on and get lost in the music.
Ask someone what makes them happy and try it out yourself.
Spend your day trying to make yourself or someone else laugh. It's contagious!
Discover a new healthy treat. It could be something to eat or drink – see if others like it too!
Have a blind date with a book or movie. Randomly pick one out and see where the adventure takes you.
Now grab a notepad or something to write or doodle on. Jot down or draw everything that brings you joy, no matter how small. It could be something you tried out from our list above, or something as simple as seeing the sun shining outside. You could do this as a mind map, putting the word happiness in the middle and drawing arms off it with each idea.
Once you have your happiness mind map, look at the questions below. These will help you make your happiness plan. Take your time and think about each answer. You might want to put it down and come back to it at a later date.
What makes me happy is…
I really enjoy doing…
I can tell I'm not feeling great because/when I…
I think [name] would cheer me up the best.
If I want to make myself feel better I can…
Now you've got your happiness plan, think about if you'd like to keep this secret to you or share it with others. You could share it with friends, family or your leader to let them know how they can support you when you might need it.
It's okay to feel sad or down, its an emotion we all feel sometimes. But if you're worried or something doesn't seem right, speak to a trusted adult like your family, leader or teacher for support.
Note to leader
This last year has been challenging for everyone. Girls tell us that they're feeling more lonely and worried. But they're also doing the things that they can do take care of themselves and keep well. For example, keeping in touch with friends and family, playing games and enjoying the outdoors. This challenge is designed to help them understand what they can do to look after their wellbeing.
If you receive any disclosures or have a concern for welfare, follow the A Safe Space guidance. If there is an immediate risk of harm, call the police and out-of-hours Safeguarding team on 07508 032997.