Start-up kit
Bring guiding to more girls with this brand new resource to help leaders set up new units
By setting up more units, we'll bring the opportunities guiding offers to even more girls.
There are lots of girls out there who'd love to join guiding but are waiting for a space. And there are other girls who want to move up to the next section but can't. By setting up new units in areas where there's a need, we can bring guiding to even more girls.

We know setting up a unit can feel like a big undertaking. And there are lots of things that need to be set up properly to make sure we keep guiding great quality. We also know we need to keep the process for setting up a unit straightforward - for both the volunteers who'd like to be leaders and for our current volunteers who support these new units.
That's where the start-up kit comes in. It's a handy resource that you as a commissioner can order for leaders you're supporting to set up a new unit, reopen a closed unit or take over an established unit without leaders.
What is the unit start-up kit?
Our start-up kit is a printed guide designed to make setting up a unit straightforward. It gives volunteers new to guiding the practical information they need in one accessible pack. The kit comes with other useful items too - such as a lanyard, badge, postcards and a wall planner - to help get their Girlguiding journey underway. Everything's packaged together in a nifty box and delivered straight out to new volunteers.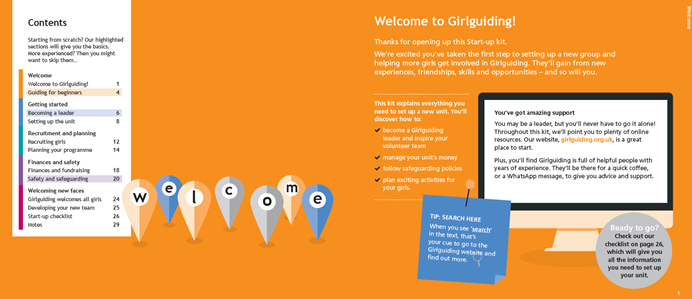 The start-up kit gives potential new leaders:
Advice on unit finances, safeguarding, recruiting a volunteer team, setting up meetings and promoting the unit locally
Information about the responsibilities and expectations of being a leader, how to deliver a great programme for girls, and what great guiding looks like
Information on our organisation, how guiding works, and how together we put girls at the heart of everything we do
A warm welcome into the organisation direct to their front door.
The resource will point to the right parts of the website so potential leaders always have up to date information and know how to find help.
To make sure new leaders learn from the amazing volunteers already delivering great guiding, you'll also need to set them up with a buddy. This will make sure we keep up the high standard we pride ourselves on and help the new unit leader gain a good understanding of what great guiding looks like.

How should I use the new unit Start-up kit?
You can order the Start-up kit for leaders to guide them through the process of getting their new unit up and running. By following the step-by-step approach below, which includes using the Start-up kit, you'll be ready to engage new volunteers and set up new units in your area.
We've designed the start-up kit so that even people new to guiding are able to set up a great unit. How you use the resource will depend on your area's local needs and where you have a shortage of units.
You may want to consider using the start-up kit:
With new volunteers recruited from local or national volunteer campaigns as a great way to help them get started
With parents of girls who are waiting to join, or parents who are passionate about bringing Girlguiding to more girls
To set up new units in areas with long waiting lists or where there are new units needed to support girls to move up sections
To support leaders taking over a unit or reopening a closed unit.
When you're talking to new potential leaders, it's important to keep them excited about the idea of setting up a new unit. But do also be realistic about the amount of work and effort needed to both set up, and then run, a unit.
For new potential volunteers
If there's someone you think would be a great unit leader and who would like to set up a new unit, you can use this email template to chat to them about the process.
For parents
If you'd like to recruit parents on the waiting list, you'll need to talk to your unit leaders about which parents would be good to approach.
Unit leaders in your local area can get in touch with parents on the waiting list. To make this easier, you can use this email as a template – which includes some text that they can send on to parents who might be interested.
Follow up emails
Once the potential volunteer or parent has been in touch with you, you can talk to them about the process of setting up a unit – you can use this email template to help with that.
Once you've got your new volunteer on board and interested in setting up a new unit, you can order the kit by completing this order form and emailing it to [email protected].
It will be posted directly to the new unit leader, as a welcome to the organisation, therefore you'll need to explain to them that you'll need their home address for them to get involved.
You can also order it for leaders who are new to a unit or reopening a closed one. It could be a great tool for getting them to think about the unit's new start with a new leadership team.
Once the kit's been ordered, you can start thinking about getting your new potential leader set up with a buddy. The buddy will show your new volunteer what great guiding looks like. They'll also make sure that your new volunteer feels supported, has someone they can go to with questions and be a friendly face while they settle in.
The person you choose for their buddy should have been part of Girlguiding for at least six months. And, if possible, they should be a unit leader of the same section the new volunteer is setting up.
To allocate a buddy for a new leader, we recommend approaching leaders that you have seen demonstrate good guiding. Offer them this short term opportunity to support others at the start of their volunteer journey with us.
You can also share the role description locally and ask anyone interested to apply. Having a bank of potential buddies will make it easier for you to match these with new leaders. Advertise the role at local meetings, on social media and noticeboards where potential buddies could see it and let them know how to apply. This isn't a role listed on GO, as it can be taken up on a more casual basis.
Read the buddy role description for more information
When putting the new unit on GO please make sure you tick yes on the Add Unit Form when asked 'Was the unit start-up kit used?'.
This will help us know how many units have used the resource successfully. You can also mark this when you re-open a closed unit.
After you've completed all these steps, don't forget to regularly catch up with your new leader to see how they're getting on and if they need any support in setting up their unit.
If they're brand new to guiding, check out our guidance on welcoming new volunteers.
How long will the process take?
In the start-up kit, we've included a suggested 12-week checklist for setting up the unit so that new potential leaders know what they need to do and when.
But this timescale's just for reference. It may take volunteers more or less time. And they might find that things work better for them in a different order or doing some things at the same time.
As commissioner, you play a key role in guiding new volunteers through this process. Make sure you let them know which parts of the process you and other volunteers in your area can support them with.
Let us know how it goes
If you have a go at any of the steps above - from reaching out to potential new leaders to using the start-up kit - get in touch with any questions and to share your feedback.
Get in touch on [email protected]

Order a start-up kit
If you're a commissioner and are supporting leaders to set up new units, order them a start-up kit to help them on their way. Complete our order form and return it to [email protected]
Complete the order form