Meet our trustees
Meet our board of trustees, who use their mixture of skills and experiences to lead Girlguiding and shape our future.
Our trustees make sure we're doing our best for girls in the UK.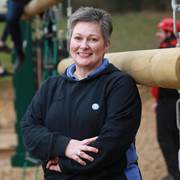 Catherine Irwin – chair of the board of trustees
Catherine has been a member since joining as a Guide. After achieving her Queen's Guide award she became a Guide leader. She has held various roles including being a British Youth Council delegate, outdoor adviser, district commissioner, county commissioner, Girlguiding Ulster trustee and a council member.
She was a member of the UK delegation for the WAGGGS world conferences in Hong Kong and India and was on the WAGGGS strategy and planning committee that developed the 2017-2020 Strategy.
Catherine chairs the nominations and governance committee and the remuneration committee.
Catherine has over 32 years professional experience with the DuPont Company, beginning as an electrical engineer before moving into senior executive strategic leadership roles with global responsibility.
She currently runs her own management consultancy business, predominantly working with senior executives in the petrochemical, mining and manufacturing industries across Middle East, Africa and Asia.
She is a chartered electrical engineer with a postgraduate award in business administration and professional health and safety qualifications.
As chair of the board of trustees, partnering with the chief guide and CEO, I am passionately committed to providing inclusive and collaborative leadership so that Girlguiding is enabled to thrive today, tomorrow, together.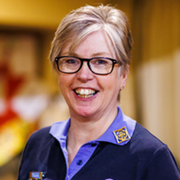 Tracy Foster - chief guide
Tracy has been the chief guide since February 2023. She leads the team of country and region chief commissioners and chairs the operational board.
Tracy will appoint a deputy and an assistant and together they provide leadership and direction for volunteers in guiding. She also has the vital role of ensuring that decisions made by the trustees are informed by the countries and regions.
Tracy is a Girlguiding qualified trainer and has held commissioner roles at all levels. Before taking up the role as chief guide, Tracy was chief commissioner for Anglia.
She's a registered social worker and, for the past 20 years, has supported people impacted by domestic abuse. She's worked in both the public and charity sector and is currently the national domestic abuse lead at Spurgeons children's charity.
I am constantly inspired by both our amazing volunteers, who give their time and care to providing a welcoming space for girls to experience the fun and adventure guiding offers, and our young members that I see each week laughing with friends, stepping of their comfort zones to try new things and their confidence grow.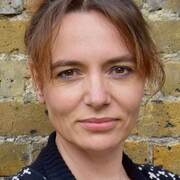 Sally Kettle – deputy chief guide
Sally joined the chief guide team in June 2023. She supports the chief guide in providing leadership and direction for volunteers in guiding.
Sally has been involved in guiding since she was a Brownie. Since then, she has held several volunteer roles, including a county and Cymru peer education co-ordinator, Rainbow and Brownie unit leader, and chair of the LaSER ambassador programme.
Sally is an adventurer, and the first person to row the Atlantic Ocean twice from east to west.
She is an accomplished professional speaker, presenter, and management trainer with experience across many sectors.
Sally is also the co-founder and CEO of the Active Pregnancy Foundation which supports women to stay active throughout pregnancy and beyond.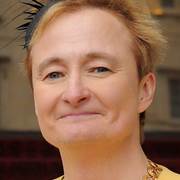 Elizabeth Dymond – treasurer
Elizabeth is an external trustee. She was a Brownie, Guide, Ranger and Queen's Guide and went on to help run her Guide unit. She has returned to guiding to use her financial skills and experience to support Girlguiding so that it can fulfil its vision.
Elizabeth chairs the finance committee and is a director of the trading subsidiary.
Elizabeth is a chartered accountant. She qualified and worked in the private sector before moving into central government working for the competition authorities and HM Treasury.
She has been director of finance at the Leverhulme Trust since June 2022. For the previous 6 years she was director of finance and corporate services at the Charity for Civil Servants.
She was a trustee at Victim Support from January 2015 to September 2019 where she was initially chair of the audit committee and then treasurer.
She was awarded a CBE for public service in 2018.
I got a lot out of being a Guide and would like to ensure Girlguiding continues to empower girls today.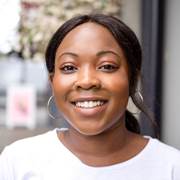 Mary Agbesanwa
Mary is a former Brownie and Guide where she learnt important life skills early on in her life. Mary is passionate about the future of the financial services industry, supporting millennials to achieve their full potential and driving diversity and inclusion. She has spent several years working as a management consultant and now leads a sales team at a fintech start-up.

Outside of work, Mary is a spokesperson for gender equality, millennials and diversity and inclusion. She runs a digital-first global female millennial personal development and entrepreneurial community called the Now You're Talking network. Her recent accolades include Brummell's 30 Inspirational Women in the City list 2022, MCA Young Consultant of the Year Finalist 2021 and Innovate Finance Women in Fintech Powerlist 2020.
Mary joined PwC in 2016 as a financial services operations management consultant and subsequently became the fintech scale programme lead. In this role, she connected industry leaders and decision-makers in large organisations to innovative fintech start-ups, to create mutual business opportunities and accelerate commercial growth. She now leads and drives sales at a fintech start-up.
Female empowerment has been a key part of my personal and professional journey to date - from being a Brownie and Guide in north London to starting the women in finance society at my university, to launching my own female professional network. The Girlguiding values of sisterhood as well as teamworking and problem solving are why the role of a trustee stood out to me.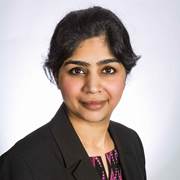 Amrita Aurora
Amrita is passionate about diversity and inclusion and has been ranked by Business in the Community as one of the top 5 diversity champions in the UK. She's worked on the technology talent strategy at American Express and launched the first Amex Girls Who Code program, which taught 20 high school students from underrepresented backgrounds to code.
Amrita was shortlisted for 2020 ambassador of the year as part of the Women In Finance London Awards for achieving a long-term impact on the way people and organisations think about and practice gender diversity and for publicly championing gender equality in the sector.
Amrita was most recently the head of governance, risk and third party management at AXA Health.
She's held roles across the world in corporate governance, risk management, change and transformation, compliance, finance, operations and cyber security.
Amrita has a first class master's degree in commerce and an advanced diploma in cyber security.
Girlguiding is a leading organisation which has been empowering the girl child for decades. I bring significant global corporate experience working for highly respected global brands, experiences such as growing up as a girl child under intense terrorism in the Indian state of Punjab and being the first woman in my family to enter the corporate world.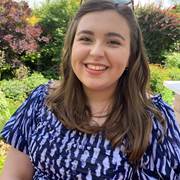 Emma Blackburn
Emma has been involved with Girlguiding since joining as a Rainbow in 2003, and is now a leader, peer education trainer, and coordinator. She is passionate about the values and aims of Girlguiding, and attributes the life skills and experiences she has gained to the leaders and mentors who've helped her through her guiding journey.
Emma sits on the finance committee.
During her time at university, Emma held multiple roles including vice president for welfare & community.
In this role, she led the creation of the SU housing accreditation scheme, developed a wellbeing network, and secured hundreds of thousands of pounds in rent refunds for students during the pandemic.
Emma is currently a service manager at Citizens Advice.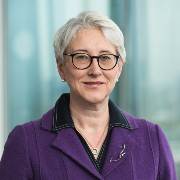 Alison Hampton
Alison is a qualified lawyer. She first became involved with Girlguiding as a Brownie – she still has her 1977 Queen's Silver Jubilee Brownie badge. She has been a Brownie leader since 2013, Rainbow leader since 2016 and district commissioner for Rickmansworth & Chorleywood since 2016.
Alison sits on the audit and risk committee.
Alison set up her own consultancy business, Alma Verde Advisors in September 2017.
Alison has advised companies at board level on managing risks both as general counsel and lawyer. She was head of responsible investment at a private equity fund manager and developed its approach for responsible investment, achieving recognition via an award-winning governance framework for implementation.
Currently, Alison is a non-executive member on the risk committee of Asper Investment Management, having previously sat on the finance and risk committee of Muscular Dystrophy UK.
I'm so thrilled to be carrying out my guiding promise to 'use my time and talents wisely' to help this fantastic organisation empower the next generation of girls.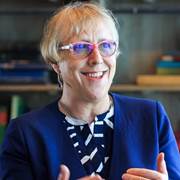 Jill Mclaughlin
Jill McLaughlin was a Brownie, Guide and Ranger in Hertfordshire in the 1960s and 70s. She achieved many badges, her Queens Guide award and Duke of Edinburgh Award. She benefited from many varied experiences ranging from sailing, kayaking, camping, helping local organisations and trips to London theatre. Girlguiding introduced her to many experiences, formed the basis of her young social life and enabled many leadership experiences.
For the last 10 years, Jill has been a school governor in London Borough of Islington, taking up the role of chair of governors of Elizabeth Garrett Anderson School, an outstanding girls secondary school providing high quality education and development for girls from many different backgrounds. Jill is currently chair of governors of Islington Futures Federation of Community Schools, a group of 4 schools in Islington.
Jill started in the catering industry and progressed through to senior management in the private services sector before moving to the charitable sector.
She served as the senior executive responsible for multiple professional services, in the British Film Institute and most recently as director of corporate services for Royal Botanic Gardens Kew.
Having retired from full time employment Jill is now providing consultancy and training services through her own company, a leading governance consultant for the National Governors Association and is a non legal member of Employment Tribunals in London.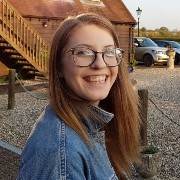 Hannah Moran
Hannah was a Rainbow, Brownie, Guide and young leader in Plymouth, and became a Guide leader in London after moving for university. Since then, she's been a Brownie leader in the Hague with BGO, has led a LaSER international expedition to Argentina and is now back with her Guide unit in London.
Hannah is a member of the finance committee.
Hannah is a chemical engineer and has a masters and PhD from Imperial College London. Her PhD research focussed on fluid dynamics with applications in solar energy. She has a strong interest in sustainability.
Hannah has previously worked as a process engineer in the Netherlands and has Chartered Chemical Engineer status.
She currently works in quantitative finance and is passionate about STEM outreach, particularly to girls and young women. She mentors school-age students and regularly speaks at universities about STEM career paths.
Girlguiding is really unique in the way it provides girls and young women with a safe environment in which to be wholly themselves and try new things that they wouldn't otherwise have the opportunity or feel able to do, and I think it is so important to have this in today's society.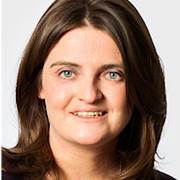 Deborah O'Neill
Deborah was involved in Girlguiding until she went to university and she has sought ways to be involved in Girlguiding since. She has extensive experience in providing strategic leadership, building new businesses and shaping professional thought through addressing global industry conferences as a keynote speaker. She combines creativity with commercial acumen to deliver digital transformation programmes and connect clients with innovative technological solutions that facilitate and sharpen decision making.
In 2019 she provided her professional advisory services (pro-bono) to lead a project that supported Girlguiding to become more data-driven.
Deborah joined Oliver Wyman as a consultant in 2008. Since then she has been an engagement manger, principal and partner supporting cross-industry organisations with their digital initiatives.
Currently Deborah is a partner and UK head of digital, where she played a pivotal role in the corporate Social Impact Programme to support pro bono or low-fee work on projects delivering social and client impact, which won the 2015 Lord Mayor's 'Future-Proofing Charities Award'.
Girlguiding provides young women with the opportunity and confidence to have new experiences and build skills vital for their future and also for broader society. I am very proud to be able to use my expertise in digital transformation to support Girlguiding to evolve and continue this important mission.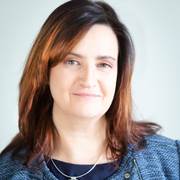 Sue Parker-Tantush
Sue is the chair of an inner-city school and was previously chair and then leader of a Scout group. She was also a Brownie and a Guide in her village growing up. She has seen first-hand the impact of being exposed to wider opportunities and the positive change this can have on young people.
She's a qualified risk management and safety professional, currently accountable for the risk-based safety strategy of a complex organisation. As the chair of the local governance body of a Co-op academy school, Sue has helped to change the operating model to promote effective governance.
Sue is the group health and safety manager for the Co-op Group, where she led the transformational change of the Co-op's health and safety strategy for 70,000 employees, across the UK and Northern Ireland.
She is also the chair of governors for a local governing board at the Co-op Academy Trust.
Sue was previously the group safety and compliance officer at Kingfisher plc.
I am proud to be returning to Girlguiding to support the new strategy, in particular to help us to be inclusive for all. We have an important role to play in helping girls to develop the skills and confidence they need for success.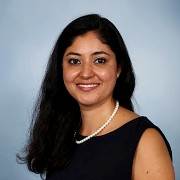 Supriya Sobti
Supriya was born and brought up in India and moved to the UK in her early 20s. She is passionate about the vision and mission of Girlguiding and fully supports our values. Since 2019 she has been a council and audit committee member for Buckinghamshire New University. Until recently, she supported her local branch of the Samaritans as treasurer and before then was a volunteer on their phone lines.
Supriya sits on the finance committee.
Supriya is a chartered accountant with over 15 years post qualification experience.
She is currently the head of regulatory assurance at the Royal Bank of Scotland (RBS) and has held various roles within finance, regulatory and risk areas for over 11 years. She has been involved in the diversity and inclusion agenda at RBS, as the lead on gender. And mentored external mentees and female colleagues through her involvement in a race-related mentoring scheme
Supriya has completed an advanced diploma in psychotherapeutic counselling.
As Girlguiding continues to grow and expand, I can support the board by sharing my experience in finance, strategy and risk management from many years of working in big, complex and regulated companies.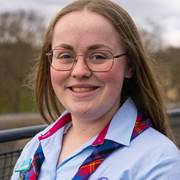 Abbie Wright
Abbie joined Girlguiding as a Rainbow and is now a Brownie leader and district commissioner. She attributes some of the skills and experience she has gained to the range of opportunities through her journey with Girlguiding. Abbie is also a Girlguiding advocate and has represented Girlguiding on a national level, promoting our values and ensuring girls' voices are heard.
Abbie sits on the nominations and governance committee.
Abbie was previously a trustee for the Scottish Youth Parliament and has experience in strategic and financial oversight of a charity. She has also been a member of a Scottish government delivery board.
She is currently a final year mental health nursing student.
She also works part time as a lifeguard, swimming teacher and equestrian coach.