Awards
Queen's Guide award
Print this badge
The Queen's Guide award is the highest award you can work towards in guiding
It gives you the chance to develop your skills, whilst contributing to guiding and your local community at an impressive level. It is open to members aged 16 to 25 and must be completed within three years from the start date or before your 26th birthday, whichever is sooner.
Check our advice on working towards your Queen's Guide award during Covid-19.
Why should I get involved?
It is not just a personal achievement – it's life changing. - Hannah, Rainbow and Brownie leader
The Queen's Guide award isn't just a great achievement to share with other members of Girlguiding. Potential employers and further education institutions will also be impressed with your accomplishment. The award shows you've challenged yourself and achieved your goals, across a range of different disciplines.
The programme can also be matched with activities you are already doing in guiding, meaning you can get more than one award for the challenges you are taking on.
What does it entail?
The award is based on the concepts of personal challenge and participation and is split into five sections.
Service in guiding – take an active role in guiding at a range of levels.
Outdoor challenge – build your teamwork and leadership skills in a glorious outdoor setting. Where you go and what you do is up to you!
Personal skill development – start a new skill and develop it, or take an existing skill to a new level for a minimum of 60 hours over 12 months. A personal skill could be anything from ballet to circus skills, performing magic tricks to playing a musical instrument.
Community action – get more involved with the world around you and gain a greater understanding of it through practical and research projects of your choice.
Residential – spend two nights and three days away from home with new people.
Queens' Guide award and DofE
Don't forget - if you are working towards your Gold Duke of Edinburgh's Award (DofE) you could do one residential to count towards both awards – you just need to make sure it's long enough.
Before you decide to count something for both awards, you'll need to make sure your DofE leader and Queen's Guide award coordinator are happy with your plans. It's also worth noting an activity you're doing for one award might count towards a section of the other, but not necessarily count for all of it.
For example, the residential for Service in Guiding element two can count towards your volunteering section of DofE. But as you need to volunteer over a period of time for DofE (minimum 12 months) this can't be counted as your entire DofE volunteering section.
Make sure you read both award syllabuses carefully, so you know what you need to do to fulfil each award's requirements.
For the volunteering, skills and physical sections of the DofE award, you need to make sure you are doing on average an hour a week during the time period. For more information on the timescales, chat to your leader or take a look at the DofE website.
Get started
Download the updated syllabus to find out exactly what you can take on as part of the Queen's Guide award.
Queen's Guide award resource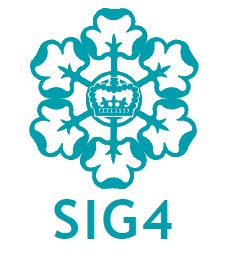 To make it clearer what opportunities count towards Service in guiding element four (SIG4) of the Queen's Guide award, we've created an icon that can be used to show that something meets the element criteria.
This icon is made to be used online or in print. Candidates can look out for this when choosing what do to do for this part of the award.
To find out how to use the icon correctly, download the guidelines.
You can download the icon here.


We've created a template form that can be used in counties and regions to request that the SIG 4 icon is added to an opportunity.
Queen's Guide Award celebrations
Once you've completed your award, it's time to celebrate! Queen's Guides will be invited to our national celebrations. To be invited, you need to make sure:
you're an active member of Girlguiding on GO (with an up to date email address)
you haven't previously declined three invitations to a celebration event
you've never attended a Queen's Guide celebration event
We've been keeping up to date with advice from the UK government about coronavirus. We 're exploring ways in which we can hold celebrations in 2022 that both ensures everyone's safety and lets us all to come together to recognise the hard work that you put into achieving your Queen's Guide Award.