Monthly challenge and activities
Check out our challenge of the month, and extra activities to explore at home
Here you'll find our challenge of the month, for kids to try themselves, and some amazing activities to download and try any time.
Challenge of the month
Each month we'll be sharing a new challenge for girls to explore however they want. You don't have to do them in your unit meetings, but you might want to talk about how you are all getting on.
These challenges are not part of the Girlguiding programme, but they are inspired by our interest badges and we hope they inspire girls to try new things.
July challenge - Supporting our friends
Some people get treated unfairly based on who they are or what they look like. You might have heard recently about Black Lives Matter - this is a campaign for Black people to be treated fairly. You might be affected by this or something similar yourself, or want to help other people.
A way to help people be treated fairly is to be an ally. An ally is a kind and supportive friend who sticks up for somebody who's being treated unfairly. They listen really well and find out about how others feel.
At Girlguiding we want to include everyone and want all communities to know we stand together. If you're affected by any issues, you could share this with family and friends so they know how to support you better.
There are lots of things you could do to listen, learn, question and discover how you could be an ally to someone.
Here are some ideas:
Send notes of positivity to your friends and family to show that you care.
Fundraise to support charities and organisations that are supporting the cause you want to help.
Use your voice to tell others about the things you care about. Why not write to your local MP to make sure your voice is heard! MPs are people in power who can help make change. We've made some top tips to help you.
Have a go at our Uncrumpled friend activity, which looks how we can be kind to everyone.
Ask an adult to help find child-friendly resources about the things you and your friends care about. For example, we have lots of activities here about Black Lives Matter for you to explore.
We'd love to hear what you've been up to this month, you can ask an adult to share on their social media using #AdventuresAtHome.
Why not try?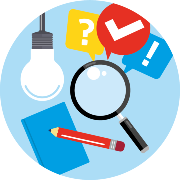 Our monthly activities are available to download and try at home, or use online. They're designed to support the monthly challenge, and like the challenges, a new activity will be added each month.
This month we explore making your voice heard by writing to your MP.