A Safe Space training resources
Help volunteers to create an environment where girls can be safe and have fun
Support volunteers to create a safe space for everyone
Safety is at the heart of everything we do. Our safeguarding training helps everyone to:
Understand their role in safeguarding and what to do
Recognise potential safeguarding issues
Understand our safety and safeguarding policies
Chat to others about what to do
Answer their questions
Who can deliver A Safe Space training?
This table outlines the various routes to delivering the A Safe Space levels. A trainer must meet all criteria of a route to deliver the training. Download a copy of this table.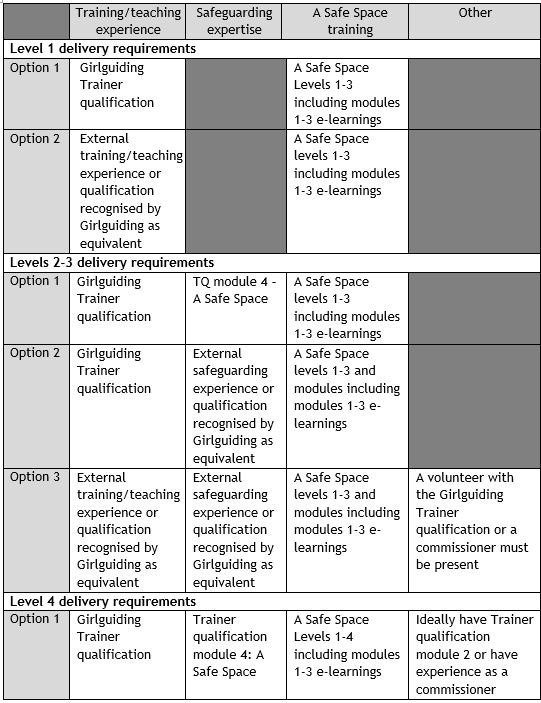 Do you have external safeguarding learning or experience?
Check out our recognising prior safeguarding learning and experience process to find out if you could be exempt from A Safe Space, Level 3.
Are you an external trainer or teacher and want to deliver A Safe Space training?
Check out our process for recognising learning and experience in training or teaching to find out what levels of A Safe Space training you can deliver without the Girlguiding trainer qualification.
Two trainers can deliver training together to make sure the above requirements are met.
Delivering A Safe Space training
Due to Covid-19 restrictions, face-to-face training sessions have been limited and some volunteers may not be able to access the digital training sessions.
Volunteers who need to do A Safe Space Level 1 and/or Level 2, but can't complete the e-learning or webinar version, can arrange with a trainer to do it over the phone. These phone calls must be completed by A Safe Space trainers and limited to one trainer and one participant at a time.
If the volunteer has access to the internet but doesn't feel confident about completing the e-learning alone, we recommend they have the e-learning open on their device to read as the trainer talks them through the information. This should only be done in cases where it's not possible for the volunteer to complete the e-learning alone.
It's important that you keep to the aims, objective and sessions plans we have provided, but we have made it easy for you to vary your sessions and adapt them to your audience by giving you a selection of activities that you can choose from.
Training resources
Use these resources to deliver the revised A Safe Space Training.
Below you can find the information for the addendum slides. For ease, these slides have been incorporated into the relevant level's Powerpoint document. As a reminder, you can use whichever slides in the pack that you find most useful in meeting the needs of your participants. You do not need to use the whole pack so long as you meet the aims and objectives of the content.
Addendum trainers' guidance (PDF) – note for trainers on key updates since the revised A Safe Space launch, including some new content.
For all levels
A very limited number of A Safe Space trainer resource packs are available through trading for Levels 1, 2 and 3 for new A Safe Space trainers. These are available for free subject to delivery costs and must be ordered by country and region offices.
In light of the Code of Conduct changes, we will be ensuring this is reflected in the training materials the next time we review these.
Level 3 resources
Download all the resources you'll need to deliver A Safe Space, Level 3 - Recognising, telling and taking action.
Adapting Level 3 for BGO or branches
These resources will help you adapt Level 3 when training BGO or branches.
Access Level 4 resources by speaking to your local commissioner, A Safe Space trainer, trainer coordinator or by emailing [email protected].
Make sure your training is accessible and inclusive