We've teamed up with BBC Children in Need to celebrate Pudsey's 40th year
19 October 2020
England Players Millie Bright and Rachel Daly, BBC presenter Kate Silverton and Adventurer Anna McNuff join as Act Your Age campaign ambassadors
New Pudsey badge on sale today with profits to be split equally between BBC Children in Need and Girlguiding
Girlguiding, the leading charity for girls and young women in the UK and BBC Children in Need have come together to celebrate Pudsey's 40th year with the launch of a new fundraising challenge, 'Act Your Age'.
Girlguiding is encouraging its nearly half a million members to take their age and do something good with it to raise important funds. To support the campaign, Girlguiding has today launched a special Pudsey badge which will join one of 100s of infamous badges coveted by its members.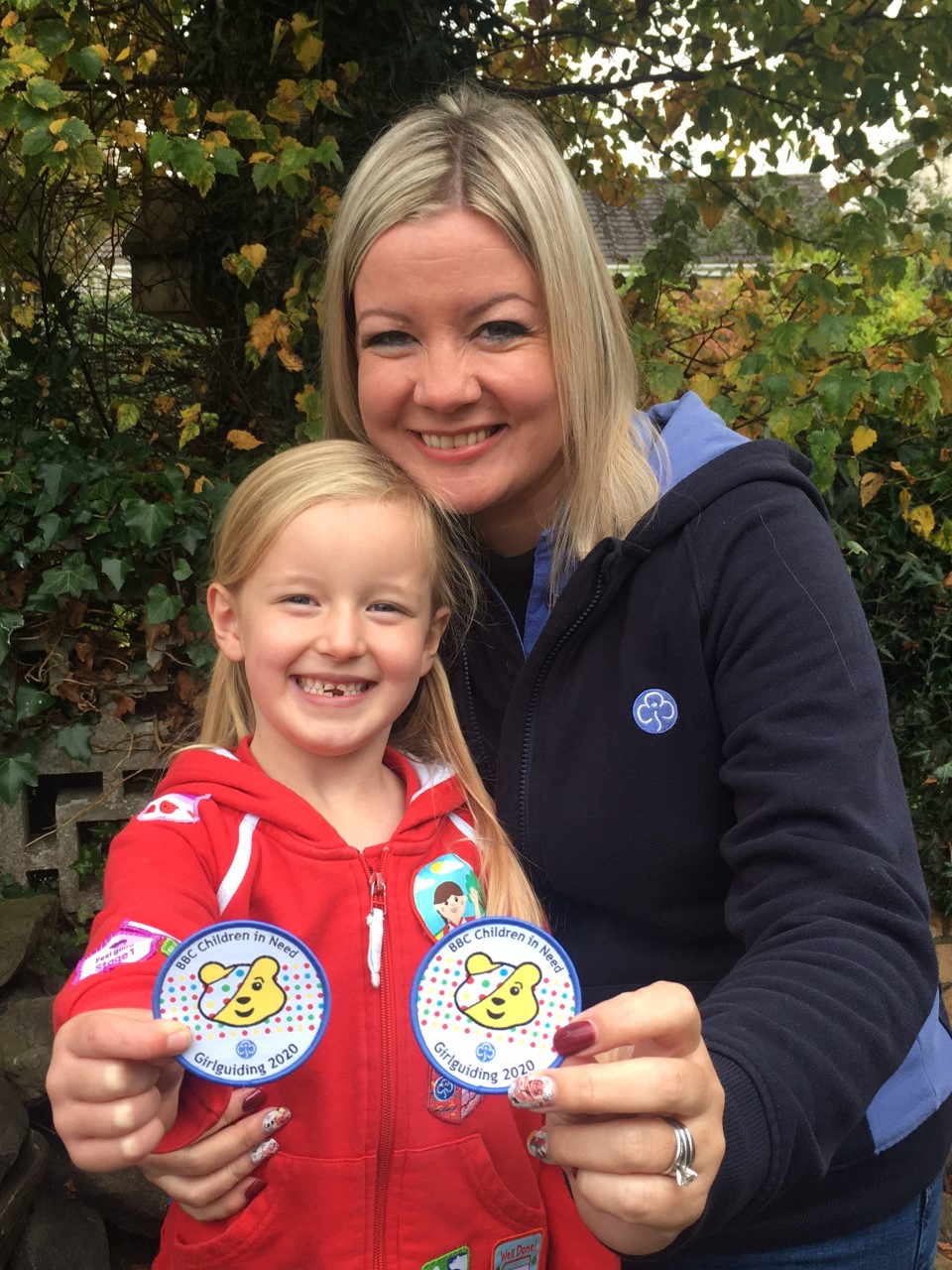 On sale today, the badge has been designed to represent both charities and their mission and commitment to supporting children and young people in the UK and is available to anyone to buy to add their support.
The money raised through the partnership between BBC Children in Need and Girlguiding will be split equally between the two organisations and will go on to make a difference to young lives across the UK.
For Girlguiding, in a time of ongoing financial impact caused by the pandemic, money raised will support the charity to continue working alongside its dedicated volunteers to support girls' and young women's wellbeing, build their resilience and offer fun, entertaining activities during this unprecedented time.The role guiding plays in supporting girls' and young women's mental health and wellbeing is increasingly important as the pandemic continues. Research shows the impact of Covid-19 is exacerbating the existing trend of declining happiness of girls across the UK. Enabling youth groups to carry on meeting virtually or face to face right now offers crucial support for many young people who are struggling.
Funds raised could contribute towards giving girls a platform to speak out on the issues important to them, train Peer Educators to talk about important topics like body confidence and mental wellbeing, support the opening of new Girlguiding units or support girls to experience their first overnight camp.
For BBC Children in Need funds raised will help to support local charities and projects in communities across the UK that are helping children and young people facing a range of disadvantages such as living in poverty, being disabled or ill, or experiencing distress, neglect or trauma.
Rainbows, Brownies, Guides, Rangers and Girlguiding's 100,000 volunteers will be challenged to come together to have some fun and raise money to enable more young people across the UK access to life changing activities and support in their local areas. Members are encouraged to come up with an Act Your Age fundraising activity inspired by their age, or the collective age of their family or unit. Whether that's a six-year-old Rainbow climbing the equivalent number of steps up to Big Ben in six hours, an eight-year-old Brownie undertaking eight minutes of sponsored keepy-uppies, or a 13-year-old unit collectively taking on a virtual half marathon.
The Act Your Age challenge fundraising ideas, support, and donation information is available on the Girlguiding website. The Pudsey Badge is available to purchase from our online shop or through local Girlguiding units and will cost £1.50 with profits to be split between BBC Children in Need and Girlguiding.
England football players Millie Bright (age 27) and Rachel Daly (age 28), are leading by example with their own Act Your Age challenges. The Lionesses will be challenging themselves to perform 55 keepie-uppies to raise funds for the charities.
Millie said: "We are delighted to be supporting BBC Children in Need and Girlguiding to help raise funds to help support children and young people and hope to encourage others across the nation to do the same." Rachel added: "Join us in Acting Your Age, there's so much fun to be had and all in aid of BBC Children in Need and Girlguiding."
BBC presenter Kate Silverton, has shown her support for the charities by setting herself an Act Your Age challenge. The fifty-year-old journalist will be swimming 50 laps to raise funds.
Kate said: "As a former Guide myself I hope I am able to encourage the Girlguiding community to get behind Act Your Age and challenge themselves to do something remarkable. Whilst it's going to be no mean feat swimming 50 laps, I know how important it is to raise money for children and young people across the UK during this difficult time. I shall be displaying my Pudsey badge proudly!"
Girlguiding Ambassador, adventurer Anna McNuff will also be supporting the campaign by taking on her own challenge and walking 36 miles.
Anna said: "This is such a fantastic excuse to let your imagination run wild and come up with a fun challenge that matches your age. I know it'll get girls up and down the country out exploring their local area and doing a world of good for Girlguiding and Children In Need in the process. Walking 36 miles from my home in Gloucester, along the River Severn to Severn Beach will be a challenge at seven months pregnant, but I'm very excited to take the little girl in my belly on her very first adventure!"
Emma, a Brownie leader and her six-year-old Rainbow daughter, Sophie from Renfrewshire in Scotland are combining their ages and walking for 47 minutes for 47 days for their fundraising challenge.
Emma, 1st Bishopton Brownie unit leader said: "I can't wait to take up our challenge. It's great to be able to plan something fun that we can do together to help make a difference to the lives of children and young people in the UK.
"I love being a part of my community and providing a variety of opportunities for our girls. Girlguiding has also helped me develop new skills, make new friends and travel to new parts of the world."
3rd Bishopton Rainbow Sophie said: "I love being a Rainbow and having fun with my friends. I'm excited to have fun with mummy and help Girlguiding and Children in Need too!"
Emma Guthrie, Girlguiding's Assistant Chief Guide added: "We are incredibly excited and proud to be partnering with BBC Children in Need in its milestone 40th year. This year has been challenging for everyone, especially our children and young people and it's imperative now, more than ever that we do everything we can to ensure that they are not forgotten and have access to the support they need to thrive."
Commenting on the partnership, BBC Children in Need's Chief Executive, Simon Antrobus said: "We are delighted to have partnered with Girlguiding and encourage all Rainbows, Brownies, Guides, Rangers and Girlguiding's volunteers to Act Your Age, and get fundraising. Whilst these are very uncertain times, we know that through the kindness and generosity of our supporters like Girlguiding, we can collectively help children and young people overcome challenges they might be facing and reach their full potential."
Girlguiding, powered by 100,000 volunteers, supports nearly 400,000 girls and young women all over the UK. The charity provides a safe, welcoming girl-only space for girls and young women aged 5-18 years old (4-18 in Ulster) to try new things, build confidence, learn new skills, help other people and discover their passions and talents. All while making new friends and having lots of fun and adventure - whether virtually, or where Covid-19 restrictions allow, in person.
What funding means to Girlguiding
£5 could help to fund national campaigning working and give girls a platform to speak out on the things that matter to them.
£10 could give girls the chance to take on new challenges, grow in confidence and break stereotypes.
£20 could help train Rangers to become Peer Educators and talk about important topics like body confidence and mental wellbeing with younger girls.
£30 could help pay for volunteers to take part in Leadership training so they can be inspiring role models for girls and young women.
£50 could support an Accessible guiding grant and help to fund 1:1 carer for a girl attending her first overnight camp.
£250 could fund a grant to open a new unit and let more girls experience the adventures, fun and friendship that guiding has to offer.